The Best Hotels in Oʻahu, According to our Editors
From historic hotels in Waikīkī to sprawling family-friendly resorts, here are our editors picks for hotels on Oʻahu.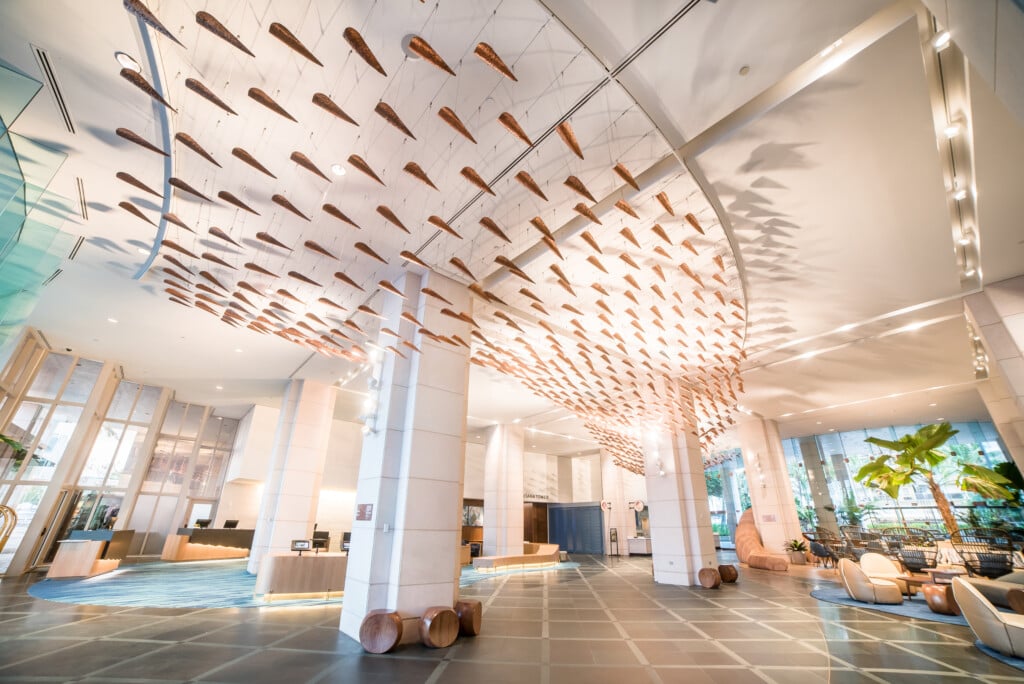 This article contains booking affiliate links. We may receive a commission if you make a booking after clicking on one of these links. This, however, has no bearing on our editorial opinion or choices.
Queen Kapiʻolani | The Kāhala Hotel & Resort | Prince Waikīkī | Turtle Bay Resort | Hilton Hawaiian Village Waikīkī Beach Resort | Halekūlani | Regency on Beachwalk Waikīkī by Outrigger | The Modern Honolulu | Holiday Inn Express Waikīkī | The Laylow, Autograph Collection | Moana Surfrider, A Westin Resort & Spa | The Royal Hawaiian, a Luxury Collection Resort
Queen Kapiʻolani
If you visited the Queen Kapiʻolani Hotel before 2018, you might be surprised at how much it's changed. Major renovations have left almost no corner untouched and the hotel has never looked better. A stylish lobby is complemented by artwork done by local artist Nick Kuchar, and the hotel's new and improved rooms offer exceptional views of Diamond Head and Waikīkī Beach. And then there's the postcard-perfect pool deck fitted with a happening poolside bar. The hotel may not be large, but it makes quite the impression.
The Kāhala Hotel & Resort
"Boutique" can mean different things to different people. For the folks at The Kāhala Hotel & Resort, it means excellence. From the concierge service to the front desk staff and hotel management personnel, everyone at The Kāhala Hotel & Resort works hard to make sure your stay is a memorable one. The hotel itself is luxurious in its own right, with a grand lobby, beachfront dining options and stunning rooms and suites.
Prince Waikīkī
The first thing that comes to mind when we think about Prince Waikīkī is how spacious the rooms are. With high ceilings and expansive windows—overlooking the Ala Wai Boat Harbor—the rooms just feel big. Aside from having a great pool deck, equipped with an infinity pool and poolside bar, the Prince Waikīkī is in a prime location. Just on the outskirts of Waikīkī, guests here are within easy walking distance of Ala Moana Beach Park; Magic Island; and Ala Moana Center, Hawaiʻi's largest shopping mall.
Turtle Bay Resort
For decades, Turtle Bay Resort has been a landmark accommodation on the North Shore of O'ahu. Opening in May 1972 as Del Webb's Kuilima Resort Hotel & Country Club, the hotel is a visitor's oasis far from the big city. The resort's changed a bit over the past 50 years. Lobby walls have been replaced by floor-to-ceiling windows showcasing jaw-dropping views of the North Shore, and even the check-in desk is backed by a stunning vision of the coastline stretching toward Kahuku. Serious effort has also been put into redesigning and reimaging the interior decor, which now sports a beachy boho-chic look. It's mismatched and eclectic and the furniture resembles the kind you might find in a bougie beachfront home in the area.
Hilton Hawaiian Village Waikīkī Beach Resort
One of the best hotels in Hawaiʻi for families, the Hilton Hawaiian Village Waikīkī Beach Resort is what a lot of visitors think of when they hear "Hawaiʻi hotel." The Waikīkī Starlight Lūʻau at the Hilton Hawaiian Village is a Waikīkī mainstay, featuring live music, a group hula lesson, hula and fire-knife dancers, and a locally sourced feast of kālua pig, grilled chicken, local fried rice and more. There are also six—six!—swimming pools for guests to choose from, and the hotel even has a program for keiki (kids) that takes them on half-day and full-day excursions to nearby attractions, such as the Honolulu Zoo and Bishop Museum.
Halekūlani
An oasis of peace and calm along the energetic streets of Waikīkī, Halekūlani is perfect for those looking for a little quiet while still wanting to be in Waikīkī. The hotel puts an emphasis on tranquility in just about every aspect of its top-of-the-line accommodations. From its iconic heated pool that overlooks Waikīkī (with 1.2 million pieces of glass tiles) to its comfortable rooms and expansive suites, Halekūlani has no shortage of places to lounge. Pair its relaxing atmosphere with an exceptional dinner and hula performances at House Without A Key, as well as a fantastic Sunday brunch service at Orchids, and you can see why this hotel has made the list.
Regency on Beachwalk Waikīkī by Outrigger
If you enjoy the hotel experience but need a little extra room to relax, the Regency on Beachwalk Waikīkī by Outrigger is your best bet. This intimate Waikīkī-centric hotel features one and two-bedroom suites, perfect for traveling families and couples who prefer homey accommodations. Every accomodation features hardwood flooring, floor-to-ceiling windows, beautifully appointed kitchen and dining areas, air conditioning, flat-screen televisions and a lānai (veranda) to take in all of those gorgeous Waikīkī views.
The Modern Honolulu
A longtime favorite of visitors and locals, The Modern Honolulu by Diamond Head Resorts offers its guests a trendy, chic resort experience and great service. You won't be in the center of Waikīkī, which is perfect for visitors looking for a more secluded, private hotel experience, and The Modern Honolulu still features fantastic views of the ocean from its elegant pool deck.
Holiday Inn Express Waikīkī
Staying in Waikīkī can be an expensive endeavor, with its five-star hotels and grandiose resorts. Fortunately for travelers on a budget, Holiday Inn Express Waikīkī has everything you need. Its compact rooms provide the essentials, while sleek furnishings and chic interior design will make you feel like you're staying at a ritzy resort. And the complimentary breakfast buffet here is great for folks on a budget. If you're all beached out but still looking for a little free fun, visit the hotel's nine-hole miniature golf course.
The Laylow, Autograph Collection
Remembering the motto of real estate agents everywhere ("location, location, location"), The Laylow, Autograph Collection is right in the middle Waikīkī and just steps away from world-famous Waikīkī Beach. Situated next to other new-to-Waikīkī favorites, such as the International Market Place and Dukes Lane Market & Eatery, this midcentury modern hotel is also known for its signature, open-air restaurant, Hideout, which offers modern Hawaiian cuisine, daily live entertainment, hand-crafted cocktails and fire pits overlooking the cityscape.
Moana Surfrider, A Westin Resort & Spa

Also known as the "First Lady of Waikīkī," the Moana first opened its doors on March 11, 1901. Now, over a century later, the resort still stands on the golden shores of Waikīkī, gleaming in its timeless splendor. A beaux-arts-style resort, the oversized columns and shining white facade of the resort continue to wow visitors today. And with its location—right on the beach!—you can easily go from your bed to a towel on the sand at a moment's notice.
The Royal Hawaiian, a Luxury Collection Resort
Another iconic Waikīkī resort, The Royal Hawaiian, a Luxury Collection Resort—also known as The Pink Palace, for its very pink exterior—opened on Feb. 1, 1927, and immediately garnered a reputation as one of the Islands' best luxury resorts. The hotel has so much history, in fact, that visitors can join a historical tour every Tuesday and Thursday at 1 p.m., with a tour guide who leads guests through the hotel and talks about how the resort has changed over the years, its unique architecture and about some of the celebrities who have stayed here. Celebrating its 96th year, The Royal Hawaiian is still very much an icon of luxury and beauty.