Our Favorite Poolside and Oceanfront Bars in Hawaiʻi
Pools, drinks, Hawai'i—need we say more?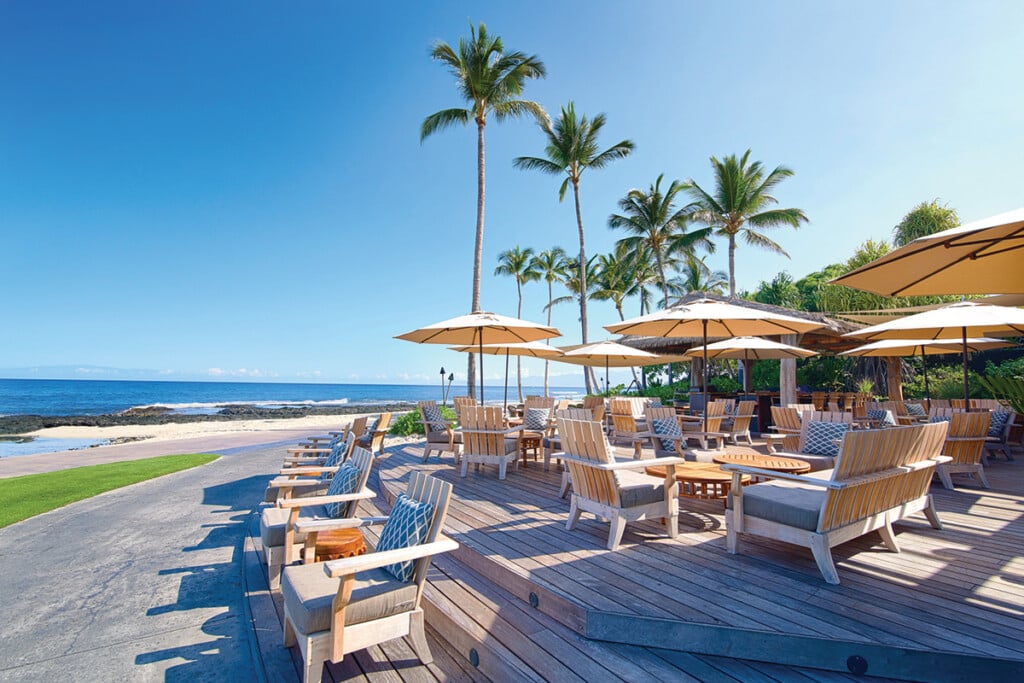 While there aren't many bad poolside bars in Hawai'i, there are some that stand out from the rest. From secret grotto bars on Maui to pools with panoramic views on O'ahu, here are a few of our favorite places to wet your whistle, and yourself, in Hawai'i.
Sunset at Turtle Bay Resort
Aptly named, Sunset is the perfect place to watch the sun set below the horizon off O'ahu's North Shore. The Turtle Bay Resort's poolside bar and lounge was recently renovated, giving it a more modern, relaxed look. It's the ideal spot to relax and take in the unique view of the nearly untouched coastline that stretches from Turtle Bay to Pūpūkea. And visitors can indulge in a variety of refreshing and intoxicating tropical cocktails, like the Pink Bikini—Grey Goose Essences – Strawberry Lemongrass Vodka, aperol, lemon juice and lemongrass syrup mixed with sparkling wine.
Grotto Bar at Grand Wailea, A Waldorf Astoria Resort
What makes the grotto bar so unique is that it's not really "poolside." It's actually in the pool. A swim up bar you may have to search for—the Grand Wailea's pool complex covers an area of 25,700 square feet—the Grotto Bar is a literal grotto located under a waterfall. (Here's a hint to its location: If you see a swinging rope bridge, you're getting close.) Once you locate this boozy hideaway, you can swim up to any open bar stool and order something fun, or sit back and watch the games on the bar's two TVs.
Beach Tree at Four Seasons Resort Hualālai
Technically, this isn't a poolside establishment. But it's the next best thing: a bar and lounge located steps—maybe 10 feet max—from the postcard perfect beach fronting the Four Seasons Resort Hualālai. Like a palm tree on the beach, visitors can find shade and a place to rest here, as well as an assortment of California cuisine with an Italian twist. Serving lunch and dinner, signature dishes include a kanpachi crudo—thin slices of kanpachi fish topped with avocado, jalapeño, toasted corn and cilantro—and creative cocktails, such as the El Matador, which is a concoction of Hawaiian chile-infused Kapena tequila, pineapple citronge and pineapple sour.
Deck at Queen Kapi'olani Hotel
The expansive pool deck—formally known as Deck—at the Queen Kapi'olani Hotel Waikīkī Beach is stunning for more reasons than one. Guests have unobstructed views of the electric blue ocean and sandy beach across the street, and Lē'ahi (Diamond Head), too. Deck's restaurant and bar, meanwhile, offers its own take on an American Pacific-inspired menu as well as a number of boozy selections, from handcrafted cocktails, beers sourced from local breweries and a variety of wines in white and red. Did we mention half of the pool bar is decked out in AstroTurf? Who doesn't love that?
This story was originally published in our 2023 Winter issue. Buy a copy here.