Bird Watching on Hawaii Island's Kipukapuaulu Trail
Perfect for bird and plant lovers.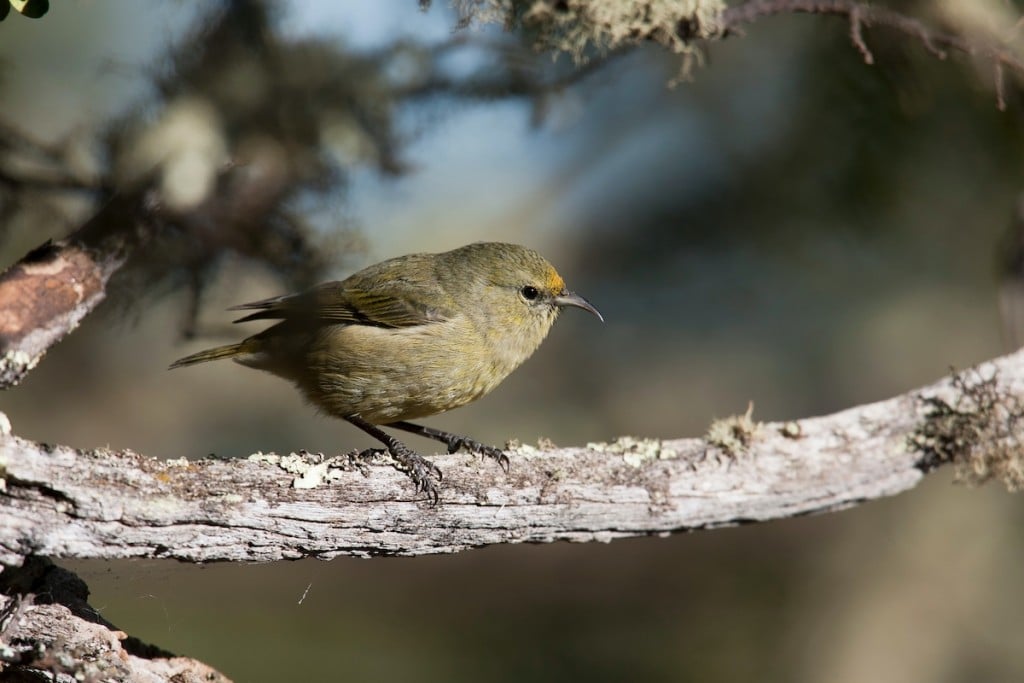 If you love seeing rare native plants and birds, then you won't want to miss Kipukapualulu Trail, a 1.2-mile loop through one of Hawaii Island's last vestiges of native forestland.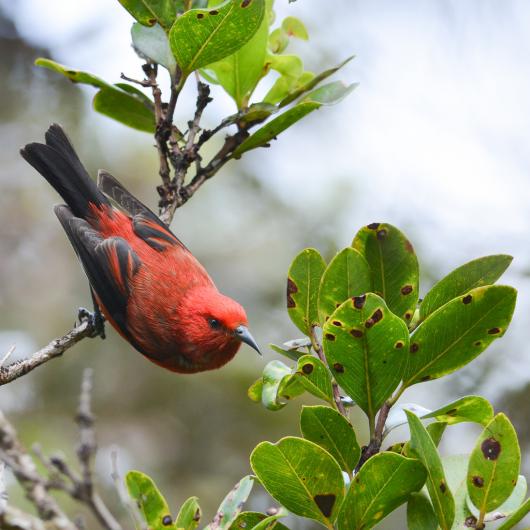 Located just outside of Hawaii Volcanoes National Park in eastern Hawaii Island, the free-to-access trail is also known as "Bird Park" to area residents because of its wealth of otherwise hard-to-spot Hawaiian honeycreepers and flycatchers.
When I visited for the first time in the late afternoon last week, I expected to see maybe one or two of the rare, red or green Hawaiian honeycreepers (apapane and amakihi). Though I never did spot the elusive curve-billed iiwi, I found the forest filled with birdsongs and flashes of color. I could see—aided by my binoculars—bright red apapane sipping nectar from the flowers in tall ohia trees and tiny flocks of the golden green sparrow-like elepaio (monarch flycatcher) in lower bushes.
The cooler 70-degree temperature at this elevation—where Mauna Loa and Kilauea meet—was a welcome respite from the unusual 90-degree summer heat of sea-level locales near my new home in Kailua-Kona. The regular breezes rustling the sickle-shaped leaves of tall koa trees were magical. As it turns out, I wasn't the only one to think so.
Kipukapuaulu Trail runs through Wao Akua, one of Hawaii's seven sacred island-dividing realms, the realm of the gods. Historically the area was revered for its tall, old trees and wealth of biodiversity, home to akua (gods) and aumakua (guardian ancestral spirits). That significance was threatened, when in the late 1700s, cattle and feral goats grazed the understory, eliminating generations of saplings and threatening the forest's future.
Fortunately, actions taken by the park service—including removing cattle in 1928, the 1968 construction of a pig and goat-barring fence, the removal of orange-flowering invasive nasturtium plants in the 1980s and continuing restoration efforts—has helped to encourage the forest back to what it once was.
More than just birds and plants, the healthy forest surrounding the Kipukapuaulu Trail also supports booming (though not annoying) populations of native insects—including endemic pomace flies and two native butterflies. The brochure I purchased at the trailhead, suggested I might spot an orange Kamehameha butterfly near mamaki shrubs—and I did.
I lingered too long making eye contact with a not-so-native and unafraid Kalij pheasant. Dusk was fast approaching and I had to skip the muddy, steep and narrow trail leading away from the main path and to a lava tube believed to be at least 8,600 years old. One of many reasons I will be returning to this magical place.