Bliss at Kaawa Loa Plantation Bed and Breakfast
The view from my laptop should be this good every morning.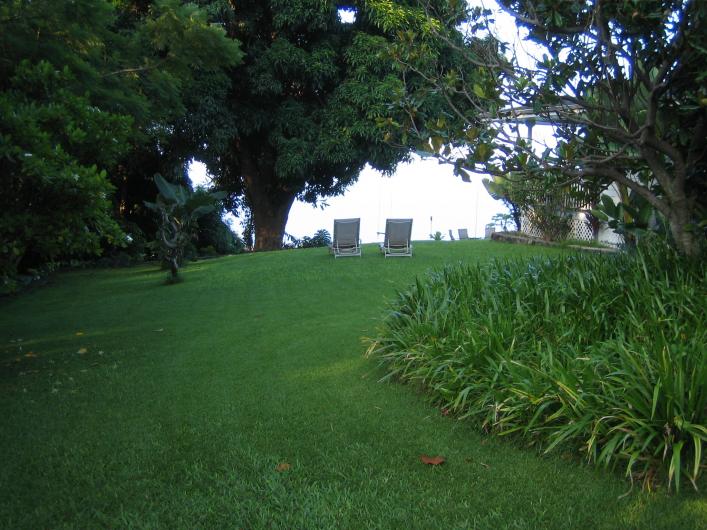 The view from my laptop should be this good every morning.
A sweeping vista of the south Kona coastline and the teal waters of Kealakekua Bay from more than a thousand feet up the slopes of Mauna Loa. In the lush rainforest and fruit trees on either side of my veranda rocking chair, all of Kona coffee country birdlife flitting and chirping. It's enough to make me turn off my laptop to take it all in without interruption.
On second thought, perhaps my view shouldn't be this sweet every a.m.
That scene was just a part of three wonderful days I spent at Kaawa Loa Plantation, a bed-and-breakfast on the Big Island of Hawaii. Owners Michael Martinage and Greg Nunn know how rare a find their two-story veranda-wrapped B&B is, nestled on more than five acres of fertile, verdant upper Napoopoo forest. But they'll happily accept a guest's gushing praise just the same.
My room had all I needed for a relaxing stay. A queen-size canopy bed. A large closet. A desk with the same panoramic view as the veranda. And fresh cross breezes flowing through day and night.
Many of the rooms at Kaawa Loa have a private bath. Mine had a shared one. But with an outdoor lava rock shower nearby—like a neighboring hot tub and Hawaiian cedar steam room, open 24/7—I hardly minded. Plus, though Kaawa Loa was fully booked, no one was ever in my large, shared bathroom when I needed it.
Kaawa Loa's beauty, however, would mean little without its hosts' hospitality. I talked story with them each morning, while they fixed full breakfasts in the home's large communal kitchen. Ask nicely, and Michael will gladly give you a tour of the plantation's acreage of breadfruit, lime, lemons, noni, coffee, etc., before breakfast. After I'd brought Greg an exotic biriba fruit from a tour of a nearby farmers cooperative, he cut it up the next morning and served its sweet custard-like flesh for everyone at breakfast.
To say I didn't want to leave Kaawa Loa would be an understatement. I wanted to move in.
Look for more about my stay at Kaawa Loa Plantation in a future issue of HAWAII Magazine. Click here for Kaawa Loa's Web site. For a slideshow of the property, double-click below.