Search for this Boozy Shave Ice in Lahaina
Breakwall Shave Ice Co. proves shave ice is the still the coolest treat in Hawaiʻi.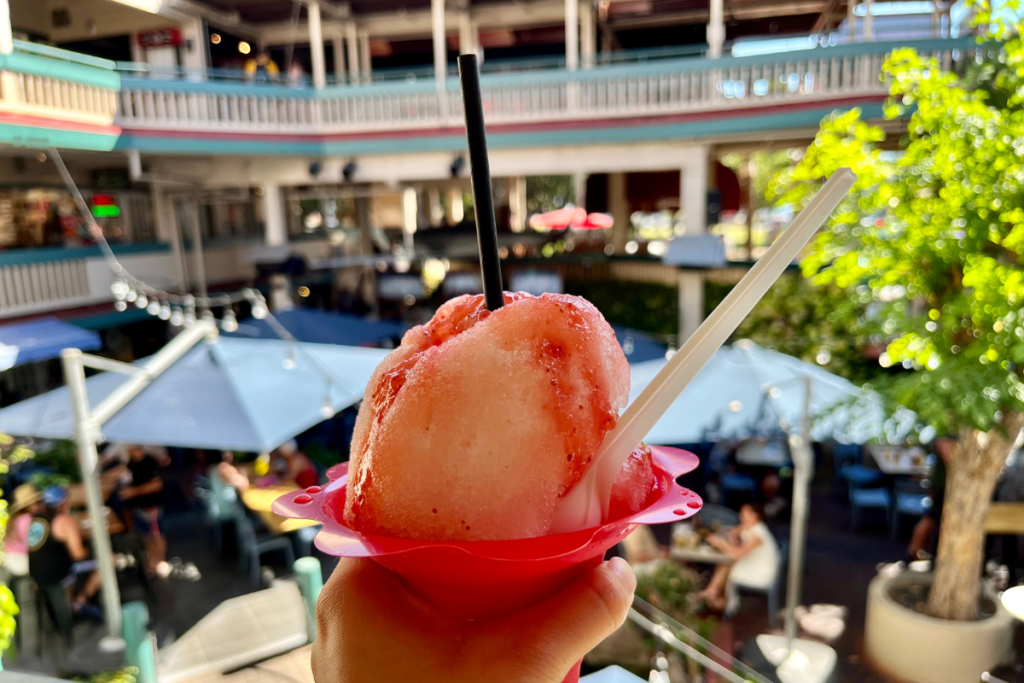 Under the sweltering Maui sun, there isn't really such a thing as bad shave ice.
However, there are superior shave ice stands. On Lahaina's famed Front Street, Breakwall Shave Ice Co. takes crafting blocks of ice into ultra-fine powder cones seriously. And of course, it's also home to the original boozy shave ice.
Here, you'll find piña colada and strawberry guava daiquiri on the menu—and not as mere syrup flavors. A healthy serving of tequila is really in the mango margarita, a dome of shave ice drenched in limeade and orange mango. It's even coated with li hing mui powder for a sour tang. And Baileys and vodka are added to vanilla ice cream, espresso and chocolate in one decadent cone of mud slide shave ice.
Breakwall makes what we've all been asking when we eat regular shave ice. Where can I get this with an alcoholic twist?
And Breakwall might be the only, if not one of the few spots with adult shave ice in Hawaiʻi.
Ten years ago, Javier Barberi and Dave Fincher opened Breakwall on Prison Street, a small road off Front Street. During the past decade, the two best friends have been sharpening their craft of creating Hawaiʻi's quintessential treat and icy cocktail concoctions.
When their shave ice joint on Prison Street closed at the end of the workday, the two played around creating boozy shave ice for their friends and honing their recipes. After all, it seems like a perfect pairing. "It was really just a pipe dream to sell alcoholic shave ice," Barberi recalls.
What made the venture feel unattainable was the challenge of securing a liquor license. But Barberi and Fincher had the opportunity to collaborate with Julian Bonfardin, owner of Down the Hatch—one of Maui's favorite watering holes. Breakwall moved a couple blocks over to its current location and it's been a mainstay at Down the Hatch for seven years.
To find Breakwall, venture into the Down the Hatch courtyard. It's a lively restaurant hub that of course draws visitors, but also a regular crowd of residents working in Lahaina. "The town is bustling with tourists and locals," Barberi says. "The streets are filled with sunscreen and surfboards." The vibe spills right into the courtyard. From vacation mode to pau hana (after work) spirit, the atmosphere is teeming with buoyant energy. And enjoying a boozy shave ice is the best way to soak it all in.
But Breakwall is sure to satisfy kids and alcohol-free cravings, too. From classic flavors like tiger's blood and blue vanilla to natural flavors made in-house like orange mango and dragon fruit, there's colorful variety of choices. Açaî bowls, smoothies and Dole Whip are also on the menu.
What Does an Owner of a Shave Ice Stand Order?
Building the perfect shave ice is a contentious topic in Hawaiʻi. Do you order ice cream at the base? What flavors pair the best together? Should you add a snow cap?
Barberi prefers gummy bears at the base of his shave ice and keeps it to only two flavors. He says three syrups will bleed together, making it difficult to differentiate the flavors. And his choice of flavors are green apple for a sour punch and POG, a natural, fruity syrup made on site. And no snow cap!
658 Front St., Lahaina, (808) 661-4900, dthmaui.com/breakwall-shave-ice-company