Bowled Over: Five Unique Ways to Get Served on Oʻahu
From soft serve in a pineapple to a cocktail in a Spam can, here are five interesting containers for delectable treats.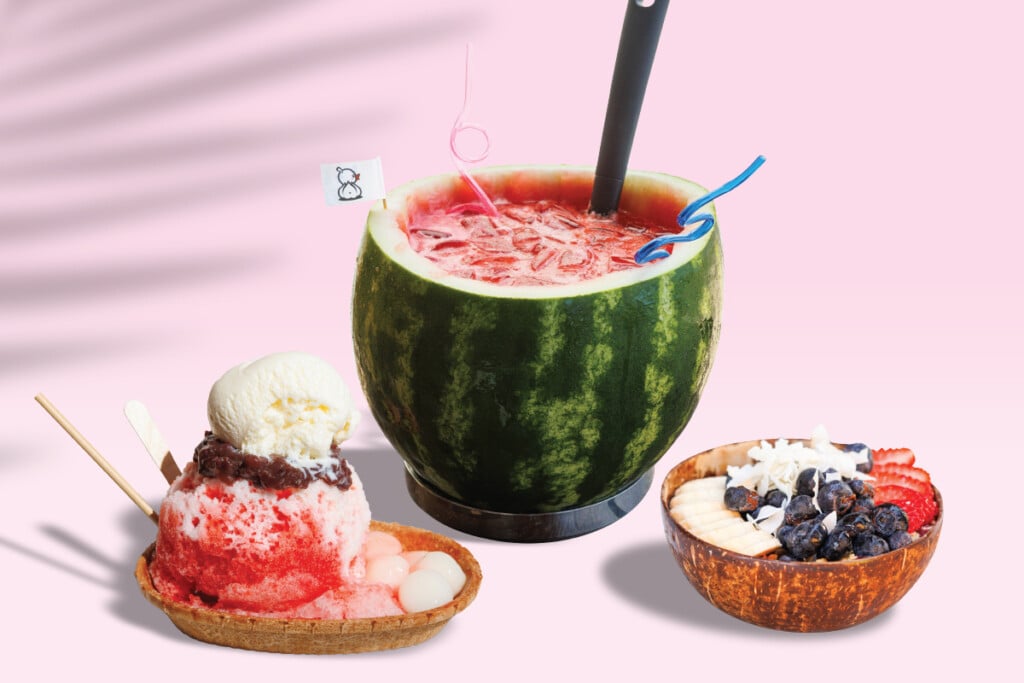 Everything tastes better in Hawai'i, right? We found five treats that are even better served in unique vessels, from fruit shells to Spam cans.
Soft Serve in a Pineapple
View this post on Instagram
Banán is known for Instagram-worthy bowls of its plant-based soft serve made from local bananas. But the Waikīkī shop upped its game with the Pineapple Yacht, a half-pineapple crammed with banana soft serve and topped with chunks of fresh papaya and pineapple, slices of strawberries, puffed quinoa, crunchy granola, shaved coconut and honey. Guilt-free and pretty, too! banan.com
Açaí in a Coconut
Chill out on O'ahu's North Shore with the most photogenic açaí bowl on the island. Hale'iwa Bowls boasts colorful frozen treats with blended açaí berries topped with local bananas, coconut flakes and raw local honey. For a few extra bucks, get it served in a hollowed-out coconut shell that you can take home. haleiwabowls.com
Soju in a Watermelon
Find innovative bar dishes with a Korean spin at DB Grill, a hip eatery in Kapolei, about 25 miles west of Waikīkī. We're talking bulgogi tacos, duck fat fried rice and Korean-style chicken sandwiches. And, of course, there's soju, a smooth, rice-based spirit made on the Korean Peninsula. While the bar serves creative cocktails made with soju, its showstopper is the watermelon soju served in—you guessed it—a watermelon. dbgrillhi.com
Shave Ice in a Waffle Bowl
The edible bowl from Matsumoto Shave Ice in Hale'iwa is definitely something we didn't see coming. Several years ago the iconic shop started serving the Ichiban Special, a huge helping of shave ice topped with sweetened condensed milk, azuki beans (red beans cooked in sugar), balls of mochi (Japanese rice cakes) and a scoop of vanilla ice cream. And it's all served in an edible waffle bowl made in Japan, originally to hold soba noodles. matsumotoshaveice.com
Cocktail in a Spam Can
View this post on Instagram
When Michelin-starred chef Michael Mina opened an open-air, oceanfront fish-focused restaurant at the Four Seasons O'ahu at Ko 'Olina, we expected elevated dishes that showcased local ingredients—but not a cocktail in a can of Spam. The popular If Can, Can cocktail features your choice of spirit mixed with orange Curaçao, lime, pineapple and orgeat poured over crushed ice and into an empty—and never used, don't worry—classic Spam tin. minasfishhouse.com