Camping at this Popular Oʻahu Beach is Suspended to Protect Green Sea Turtles
Overnight camping at Bellows Field Beach Park in Waimānalo will once again be closed this summer to look after nesting sea turtles and their hatchlings.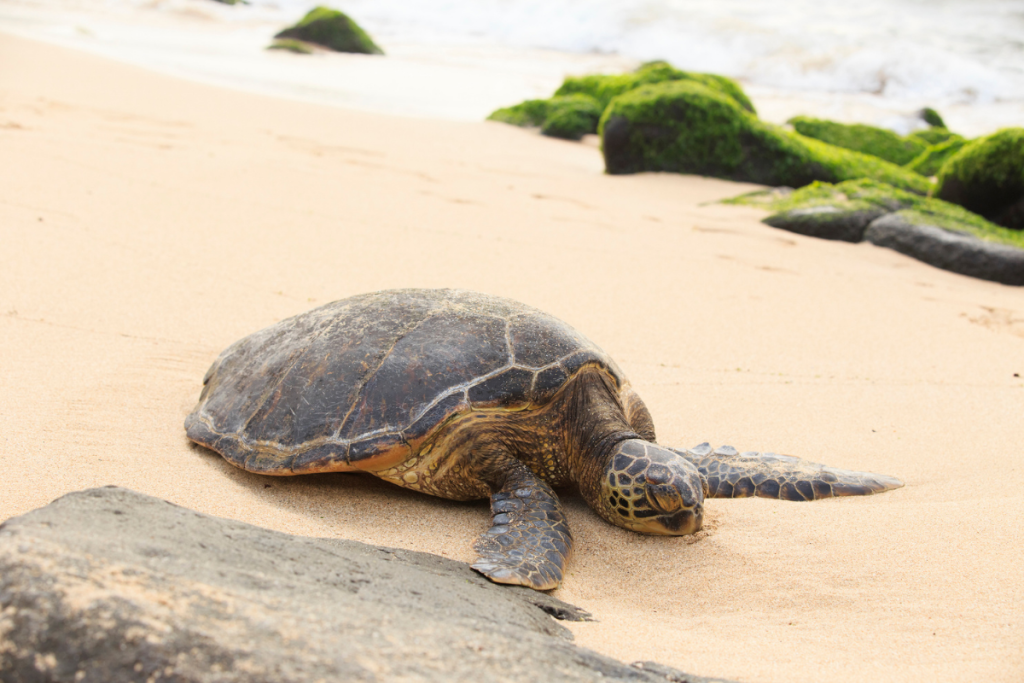 For the first time in documented history, green sea turtles nested at Bellows Field Beach Park on Oʻahu during the summer of 2020. Wildlife researchers claimed it was "unprecedented" behavior by sea turtles.
Commonly referred to as honu in Hawaiʻi, green sea turtles are known to nest along Oʻahu's various shorelines. However, according to the U.S. Fish and Wildlife Service, it was the first documented findings of turtle nests at Bellows Park.
Marine biologists and wildlife experts predicted that less foot traffic due to the coronavirus pandemic was a possible cause for the new nesting site. As a result, the Department of Parks and Recreation closed overnight camping to protect the endangered species and their hatchlings.
The beach park will once again be closed for camping this year from April 18 to Sept. 1. However, the beach will remain open for day use on weekends, while military training exercises are expected to continue on weekdays with measures in place to protect turtle nesting sites.
"This closure is necessary to ensure the safety of this federally-protected, culturally significant, endangered species as the turtles nest, incubate and hatch along this popular shoreline," the DPR and the Marine Corps Base in Hawaiʻi said in a joint news release. "Community, military and park officials have documented several human activities in this area that threaten the safety of the nesting turtles, such as: illegal beach off-roading, camping fires, dogs, illegal trash dumping and the presence of artificial lighting."
Because green sea turtles create their nests at night, nighttime closure of the beach will allow honu to complete their nesting cycles without human disruption.
Depending on their size, female sea turtles can lay between 60 to 160 eggs per clutch. The female turtles will often return in two-week periods to their nests to lay more clutches over several months. Typically, sea turtle eggs incubate for about 60 days. After incubation, hatchlings then emerge at night and make their way to the ocean, guided by the moonlight.
Officials will cordon off turtle nesting sites on the beach once the nests are confirmed and post informational signs. It is important for day visitors to the beach to maintain a respectful distance from sites and keep a clear path from the nests to the ocean. Also, if in the presence of a turtle or hatchling, visitors should avoid flash photography or videography that could disorient the turtles. As a threatened species, green sea turtles are protected by both federal and state laws.
Some estimates predict that only 1 in 10,000 sea turtles hatchlings make it to adulthood. The public can play a vital role in helping protect future generations of turtles. Beach goers should always be respectful of wildlife—both on the sand and in the sea. Remember wildlife creatures need space and quiet, so keep a safe distance from them. Along with appreciating wildlife from afar, remember to leave no trace and pick up your trash and any trash you come across at the beach.
Sea turtle nest sites and hatchlings that need protection can be reported to the NOAA hotline at (888) 256-9840. Reports of violations at Bellows Beach Park can be reported to the conservation law enforcement officer at 387-7975.