Can't Make It to the Kauai Poke Fest? Make Your Own Poke at Home
Hawaii chef Sam Choy, who is headlining the festival, shares this simple recipe for poke.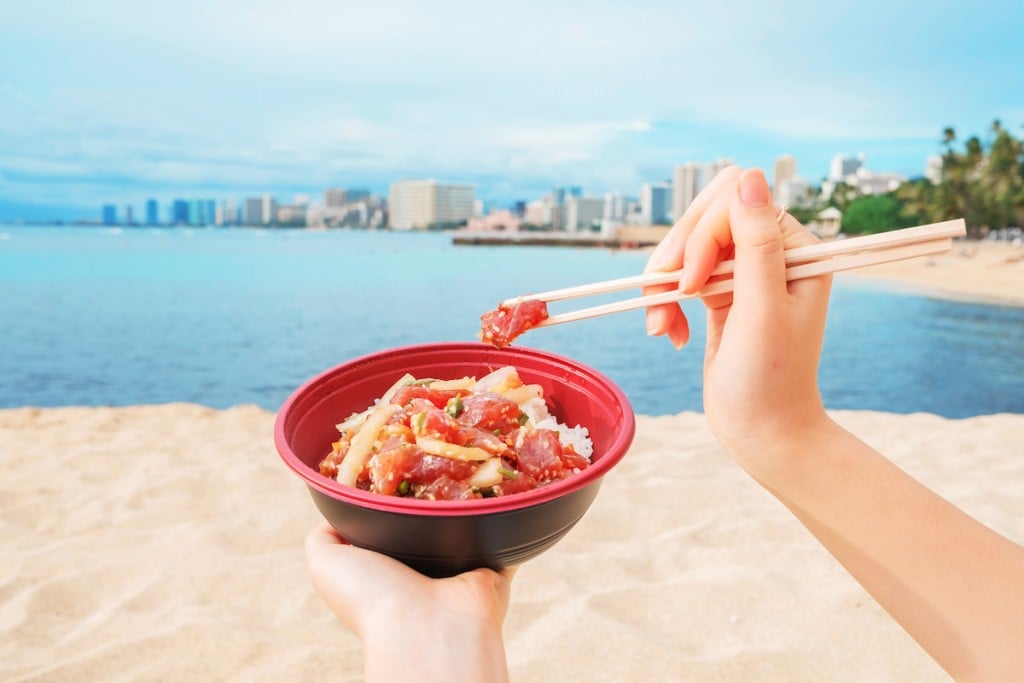 It's hard to believe Kauai has never had a poke festival until now.
The celebrated local dish made with cubed raw fish—usually ahi (tuna)—seaweed, sweet onions and inamona (roasted kukui, or candlenut) is ubiquitous in the Islands, and you can find great poke on Kauai at places like Konohiki Seafoods in Lihue and Pono Market in Kapaa.
But this Saturday Koloa Landing Resort is hosting the island's first Kauai Poke Fest, with farmers market, live entertainment, a poke competition with local restaurants and chefs, and a poke demonstration by Hawaii chef Sam Choy who brought the island dish to the (Mainland) masses with his poke food trucks. Proceeds from the event will benefit the Kauai Habitat for Humanity.
"We decided it was time to celebrate poke and how special it is to our island," says Shaun Hinson, director of food and beverage at Koloa Landing Resort. "Nowadays, street food is trendy and cool amongst the Millennials and you can find restaurants all over that do their own spin on poke. It's simply a delicious food, so it's not a surprise to me that it has grown in popularity across the nation."
Tickets for the poke festival are $55 per person and available here, or $65 at the door.
But if you can't make it on Saturday to Kauai, Choy offers this alternative you can make at home:
Island-Style Shoyu Poke
Ingredients
1 pound ahi (yellowfin tuna), Grade A if possible
2 T. shoyu
1 tsp. sesame oil
1 or 2 Hawaiian chile peppers, minced
1/2 tsp. finely grated fresh ginger
1/2 cup sliced Maui or sweet onions
Directions
Cut the tuna into cubes. In a large mixing bowl, add fish and all the rest of the ingredients. Mix well. Serve cold with beer.
For more information about the Kauai Poke Fest, click here.