Celebrities From Hawaiʻi Who Made It Big (and What High School They Went To)
For a small state, Hawaiʻi produces some of the biggest names in sports, music and movies.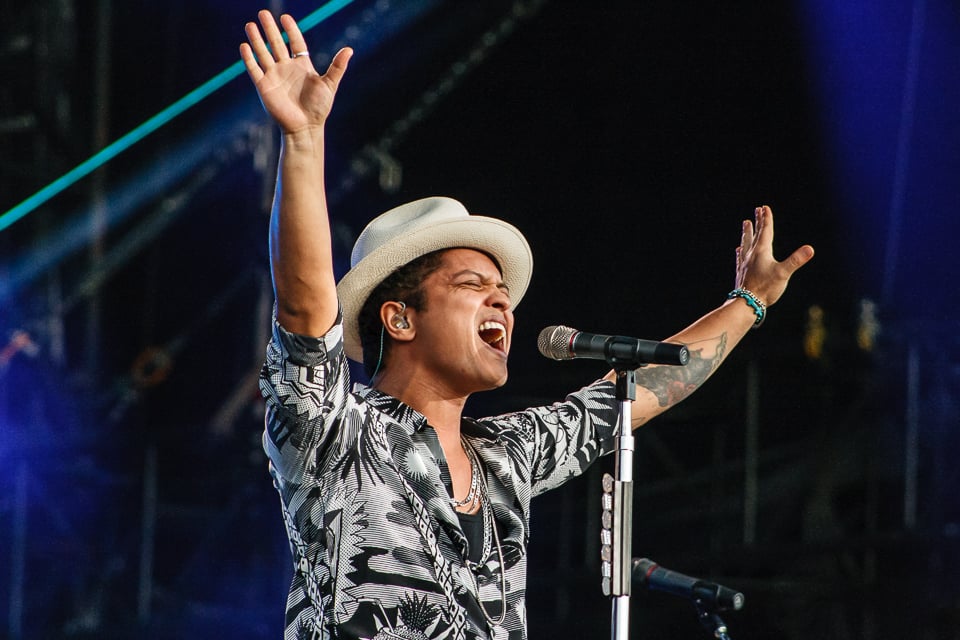 This article was originally posted on Jan. 31, 2018. Since we missed a few celebs, we've decided to update the list.
With a population of a little under 1.5 million people, Hawaiʻi puts out its fair share of musicians, athletes, actresses and actors. Here are a few local Hawaiʻi celebrities who have attained the status of stardom and, to answer everyone's next question, what high school they went to.
Bruno Mars
Undoubtedly one of the biggest names to come out of Oʻahu, Mars has topped the Billboard's lists time and time again after mastering the craft of producing catchy pop–singles such as "The Lazy Song" and "Grenade." Mixing aspects of reggae, soul and R&B, Mars has taken a number of awards, most recently sweeping the field at the 2018 Grammy's by winning Best Album of the Year, Best Record of the Year and Best Song of the Year.
Where he wen' grad: Roosevelt High School
Bette Midler
Of course, who can forget that The Divine Miss M was born and raised in Honolulu, Hawaiʻi. She went to Radford High School where she was votes "Most Talkative" and "Most Dramatic" in her senior year. After playing a small uncredited roll in the 1966 film Hawaii, she used her pay to move to New York and start a career spanning over five decades and winning her numerous accolades, like four Golden Globe Awards and three Primetime Emmy Awards.
Where she wen' grad: Admiral Arthur W. Radford High School
Ellison Onizuka
The oldest son of Masamitsu and Mitsue Onizuka, Ellison Onizuka is one of the most prominent figures to come out of sleepy Kealakekua on Hawaiʻi Island. After receiving a Bachelor of Science degree in Aerospace Engineering in June 1969, and a Master of Science degree, Onizuka entered the airforce where he was on active duty as a test pilot and flight test engineer. Then selected for the astronaut program, he completed a total of 74 hours in space during the Space Shuttle Discovery mission of STS 51-C—becoming the first Asian American to reach space. Tragically, he passed during his following mission on the Space Shuttle Challenger, which was destroyed after a flame jet leaking from a solid rocket booster ruptured the liquid hydrogen fuel tank 73 seconds after launch, killing all seven crew members. His name lives on in the Big Island, and even the Kona International Airport took on his name—rebranding as the Ellison Onizuka Kona International Airport at Keāhole.
Where he wen' grad: Konawaena High School
Jacob Batalon
A newcomer to the field of acting, the Honolulu-born actor originally attended Kapiʻolani Community College with the goal of studying music. However, after dropping out and completing a two-year acting program at the New York Conservatory for Dramatic Arts, he was cast as Ned, Peter Parker's plucky high school friend in "Spider-Man: Homecoming."
Where he wen' grad: Damien Memorial School
Auliʻi Cravalho
Being cast for the role of Moana at the age of 14, Cravalho was thrust into stardom at an early age. Initially not planning to try out for the role, an Oʻahu talent agency found her singing at a charity competition and urged her to audition. Now a full-time actress, Cravalho is set to star in the upcoming TV series "Rise," as well as returning to "Moana" for the Hawaiian-language dubbing.
Where she wen' grad: Kamehameha Schools
Jack Johnson
Still a North Shore inhabitant, Jack Johnson grew up right on Oʻahu's surfing mecca, and he began surfing at age 5. Becoming a successful surfer in his own right—he even made it to the finals of the '92 Pipeline Masters contest—Johnson became a chart-topping musician, with such hits as "Upside Down," "Drink the Water" and "Banana Pancakes".
Where he wen' grad: Kahuku High & Intermediate School

Michelle Wie
Beginning to play golf at age 4, this Punahou School graduate became the youngest player ever to qualify for a United States Golf Association amateur championship at age 10, only to be superseded by fellow Hawaiian and Punahou School graduate Allison Corpuz eight years later. Now a full-fledged professional golfer, Wie competes in the Ladies Professional Golf Association and won the U.S Women's Open back in 2014.
Where she wen' grad: Punahou School
Barack Obama
Another Punahou School graduate and probably the biggest name on this list, Barack Obama, who served as the 44th president of the United States, was born and raised—mostly—in Honolulu. Of his time in Hawaiʻi, Obama wrote this: "The opportunity that Hawaii offered — to experience a variety of cultures in a climate of mutual respect — became an integral part of my world view, and a basis for the values that I hold most dear."
Where he wen' grad: Punahou School
Max Holloway
Fighting out of Waiʻanae, Oahu, 26-year-old Holloway stands as the undisputed Ultimate Fighting Championship Featherweight Champion. It was during his sophomore year at Waiʻanae High School where Holloway picked up kickboxing, eventually leading him down the path to mixed martial arts and ultimately the UFC.
Where he wen' grad: Waiʻanae High School
Janel Parrish
Parrish landed her first big TV role at age 11, on NBC's "Baywatch," where she played Hina, a young girl who is saved from drowning by David Hasselhoff. Following her passion of acting on stage, Parrish portrayed Young Cosette in the Broadway production of "Les Misérables," while also appearing on "Zoey 101," "The O.C.," and "Heroes," but she's best known for her work as Mona Vanderwaal in the teen drama "Pretty Little Liars."
Where she wen' grad: Homeschooled, but was at Moanalua High School for her freshman year
Tia Carrere
Althea Rae Duhinio Janairo, professionally known as Tia Carrere, made her big break on the American daytime soap opera General Hospital before starting a Grammy Award-winning music career. She's also a graduate of Sacred Hearts Academy, a historic Roman Catholic college preparatory school for girls founded in 1909.
Where she wen' grad: Sacred Hearts Academy
John John Florence
Starting from humble beginnings on Oʻahu's North Shore, Florence holds the current title of two-time World Surf League Men's Champion. The surfing community knew Florence had potential when at the age of 13 he became the youngest surfer ever to compete in the Vans Triple Crown of Surfing. Florence also happens to be the first surfer from Hawaiʻi to win a world title since the late, and great, Andy Irons, back in 2004.
Where he wen' grad: Kahuku High and Intermediate School
Yvonne Elliman
Born and raised in Mānoa, on Oʻahu, singer-songwriter Yvonne Elliman topped the charts with her hit disco song, ""If I Can't Have You," and released other chart-topping hits like her cover of Barbara Lewis's "Hello Stranger" and her own original "Love Me". She's also a Roosevelt High School alumni—such musical talent coming out of this school!—and even played in the school band on standup bass and violin. Apparently, she was a bit of a truant during her senior year and almost didn't graduate. Fortunately, her band teacher, Peter Wilcox, persuaded his fellow teachers to let her pass and encouraged her to move to London and sing, where she was then discovered by Tim Rice and Andrew Lloyd Webber.
Where she wen' grad: Roosevelt High School
Jason Momoa
Sure, he didn't go to high school here, but one of the most attractive men on the planet was born in Hawaiʻi. Returning to the Islands after finishing high school in Iowa, Momoa won Hawaiʻi's Model of the Year 1999 award but still found himself struggling, working part-time at a surf shop. However, he soon found himself playing Jason Ioane on "Baywatch: Hawaiʻi," and gained a cult following after playing Ronon Dex in "Stargate: Atlantis."
Where he wen' grad: Norwalk High School in Iowa