Checklist for a Sustainable Spring Break
Escape to a holistic hangout in Hilo.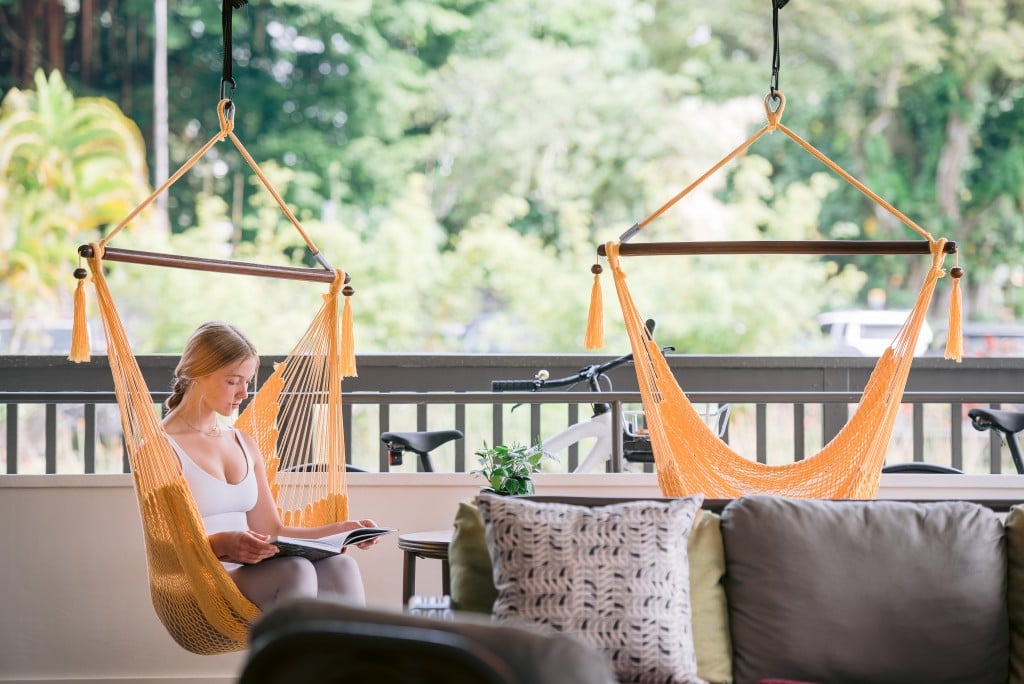 School's out, and it's time to get out in nature. Trade in midterms, homework and the weekly grind for a peaceful, mindful adventure in Hilo, a gateway to the wild side of Hawai'i Island. Here's our guide for mapping out spectacular natural wonders, cultural connections and active pursuits, plus all the must-dos to make the most of your spring break while taking care of our planet.
1. Book at SCP Hilo Hotel. This newly renovated eco-friendly hotel embraces its surroundings with a Hawai'i sense of place, local artwork, cultural workshops and sustainable hospitality. Right now, you can treat yourself and save by taking advantage of special spring break offers with savings up to 20% when you stay two or more nights.
2. Sleep peacefully. When you reserve a Peaceful Room, expect a good night's sleep free from distractions (think: televisions and alarm clocks) but stocked with amenities to help you relax, like circadian lamps and essential oil diffusers. Then a morning dip in the hotel's Zen-like pool or a yoga flow at SCP Fit offer the perfect wake-up call for the day.
3. Venture to the volcanoes. You'll want to set aside a whole day (or more!) to explore Hawai'i Volcanoes National Park, home to two active volcanoes—Kīlauea and Mauna Loa. Just a 45-minute drive away, you can hike the crater rims, step into steam vents and delve into dark lava tubes. Depending on conditions, you may be able to see the lava glow at the bottom of Halema'uma'u Crater before dawn or after dusk.
4. Say "wow" at the waterfalls. Experience jaw-dropping sights at the dramatic waterfalls nearby, such as the 80-foot Rainbow Falls near downtown Hilo, or drive farther up the Hāmākua Coast to take in the incredible 442-foot ʻAkaka Falls and 100-foot Kahuna Falls.
5. Support local. Borrow a bike or stand-up paddleboard—each paddleboard comes with a net for outdoor adventurers to use for picking up any trash they find at the beach or in the water—from the hotel to explore crescent-shaped Hilo Bay and the charming shops, galleries and restaurants. Then wander through the nearby Liliʻoukalani Gardens to explore its tranquil fishponds, bridges, pagodas and teahouse.
6. Give back. When it's time to head back home, you'll feel good knowing that you made an impact, because with every stay at SCP Hilo Hotel you are supporting its Every Stay Goes Good program, which supports WE Well-being, Miracles for Kids and One Tree Planted. Also, through a partnership with the Hawai'i Wildlife Fund, the hotel's Pristine Makai program removes 2.2 pounds of trash from local beaches with each stay.