Chef Profile: Peter Merriman
Each of the legendary chef's Hawaii restaurants is a showcase for Island-fresh food.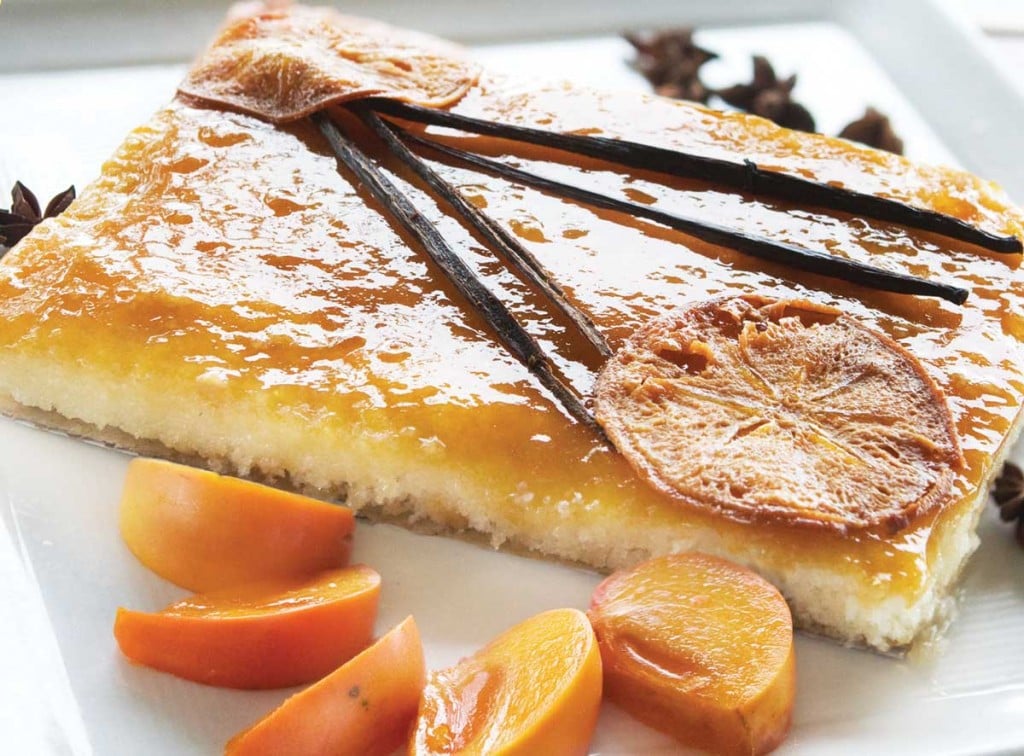 Peter Merriman is originally from Pittsburgh, Pennsylvania, and was a student of political science before he did a three-year American Culinary Federation apprenticeship that launched his career as a chef and restaurateur. He came to Hawai'i in 1983 to work at the Mauna Lani Bay Hotel and Bungalows on Hawai'i Island. Five years later he and his wife Vicki opened their flagship Merriman's restaurant in Waimea.
It was here that Merriman established strong relationships with farmers, fishermen and ranchers that have endured—90% of the products he uses on his menus come from Island producers. Each of his distinctive restaurants is a showcase for Island-fresh food.
One of Hawai'i's legendary chefs and the acknowledged founder of the Hawai'i Regional Cuisine movement, Merriman is continually moving forward to showcase Island food products, always with a sense of conscience for the land and sea and always with delicious food on the table.
Persimmon Pudding Cake
1 cup plus 2 tablespoons granulated sugar, divided
6 tablespoons all-purpose flour
5 large local eggs, separated
2 1⁄4 cup cream
3⁄4 cup persimmon purée
4 tablespoons plus 11⁄2 teaspoons unsalted butter, melted
Cooking oil
Dash of salt
Preheat oven to 325°F. Prepare a 9- by 13-inch glass baking pan; spray with cooking oil. Have ready a larger baking pan into which the 9- by 13-inch pan will fit. You will fill the larger pan with hot water, surrounding the smaller pan.
In a large bowl, combine ¾ cup of sugar, flour and salt. Set aside.
In a medium bowl, whisk together egg yolks, cream and persimmon purée until well blended. Add melted butter and blend together.
In a large clean bowl, whip egg whites, gradually adding remaining sugar. Beat egg whites until they stand in soft peaks.
Whisk the persimmon mixture into the sugar-flour mixture and mix well. Fold in egg whites and blend well. Pour the batter into the prepared pan and smooth the top.
Place the 9- by 13-inch pan into the larger pan and fill the larger pan with water, ⅔ of the way up the sides. Bake for 40 to 50 minutes or until golden brown. Serve warm or cold.
Serves 10.
Persimmons grow on Maui and Hawai'i islands in cool areas like Kula and Waimea. Look for them around October at farmers markets and some retail stores.
To make a persimmon purée, simply cut the fruit into chunks, removing any seeds, and purée the fruit in a food processor or blender.
Peter Merriman is the owner of Merriman's in Waimea, Hawai'i; Kapalua, Maui; Po'ipū, Kaua'i. He is the co-owner of Monkeypod Kitchen in Wailea and Ka'anapali, Maui; Ko Olina, O'ahu, Moku in Honolulu, O'ahu and Hula Grill in Waikīkī, O'ahu and Ka'anapali, Maui.