Coming together: Strength grows from within
Kauai residents show the power of coming together after a natural disaster.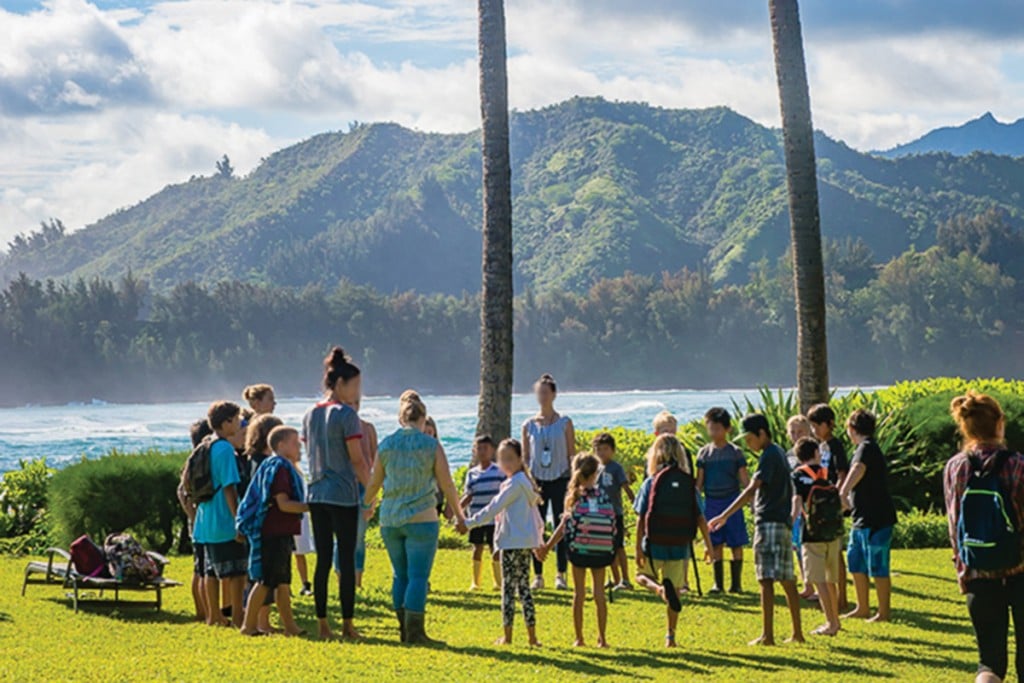 Honey Chandler tied the rope to a muddy table that had become wedged under her neighbor's lanai. Her horse, Hokupaa, stood patiently waiting as she tied the other end to his saddle. Honey mounted Hokupaa, and together they dragged the table out, and then to the road.
"A lot of places were so muddy that cars can't get there—but a horse could," she says.
In the wake of the massive April flood on Kauai's north shore, no one asked Honey to bring Hokupaa down from his stable to rescue the Hanalei buffaloes that were floating down the river or roaming and stranded on the beach. No one had to tell this teenager to volunteer, pulling rubbish from underneath houses and out of Waioli Stream.
During the community's time of need, many young people like Honey stepped up and took up the work. Across the Garden Isle, kamaaina and visitors rallied together to help each other, giving their time, resources, talents and manual labor.
"It was chaotic at first; everyone was in panic mode," Honey says. "But it became beautiful very quickly as we all put our heads together and worked together. I learned that when you put your mind to something, you're capable of doing something you didn't think you were at the beginning of the day."
As difficult as the recovery effort has been so far, it has also been beautiful, as Honey suggests. The floodwaters rose high that week in April, but the spirit and determination of Kauai's people rose even higher.
"Typical relief efforts don't address long-term issues like the need for meaningful work, the need to check up on elders who are alone, or the need to care for streams so debris isn't piling up to become battering rams for future floods. HCF's staff are interfacing with—and funding—nonprofit organizations to equip them to overcome the longer-term recovery issues, not just immediate ones."
-Mehana Vaughn, community volunteer
The experience, while devastating, also strengthened the community. Neighbors and friends understood each other's needs and put systems in place. They saw what could be accomplished when differences were put aside and people worked together. A new generation of leaders emerged.
"The voice of the community is what resonates. The collective wisdom of generations of kamaaina are the guide to rebuilding in a way that is pono," says Darcie Yukimura, director of Community Philanthropy for the Hawaii Community Foundation (HCF) on Kauai.
As recovery efforts continue to evolve and the needs change, HCF maintains staff and resources on-site, able to provide immediate response. It convened with nonprofit organizations, listening closely to the community and finding innovative solutions. HCF also serves as a conduit of information among organizations, donors and funds, communicating how gifts are making a difference right away in this ongoing work.
"We have the opportunity to rebuild and be more economically and environmentally self-sufficient than ever before," Yukimura says. "Givers across the state and the nation have supported this effort because they love Kauai and can clearly visualize what a full recovery will look like."
Honey and Hokupaa
"The day Hokupaa was born, I said to my mom, 'I think there's a baby horse running in the pasture!' He was so small and lanky, I could lift him. We've been together ever since. He was my first great thing, not a bike or a surfboard.
Hokupaa trusts me, and I trust him. That's what got us through crossing the river, when buffaloes floated helplessly and the other horses were freaked out. One embankment was too steep to descend, so I made him sit, and he was OK with it, and we slid 30 feet straight down the cliff. When there was an emergency, I don't have a horse trailer, so we just ran there, taking shortcuts and sprinting down the beach.
When I was scared, I really had to dig down and rise higher. But then I rallied my friends to help, and they got their friends. Young and small, all hands helped. The youth of Kauai came out and used our hands for a good cause."
-Mahealani "Honey" Chandler
Doing what needs to be done
"We aren't a formal group, just neighbors hauling tables, vehicles, ladders and chairs out of rivers and people's yards. One lady delivered lunches so we wouldn't have to stop working. Others jumped in to do whatever needed to be done."
"The next generation has risen to the occasion, especially young guys with reason to be very proud of their work. The amount of debris they removed from rivers will blow your mind. They're standing up for their community and becoming adults, with a sense of purpose."
-Megan and Kona Wong, community volunteers