Dalai Lama to give talk in Honolulu focusing on "peace through power of aloha"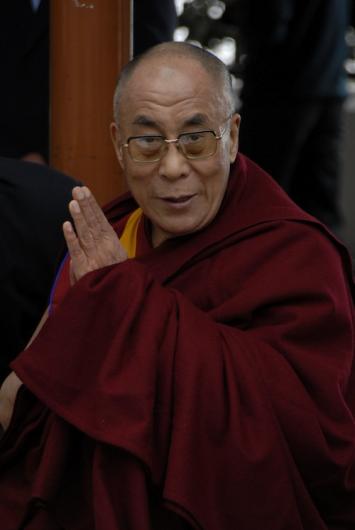 The 14th Dalai Lama of Tibet, Tenzin Gyatso, will touch down on Oahu next month for two public talks in Honolulu.
Advancing Peace through the Power of Aloha, is slated for 1:45 p.m. on Sun., April 15. The other talk, Educating the Heart, set for 1:30 p.m. on Sat., April 14, is tailored for high school and college students. More than half of the tickets for this talk are free and being distributed through public and private high schools on Oahu. Both talks will be held at the University of Hawaii's Stan Sheriff Center, in the Manoa area.
Tickets for both events may be purchased online starting at 6 p.m. today (Hawaii time). Beginning tomorrow, tickets will also be sold at the UH Stan Sheriff Center box office. For additional information about tickets, click here.
Unable to attend? Both events will be available for playback after each concludes on the Pillars of Peace Hawaii website, which operated by the Hawaii Community Foundation.
In 1989, the Dalai Lama — the spiritual leader of Tibet who describes himself as a "simple Buddhist monk" — was awarded the Nobel Peace Prize for his non-violent struggle for the liberation of Tibet. For more information about the Dalai Lama (pictured, right), click here.
The Dalai Lama's visit marks the launch of a new Hawaii Community Foundation initiative called Pillars of Peace Hawaii: Building Peace on a Foundation of Aloha. The nonprofit's program endeavors to bring global peace leaders to Hawaii to exchange ideas about the many forms of peace that exist in Hawaii and elsewhere around the world.
In a news release issued by the foundation, its president and CEO, Kelvin Taketa, said: "The people of Hawaii, their welcoming 'spirit of aloha' and the blending of many cultures are facets that make our islands a special place to live."
He continued, "We take pride in our ability to embrace our diversity and peacefully co-exist, and are honored to be able to share this valuable lesson with others around the world. Through the Pillars of Peace program, we hope to share these examples with global peace leaders such as the Dalai Lama, while also absorbing the wisdom they have to share from their own cultures and experiences."
The Dalai Lama is visiting Oahu at the invitation of Pierre and Pam Omidyar. Support is being provided by a lead grant from the Omidyar Ohana Fund in addition to other partners providing in-kind and cash donations.
For additional information about the Pillars of Peace program, click here.