How to Make Hawaii-Style Pumpkin Crunch, a Local Mom's Recipe
It's just not the holiday season without some.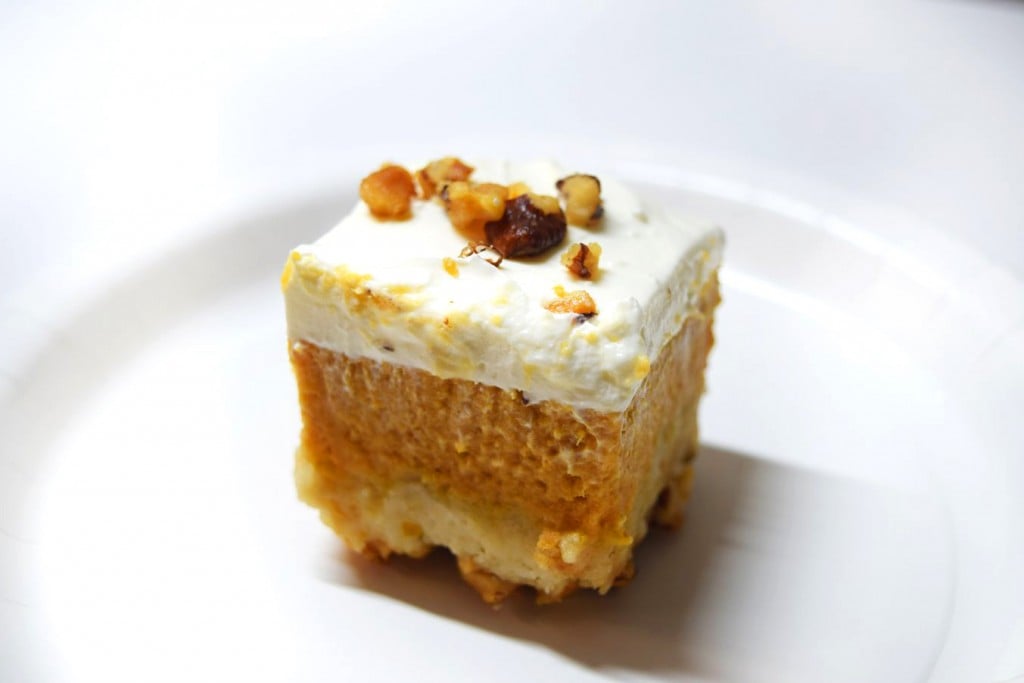 This longstanding favorite served during the fall and winter season is by no means isolated to the Islands, but there's something unique about Hawaii's version of the dessert when compared to the other recipes you can search online … Is it the thickness, the texture, the whipped cream cheese frosting? Not sure, but it's ono, for sure.
Every Thanksgiving, Christmas and a few little league baseball game potlucks in between—my mom, like many other local mothers, has been making this classic dessert for as long as I can remember. By this time each year, slices of pumpkin crunch squares would manifest (and then quickly disappear) from the table. When I asked for the recipe, she just laughed, like, hysterically.
"It's not a family secret recipe or anything!" she insists, saying she probably got it from our Auntie Lani, who in turn likely transcribed it from Sam Choy's cookbook (neither are sure). She's trying to downplay it, but I think the point here is, and to quote her, "Remember now, everybody's mom in Hawaii makes this." It's not some big, fancy recipe hidden under lock-and-key. And, that's probably partly what makes it so good.
Pumpkin Crunch
Prep and cook time: About 1 hour, 20 minutes
Ingredients
1 can of pumpkin (15 oz)
1 can evaporated milk (12 oz)
1 cup sugar
3 eggs
1 box yellow cake mix (15.25 oz)
1 cup chopped walnuts or pecans
1 teaspoon cinnamon
2 sticks of butter (one stick is about 8 tablespoons)
parchment paper
silver foil cupcake holders
Frosting
One 8 oz. cream cheese
3/4 cup cool whip
1/2 cup powdered sugar
Preparation
Line a 9 x 12 pan with parchment paper. Mix pumpkin, milk, eggs, cinnamon and sugar. Pour on paper. Pour 1/2 box of yellow cake mix over it. Sprinkle walnuts on cake mix. Layer other 1/2 of cake mix (dry mix straight from the box). Melt butter and spoon over the top evenly. Bake 350-degrees for 50 to 60 minutes. When cool, loosen from side of pan. Invert pan onto a tray (the top is the crust). Frost with frosting and sprinkle with walnuts. Cut into squares and serve in the cupcake holders.