Diner in Disguise
The Local Kauai in Kapaa serves comfort food for locavores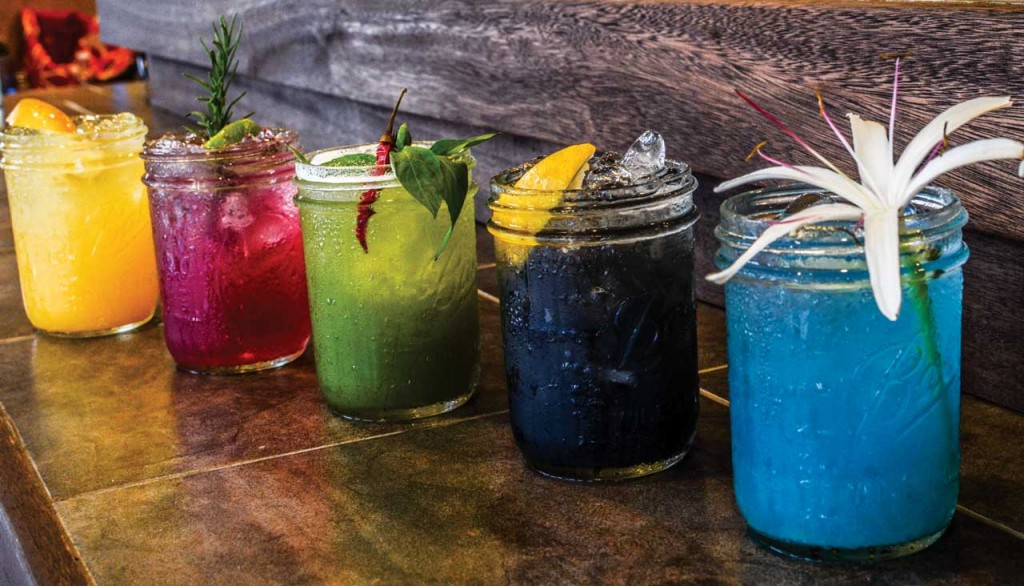 At the cozy corner bar and kitchen The Local Kauai, the laminated menu reads like a greatest hits list from your favorite country diner: fried chicken, deviled eggs, mixed green salad, chocolate cake. Although familiar, these scratch-made creations are anything but ordinary.
A showcase of the seasonality of foods sourced from Hawai'i, The Local serves up an artful smorgasbord of entrees and small plates designed by chef Erin Keller, who spent her childhood growing organic vegetables and developing a knack for rustic cooking while living off-the-grid on 40 acres near the Lost Coast of northern California. From the pickled okra to the chicken liver pate, every Hawai'i-sourced product or ingredient on Keller's menu is underlined, and each dish has at least one local component. The result is a simple but distinctive bill of fare subject to constant edits by Keller, who invents new recipes based on her weekly finds at the Kapa'a farmers market.
"I always joke to my staff, 'Oh, you didn't know you were getting hired at a diner in disguise, did you?'" Keller says. "I have all the fan favorites, like pizza and a burger, because we wanted a menu that people could relate to. But we prepare it in a way that delivers a surprise."
An upgrade on the classic fish and chips, The Local's battered big eye tuna belly is plated with lemon, radish, dill and homemade tartar sauce. The Caesar salad features Kaua'i kale and crisp Maui hydroponic baby romaine with anchovy, garlic, parmesan and gluten-free micro-croutons. The fresh-caught shrimp is served with a rice salad tossed with Thai dressing, fresh cilantro and mint, sweetened toasted coconut and kaffir lime.
The colorful, juice-heavy cocktail menu includes beverages of fluorescent blue, green and pink hues without the use of artificial syrups or coloring agents. Mixers include fresh-water blue algae, muddled herbs, dragonfruit pineapple kombucha and organic cold-pressed juice.
"When you come to Hawai'i you don't want to eat all the same stuff that you get at your regular watering hole in New England," says general manager Jose Cortez. "The whole idea is to be completely unique and have a lot of diversity and also to showcase everything Hawai'i and this island in particular has to offer when it comes to produce and meats and fish. At the same time, we don't have anything on the menu that's off-the-charts. It's all relatable."
Grilled grass-fed burgers with jalapeno pineapple jam
1.5 lbs of local grass fed ground beef, preferably 70/30 (lean-to-fat ratio)
2 tsp salt
1/2 tsp freshly ground black pepper
1/4 c good olive oil
4 homemade or locally-made soft burger buns
1/4 c mayonnaise or homemade aioli
8 strips of thick cut cooked bacon
1 bundle local arugula
1/2 c jalapeno pineapple jam
8 oz aged white cheddar
Jalapeno pineapple jam
4 c small diced local pineapple (approximately 1 large pineapple, core removed)
2 jalapenos, very thinly sliced
2 Tbsp fresh lemon juice
1 Tbsp salt
4 c sugar
3 oz. liquid pectin or 1 box Sure Jell
Make the jalapeno pineapple jam by bringing all the ingredients to boil, except for the pectin. Stir in pectin. Boil for one more minute. Remove from heat. Skim foam. Chill and keep cold until ready to use. This recipe makes extra jam, which will keep up to a month in the refrigerator in a container with a tight-fitting lid. It also goes well with many things like turkey sandwiches or on crackers with cream cheese.
Light the charcoal or gas grill and prepare heat to medium high. Make sure the grill grates are hot to prevent items from sticking.
In a large bowl, gently mix the ground beef with the olive oil and salt, mixing gently but well to distribute the seasoning. Form the beef into four equal patties (6 ounces each) and set aside.
Split the burger buns and lightly toast on the grill. Once removed from the grill, spread one tablespoon of mayonnaise on each bottom bun. Set aside.
Grill the beef over direct heat, until desired doneness. Remove each patty from the grill and place directly onto the prepared bottom buns. This will allow the bun to catch some of the juices that will run off of the patty.
Place the cooked bacon on the hottest part of the grill just for a few seconds on each side to warm up and get a little bit of char.
Slice the cheddar into four 2-ounce thick slices and place on top of the burger patties. Then top with the charred bacon and a handful of arugula.
Place 2 tablespoons of jam onto each top bun and flip on top of the built burger. Use a skewer to hold the whole thing in place.