Discover Kauaʻi's Indoor Marketplace for Local Makers
Warehouse 3540 in Lāwaʻi offers food, shopping and a community gathering place for creatives.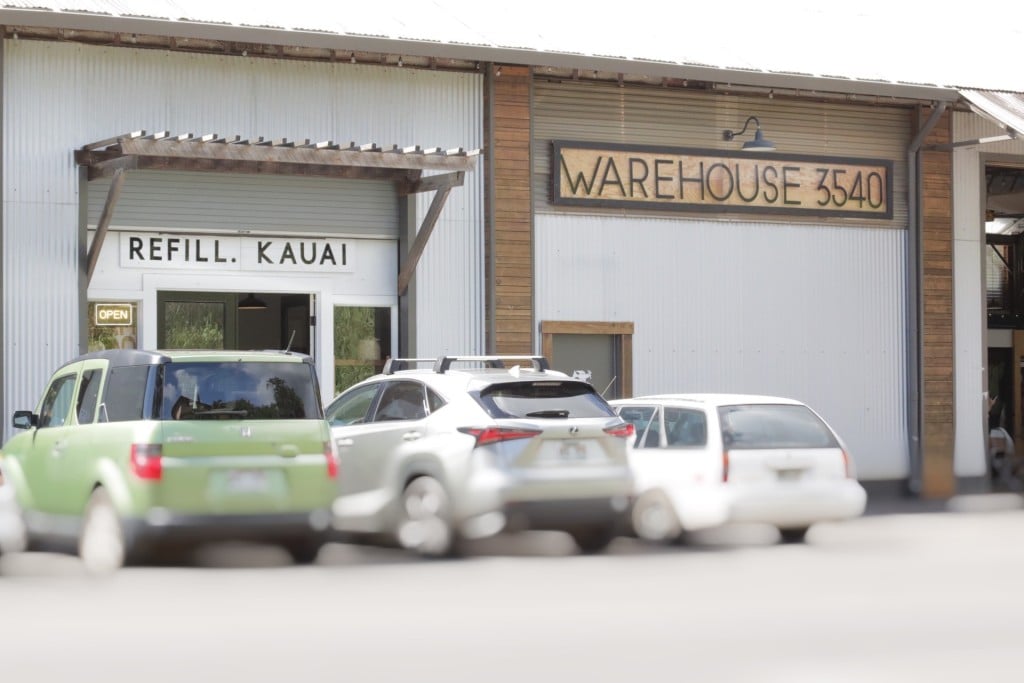 Walking into Warehouse 3540 may transport you to old Hawaiʻi as the 1950s-built former glass factory-turned-marketplace vibrates with history. Nestled on Kauaʻi's south shore, "The Warehouse" as it is lovingly referred to by locals, is home to a number of boutiques, shops, and food trucks. A long, rustic wooden table at the center of the Warehouse has become an unofficial community gathering place, oftentimes accompanied by the latest art installation just overhead. Warehouse 3540 walks a very fine line of welcoming visitors in to support local businesses while also catering to the everyday needs of the local crowd—and they do it well.
Whether you've stopped by for a quick coffee from Kind Coffee (the Aloha Latte is life-changing,) or to visit the "Pay What You Can" community library, the aloha spirit is palpable. The pace is slow, and the shopkeepers are so inviting that you could (and should) spend an entire afternoon browsing the shops before even making it outside for a bite to eat. Out front, a group of ethnically diverse and locally-sourced food trucks is accompanied by an outdoor seating area adorned with simple string lights that give just the right ambiance for date night, a pit stop or a night out with the whole family.
Owner Ariana Owen explained how the space is a testament to Kauaʻi's ideology of utilizing existing space before claiming more. Originally intended to be a visual arts studio, Owen reflected on how organically Warehouse 3540 progressed from an unused space to a small business incubator in its early days. "Because it didn't have to be built out and the structure was so simple, the overhead didn't have to be too high," Owen said, "which led to a safe place for new businesses to pop-up at an indoor market and test it out."
Pop-up Friday markets and Second Saturdays led to an interest in permanent shops, and Warehouse 3540 started to transition from an incubator to a home for established businesses. Seeing the consistency of permanent vendors, the course for the Warehouse began to change.
"We'll still have our regular pop-up people, but I'm really wanting to highlight the businesses we have here and go more in the direction of events," Owen explained, "so if someone wants to have a gathering and teach something, they can rent out the space to host that."
The Warehouse has shown consistent "slow growth" according to Owen since opening its doors in 2015. "It's been a really natural evolution to where we are today."

MEET THE SHOPS:

OPEN 10 A.M. to 4 P.M. (MON-SAT)
Environmentally-friendly household, bath, and beauty products.
​Shop pick: The Eucalyptus Steam Tablets is so refreshing!
Home goods, jewelry, art, pet supplies, and splurging you can feel good about.
Shop pick: Ray of Hope Brass Ring made by a brother and sister duo in Nairobi, Kenya.
Locally designed pearls and jewelry.
Shop pick: The freshwater pearl necklaces are perfect for layering according to your style.
An eclectic mix of household treasures.
Shop pick: The hand-stitched kantha quilts are as soft as they are stunning.
A gallery and working studio space by Robin McCoy.
Shop pick: Oil paintings of vibrant exotic flowers, sunlit seascapes and classic old Hawaiian plantation-style homes are Robin's bread and butter.
Cakes, pastries, baked goods and other edible treats.
Shop pick: The ube cheesecake if they have it. So ono.
Hand-crafted soaps, woven items, and ceramicwares. A conversation with owner "Auntie Debbie" is worth the trip. She exudes aloha, and her products are handmade with love.
Shop pick: Glass Beach soap, named after Kauaʻi's own Glass Beach, peppered with sea glass.
Tahitian pearls, paddles and handmade items.
Shop pick: ALOHA Collection splash-proof bags.
Locally-sourced produce and products.
Shop pick: Kaua'i Nectar is honey infused with garlic and ginger. Warning: This stuff is addictive.
When asked about the best part of Warehouse 3540, Owen reflected on what the shop owners have built together, noting the support system that comes with running a small business within an even smaller community. "It's really neat to see that things are possible," Owen mused, "it kind of gives (people) a little bit of the courage to try something."
We agree.
Keep up with Warehouse 3540 online and follow them on Instagram for upcoming happenings, and be sure to check them out on your next visit to Kaua'i.