Do These 4 Oʻahu Activities Instead of Popular Attractions
Trade Waikīkī Beach for White Plains, and more.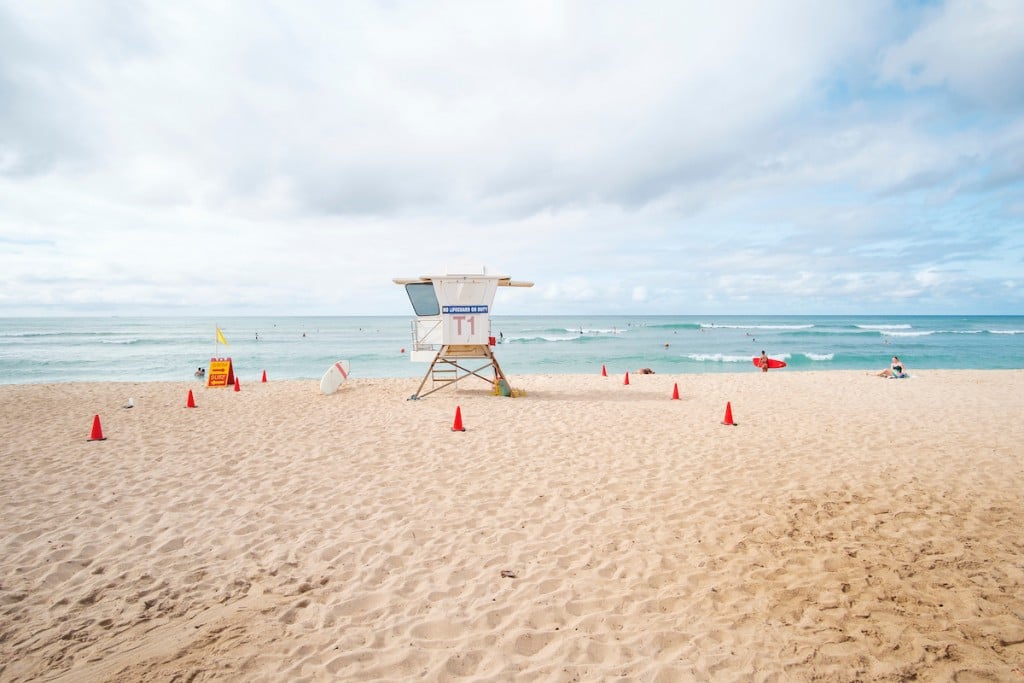 We get it, you can't go wrong with the classics. Having your first surf lesson at Waikīkī Beach will always be an everlasting memory, and touring the KCC Farmers Market is a great way to get a look at local produce and to support small businesses. But if you're tired of hitting up the same spots time and time again, then we have some places you need to check out. Who knows, you may end up liking them more than your go-tos.
White Plains INSTEAD of Waikīkī Beach
While the rolling waves of Waikīkī are some of the best for new surfers, it's not the only place on O'ahu where you can learn to surf. Located at the end of Essex Road and a 40-minute drive from the busy streets of Waikīkī, White Plains Beach is where beginner surfers can feel at ease in the fun and friendly waves that seem to break everywhere. This is a popular surf spot on this side of the island, luring both veteran surfers and fresh-faced newcomers. But it never feels crowded—not like in the lineup in Waikīkī. Novice surfers can stick to the breaks closer to shore, known as the "inside," where smaller waves form over a sand-bottom section. Military personnel can rent boards and book surf lessons at the on-site Surf Shack; otherwise, you have to bring your own gear to the beach. (If you don't have your own board—and need lessons—you can book one with Surf HNL, which takes newbies to the nearby Eisenhower Beach, which is even less crowded.) Bonus: White Plains has lots of parking, restrooms, indoor and outdoor showers and an on-duty lifeguard.
Mililani Farmers Market INSTEAD of KCC Farmers Market
Before COVID-19 shut down the popular KCC Farmers Market near Diamond Head, the open-air market, run by the Hawai'i Farm Bureau, averaged 10,000 visitors every Saturday morning and boasted more than 70 vendors from across the state. While it remained closed, the bureau's Mililani market—about 20 miles north of Waikīkī and located in a huge parking lot at a neighborhood high school—stayed open and expanded. Today, it's still a popular market for locals but also great for visitors heading to O'ahu's North Shore. It features more than 30 vendors, selling everything from local honey to artisan ice cream. You can grab breakfast on your way to Sunset Beach or locally grown veggies to cook in your condo. And unlike KCC, parking here is never a problem.
Open 8 to 11 a.m. Sundays, Mililani High School. 95-1200 Meheula Parkway, Mililani, (808) 848-2071, hfbf.org
Wahiawā Botanical Garden INSTEAD of Ho'omaluhia Botanical Garden
Instagram star Ho'omaluhia Botanical Garden in Kāne'ohe tends to get all the love (read: too much), but the City and County of Honolulu manages five botanical gardens that are all amazing in their own right. It's worth trekking to the back streets of Wahiawā, a former pineapple plantation town about midway between Pearl Harbor and O'ahu's North Shore, to get to Wahiawā Botanical Garden. Set on 27 acres, the garden is just the right size for a stroll: big enough to explore but not big enough to get lost in. The cool, immaculately maintained upper terrace gardens are planted with impressive trees nearly a century old, while the more rugged lower trails descend to seasonal Kaukonahua Stream and loop around gardens of heliconia, native palms and bamboo forest. There's no gift shop, and hardly any visitors either, for that matter. During our tranquil hour-long visit we saw just five other people. As with all of Hawai'i's botanical gardens, bring mosquito repellent.
1396 California Ave., Wahiawā, (808) 621-7321
Electric Beach INSTEAD of Hanauma Bay
Even before Hanauma Bay introduced new rules, increased fees and imposed a visitor limit this year, the protected bay in East Honolulu was packed. Now, the snorkeling hot spot only allows up to 720 visitors a day and you have to reserve tickets through the city's online booking system up to 48 hours in advance. Spots are incredibly hard to come by. And while a day at Hanauma Bay is absolutely worth the effort—the water is cleaner than it has been in decades—those looking for a more low-key and accessible snorkeling adventure may want to head west. Kahe Point Beach Park, known by locals as Electric Beach, is about a 40-minute drive west of Waikīkī. It may not look like much—a small section of sand is about all the "beach" you'll get here—but it's not what's on the surface that matters. The real action awaits, under the sea. It's called Electric Beach because of the nearby power plant—and that plant is one of the main reasons why the area is so great for snorkeling. Clean warm water emitted from the power plant attracts a variety of sea life—angelfish, butterflyfish, sea turtles, pods of spinner dolphins—, and the water here is crystal clear. The snorkeling area is not as protected as Hanauma Bay and there is no lifeguard tower, so make sure you're comfortable swimming in the open ocean before grabbing your mask and fins.
Kahe Point Beach Park is at 92-301 Farrington Highway. There is a small parking lot with limited stalls, a bathroom and shower.