Malasada Ice Cream Sandwich Makes Maui Debut
The inside scoop on Donut Dynamite's cool, new treat.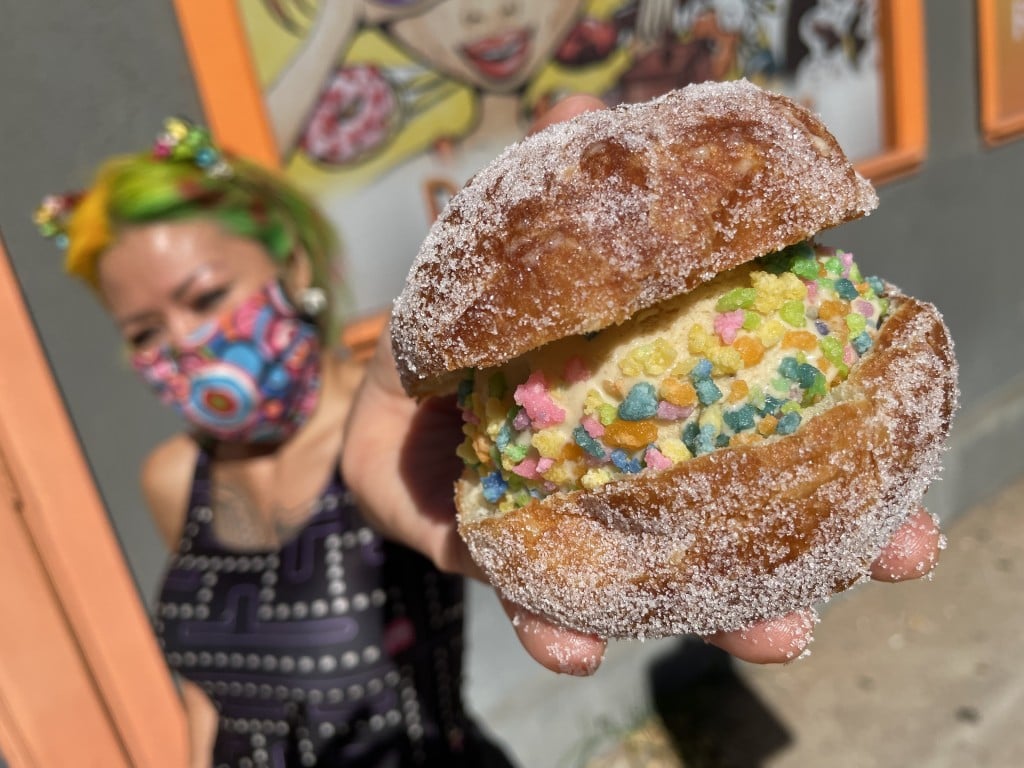 If we "all scream for ice cream," how are people going to react to this?
Donut Dynamite, the Maui shop known for its colorful, flavorful brioche doughnuts, this week debuted its newest creation, the Malasada Ice Cream Sandwich.
The pastry-dairy pairing features Donut Dynamite's deep-fried, sugar-dusted malasadas wrapped around doughnut-inspired flavors of ice cream such as bacon maple, Maui vanilla bean and "Gimme S'more." The ice cream, made in-house from scratch by Donut Dynamite, includes hunks of actual Donut Dynamite doughnuts.
"I basically combined two of my favorite treats from my childhood," says Donut Dynamite's founder, who goes by the moniker Madame Donut.
"When I was a kid in the Philippines, there were ice cream men we called sorbetero who rang a bell as they pushed their ice cream carts on the streets. They sold ice cream served on a cone, but I always opted for my ice cream sandwiched in pan de sal, a soft, Filipino bun. That was the inspiration of this dessert."
As with Donut Dynamite's artisanal doughnuts, malasada ice cream sandwiches are exclusively available on Saturdays (7 a.m. to 1 p.m.) at their shop in Wailuku. Pre-orders are available at DonutDynamite.com.
Classic, creamy ice cream sandwiches are $8.99. For an additional $0.75, one can order a sandwich "chunky" with bonus doughnut toppings like maple candied bacon, handmade candy sprinkles, or graham cracker cookie crumbs and toasted marshmallows. Ice cream flavors will change weekly.
Malasadas have been popular across the Aloha State for decades. The traditional Portuguese treat first arrived in Hawaii with the 1878 influx of plantation laborers from the Madeira and Azores islands. Malasadas were popularized in the 1950s by Leonard's Bakery on Oʻahu, and today are found in local bakeshops throughout the islands.
READ MORE: So What's the Big Deal With Malasadas?
Creative pastries are nothing new for Madame Donut. In 2016, she won the "Backyard Barbecue" episode of "Sugar Showdown" on the Cooking Channel. Donut Dynamite first launched as a mobile operation in 2013, selling decadent doughnuts at the Maui Swap Meet and events around the island. In 2016, Donut Dynamite found permanent digs on Lower Main Street in Wailuku.
Donut Dynamite, 1246 Lower Main St., Wailuku, @DonutDynamite, (808) 280-6442