Doing the Work: Minda Golez
"It Could Be Any of Us"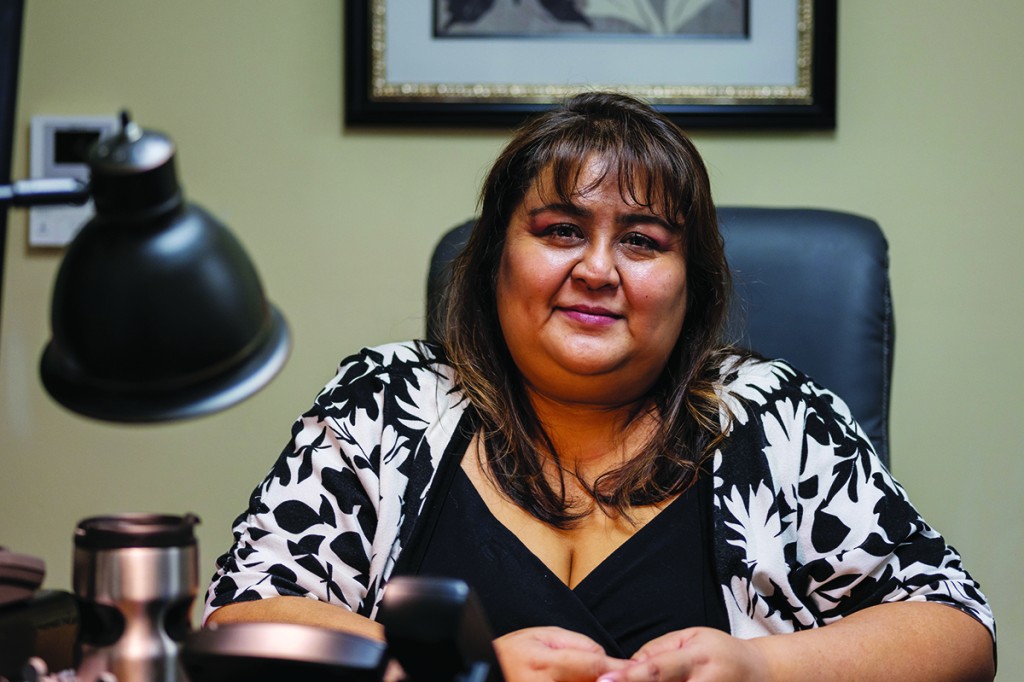 "Life's most persistent and urgent question is, 'What are you doing for others?" – Dr. Martin Luther King Jr.
Philanthropy, defined: Goodwill to fellow members of the human race, active efforts to promote human welfare. An act or gift done or made for humanitarian purposes.
This year has reminded us how many people do good works to help those in our communities, where COVID-19 has laid bare personal and economic insecurities. Philanthropy is about the people, organizations, donors and foundations putting countless hours into the work of making Hawai'i a better place.  Here is one of the four profiles of those doing good work.
Especially during these times, answering King's urgent question seems more important than ever.
---
When the pandemic hit, Minda Golez knew what was coming. She'd lived through it before, when Aloha Airlines ceased operations and the national economy collapsed in 2008. But this time, it's worse, with no end in sight.
"I knew in early March that the calls would start flooding in," Golez says about the pandemic. "It happened in 2008, people suddenly out of work and no idea what to do next." Now, more than six months after the initial COVID-19 lockdown, the calls keep coming and panic has set in. "In the beginning, people thought life would get back to normal," she says. "Now they know that's not true." Jobs are gone, businesses are shuttered, and they are in crisis.
Prior to COVID, Golez and her team fielded eight to 10 calls a week. Now they're handling at least that many every day, and their call lists keep growing.
For 14 years, Golez has been the beating heart of the The Institute for Human Services Housing and Employment Program, building a team of housing specialists, employment specialists, case workers and program coordinators who spend their days working one-on-one with clients trying to get back on their feet. They're known for their work with the houseless community, but with COVID-19, people who've never experienced home and economic insecurity are scared. Golez knows that, and she knows what to do.
"Furloughs are turning into layoffs now," she says. "It's not going to be the same again, and we know that. Take a couple who've both worked for Hawaiian Airlines their entire lives. They've lived a comfortable life, and now they don't know what to do. They're panicked."
Golez and her team are having hard conversations with their clients—talking them through various options, opportunities and resources. Many of those clients, though, aren't fully prepared to face the severity of their situations, Golez says. For them, it's an evolutionary process. "In the early days, people would say, 'I'll get my assistance and unemployment, and there's an eviction moratorium, so I'll be OK,'" she says. "Now they're getting the bills from the landlords, detailing the back rent due; the extra $600 per week in unemployment has ended; and the moratorium expires at the end of the year." Now they're digging out, facing thousands in unpaid rent and utilities, a likely eviction notice once the moratorium expires, and nowhere to go.
For Golez and her team, the hard talks get real quickly. The questions are tough: "Do you have a landline and a mobile phone? Do you really need that landline? Cancel it. What about cable, all those premium channels, and the DVR box — do you need those? Maybe just keep Wi-Fi. You've got a Mercedes? Maybe you should trade that for a less expensive car, a less expensive monthly payment." And on it goes, detailing each aspect of a client's situation and how they can make adjustments.
"We talk them through the process to really buckle down," she says. "They have to be in it for the long haul, not just a wing and a prayer."
She also knows the shame and embarrassment felt by so many of her clients, many of whom are known within their communities, churches and schools. "They worry what the neighbors will think, what will Auntie and Uncle think," she says. "They won't ask family for help because they feel like they've failed. These people have been working hard their entire lives, so it's a shock to their system."
While buckling down on expenses, Golez and her team also gently move clients to recognize their previous job or career may not be coming back, that they need to look at other options.  "There's the pride of it all," she says. "People will say that's all they've done their entire career, that they don't know how to do anything else." Golez knows it's a discussion, so she goes slowly, suggesting jobs in other fields that are available right now — perhaps security to protect closed stores, office work, food delivery, and other opportunities that IHS can help connect them to. "They sit with it for a bit," she says, "and then they usually come back. Having the will —the guts—to enter the unknown, be flexible, and just go full into it is hard."
Golez says most people don't understand the complexity of getting people into housing. "It has to be right for the client," she says, "on the right bus route, in communities where they feel safe," and in the same school district, too, to avoid disrupting their children's education. Each case is unique, and she and her team work hard to respect and honor each client's unique needs.
It's hard and heartbreaking work, but Golez and her team do it with pride. She also works hard to keep her staff motivated, and makes sure they're not overwhelmed. "We do a lot of talking, a lot of communicating, a lot of one-on-ones to handle the stress," she says. "We have hard days, but we also celebrate the successes, even the little ones."
Golez is a single mom, and her 12-year-old son understands the importance of the work she does. "I made sure he sees the shelter and the kids (pre-COVID). I wanted him to know the difference between needs and wants," she says. "He knows I always say, 'It could be worse,' because he and I have seen it."
While each case is its own story, Golez gets emotional when she talks about her first one, involving "a gentleman who'd tried so hard, worked in security," but was houseless. She found him a place in Mākaha, and even drove him out there to help settle him in. "We were both excited as I handed him the keys," she says, "and he started crying." After touring the apartment, they walked outside, on the ocean side. "He pointed to a spot nearby and said 'That's where my tent was.' That's when I cried too. I've never forgotten him."
Golez pauses after sharing that story.  "We have so much respect for our clients," she says. "It could be you or your family member, and you'd want that respect. It could be any of us."