Doing the Work: University of Hawai'i Cancer Center
A Visionary Program with Life-Changing Possibilities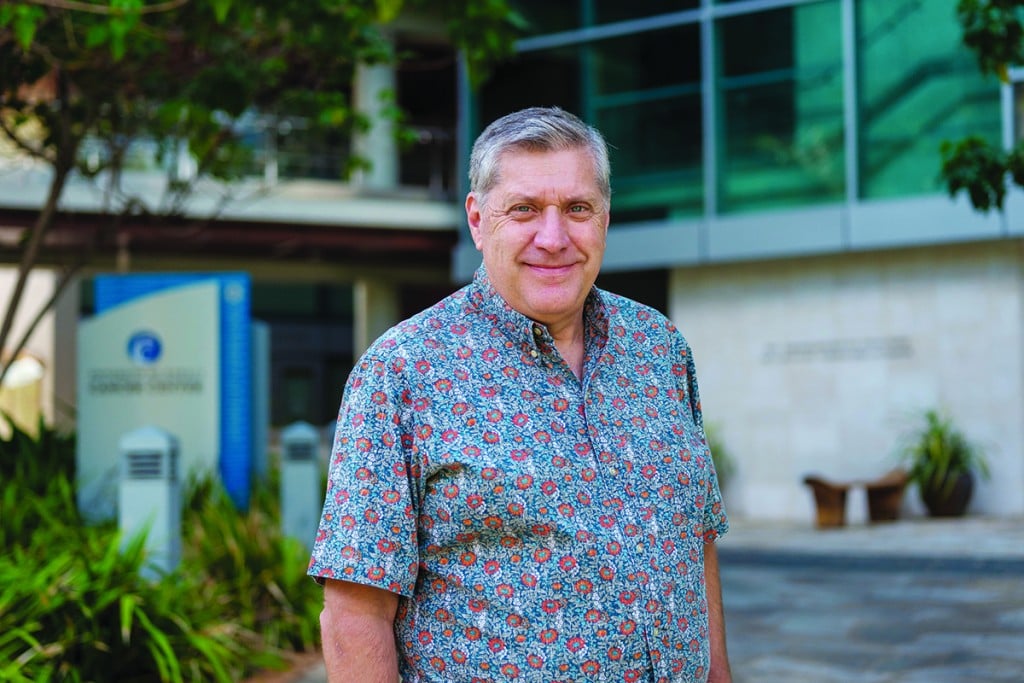 "Life's most persistent and urgent question is, 'What are you doing for others?" – Dr. Martin Luther King Jr.
Philanthropy, defined: Goodwill to fellow members of the human race, active efforts to promote human welfare. An act or gift done or made for humanitarian purposes.
This year has reminded us how many people do good works to help those in our communities, where COVID-19 has laid bare personal and economic insecurities. Philanthropy is about the people, organizations, donors and foundations putting countless hours into the work of making Hawai'i a better place.  Here is one of the four profiles of those doing good work.
Especially during these times, answering King's urgent question seems more important than ever.
---
Imagine a world-class cancer research center right here in Hawai'i, one of only 71 National Cancer Institute designated centers in the country. Imagine the possibilities of early phase clinical trials right here at home, offering new options for those who've not done well with conventional treatments. Imagine cancer research that focuses on Hawai'i's diverse ethnicities, finding treatments that focus on our unique characteristics.
It's here. Some of it's been here for almost 25 years, and its plans for the future may well revolutionize cancer treatment. The University of Hawai'i Cancer Center has launched a visionary program to build out several floors of its new Kaka'ako campus, creating an ambulatory outpatient clinic where early phase clinical trials can be administered to patients who've exhausted traditional treatments. The program will also expand the center's existing research, and establish a drug development commercialization complex where drug researchers can have access to world-class equipment and research to bring new treatments to market.
It's a mouthful, but so is what it means for Hawai'i: lives saved, revolutionized cancer treatments for unique Pacific demographics, more world-class researchers, and a more diverse state economy.
Leading this ambitious undertaking are two world-class scientists themselves. Dr. Randy Holcombe, the Cancer Center director, came here from Mount Sinai Medical Center in New York, while Dr. Joe Ramos, the deputy director, came to Hawai'i after years as a cancer researcher at Rutgers. "I was drawn here to be part of another world-class NCI center that's also small enough to foster great collaboration among researchers," Ramos says.
Instrumental to their plans is the consortium of health care providers that's been expanded under Holcombe's leadership, bringing Queen's, Hawai'i Pacific Health, Kuakini, HMSA, and Castle as well as many private practice physicians and Tripler into a single group that supports these initiatives. "We're not building another hospital," Holcombe says.  Instead, it's a new resource for the existing medical community.
"These new programs at the Cancer Center were a long time coming," says Dr. Ian Okazaki, an oncologist with Hawai'i Pacific Health. "Dr. Holcombe comes from Mount Sinai. He's done the heavy lifting and knows how to build the consortium and get this done."
Senator Mazie Hirono, a cancer patient herself, shares these views. "The groundbreaking work at the Cancer Center provides families in Hawai'i and across the country with hope," she says. "Their focus on serving Hawai'i's diverse communities will be a critical piece of improving cancer outcomes in communities of color, and I was proud to announce $6.5 million in federal grant funding for the UH Cancer Center last year to boost this research."
While the base funding for the plan comes from state and federal funds, the success and completion of this ambitious program —and that of every NCI designated center around the country—depends on philanthropic giving. "No cancer center in the country survives without philanthropic dollars," Holcombe says.
Early Phase Clinical Trials 
Currently, there are no early phase trials available in Hawai'i. If a patient doesn't see success through conventional treatments and late-stage trials, they either go to the Mainland for early phase trials or they run out of options, often dying from the disease. And of course, seeking treatment on the Mainland is a huge financial burden, requiring the patient and a family member to relocate, often for months.
Now, an outpatient early phase clinical trials clinic will be housed on the Kaka'ako campus, allowing doctors to collaborate with the Cancer Center to enroll their patients in the appropriate trials and then monitor their progress. "Early phase trials are what it's all about," says Okazaki. "Clinical trials should always be part of the discussions with our patients and having the Cancer Center right here makes it more realistic and feasible."
Holcombe expects the early phase trial center to be self-supporting after four years, but to create it, philanthropic seed money is needed. He also knows that cancer patients, particularly those now counting on early stage trials because everything else has failed, need treatments they're comfortable with and spaces they're comfortable in.  "Wait until you see it," Holcombe says. "It will be state of the art, nicely appointed, and not packing people in, allowing patients to get quality care in a science center."
Expanded Research 
Organoids are the new frontier of cancer research, three-dimensional tumors grown from biopsy samples of cancer patients. They allow researchers to look at different cancers in different populations with different outcomes. "Organoids match ethnicity, age, tumor type and cancer type," Ramos says. "We grow them in the lab, and can continue to grow them so we can continue to test new treatments on them."
Organoid libraries don't exist around the country yet. "We're among the first," Holcombe says, "and we'll make our library available to researchers around the country."
Particularly in Hawai'i, this research is critical, since we know that certain cancers impact different ethnicities differently, and yet 91% of patients participating in clinical trials are white. By expanding that work to focus on patients of Asian heritage or Native Hawaiian or Japanese heritage, researchers believe they can find treatments unique to these patients.
Also critical to their research labs are the plethora of plants and animals found only in Hawai'i. "Natural products are more complex (than synthetic ones) so we can look at things we could never create in a lab," Ramos says. "Over their evolutionary history, they're designed to have biological activity, so that's what we look at, to see what we can find to address cancer." Taxol, a drug now commonly used to treat breast and ovarian cancer, was discovered in the bark of the Pacific yew tree, and was then re-created as a synthetic product to offer game-changing treatment.
Cancer center researchers harvest unique plants and marine species like marine sponges and forest ferns, and following the Taxol example, work to find the benefits and then create synthetic versions that can revolutionize cancer treatment.
Drug Development
Commercialization Complex 
Researching, developing, and bringing new drugs to market is an expensive endeavor. A single piece of equipment can cost over $1 million, on top of the staff of researchers, additional equipment and lab resources required. As it is now, independent medical researchers and drug developers who've homed in on possible new cancer treatments have just two options: find a way to pay for those resources themselves or find a collaborative center on the Mainland.
Now, that collaborative center will be right here, a world-class research center with the equipment, research teams, and knowledge to work with that these researchers and developers to bring their drugs to market. Instead of self-funding, they simply rent lab space at the UH Cancer Center and tap into the expertise there.
Besides positioning the UH Cancer Center as an epicenter of drug and treatment development, the complex also expands the state's research economic sector, adding to the already 300 researchers at the Cancer Center and bringing jobs and economic growth to the Islands.
Okazaki knows all too well the agony of a cancer battle lost. "What Holcombe is building is a place where world-class researchers want to be. They will want to come here," he says.
"We should have this. We deserve it. We need it."