A Constellation of Giving: Donors Make a Challenging Year Hopeful
Whether through kindness or a donation—there are many ways to give in Hawai'i. At Hawai'i Community Foundation, we know that every action makes a difference.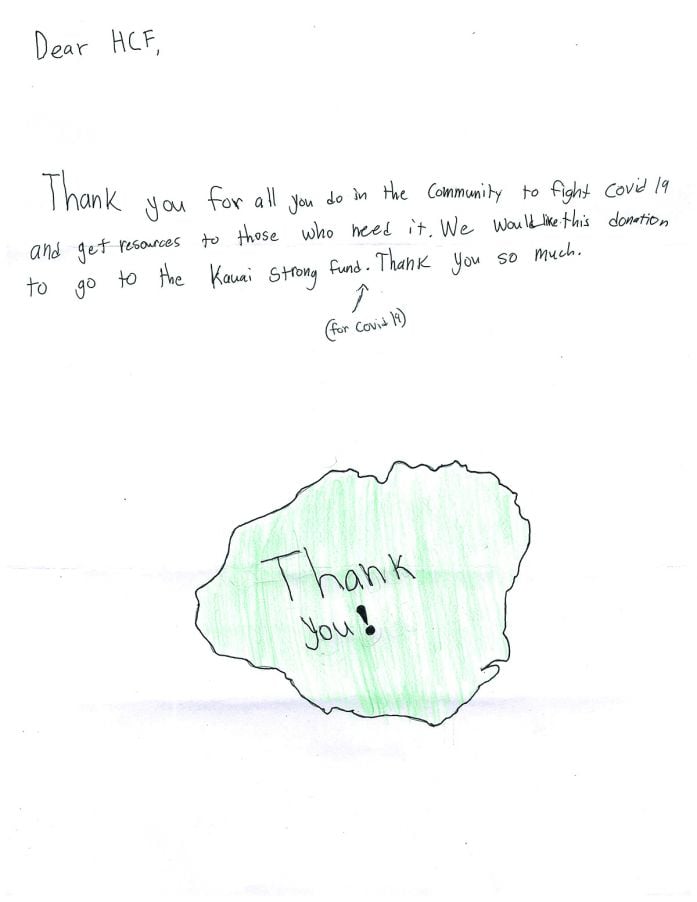 A Map of the Heart
We often say no gift is too small to make a difference. What doesn't get said as much: No person is too small to make a difference. In late April, a young anonymous donor directed a $20 donation toward the Kaua'i Strong Fund and drew a beautiful map of the island, just to make sure we knew where the funds should go.
Two People, One Purpose, Many Gifts
When it became clear that the pandemic had made its way to Hawai'i's shores, attorneys Simon and Lorraine Klevansky knew they wanted to help. They turned to the Hawai'i Resilience Fund of the Hawai'i Community Foundation. "I liked the strategy," says Simon Klevansky, adding that the fund's plan covers both short-term and long-term goals and builds on relationships with some of Hawai'i's most effective nonprofits.
The Klevanskys made their first donation to the Hawai'i Resilience Fund in May—and then they kept giving. As of this writing, they have made 11 donations, both as individuals and through Simon Klevansky's law firm, Klevansky Piper LLP. To the Klevanskys, it's just common sense to help until the need is met. "We've been fortunate," says Lorraine Klevansky, "but we know a lot of people who work really hard and are not able to make it, because of things that are not under their control."
Aloha, At Work: Bank of Hawai'i
Bank of Hawai'i exemplifies an institution whose values are lived by its 'ohana. In March 2020, Bank of Hawai'i Foundation donated $3 million to the Hawai'i Resilience Fund of the Hawai'i Community Foundation, one of the largest corporate donations in HCF's history. This generous act was the seed that grew the Resilience Fund into a $50 million resource for pandemic recovery. The bank's board and leadership council contributed another $150,000 to the fund, and Bank of Hawai'i's "Blue Team" of employees volunteered their time at Hawai'i Foodbank's mass distributions on O'ahu in May and June. The distributions provided food—from local produce and meats to pantry staples—for over 40,000 households on the island.
Gratitude Pose: The Gift of a Yoga Class
When COVID-19 hit, the CorePower yoga studio where Max Hannemann was teaching shut down. His daughter, Tiana, also a yoga teacher, was home from USC. They started to get queries from students who missed their classes, so the pair decided to offer yoga together, online—for free—to help people stay active through the pandemic. Max Hannemann called it "just a way to give back."
The classes were a success, drawing viewers from all over the world, but Tiana, a Hawai'i Community Foundation scholarship recipient, didn't stop there. "I wanted to pay it forward," she told Hawai'i News Now. For one class, she announced that she planned to donate one dollar for every class attendee to Hawai'i Community Foundation's Hawai'i Resilience Fund—which was set up in March to provide coronavirus relief across the state. She thought she would be donating about $80. Then, she says, "through the night people started matching me, Venmo-ing me, saying, 'Hey, I want to contribute to your donation.'" After two weeks, the father and daughter team and their students were able to donate more than $600.