Elmer Guzman: 5 Things I Love About Poke
The celebrated owner and chef of Oahu's Poke Stop restaurants is known for his way with the raw fish dish.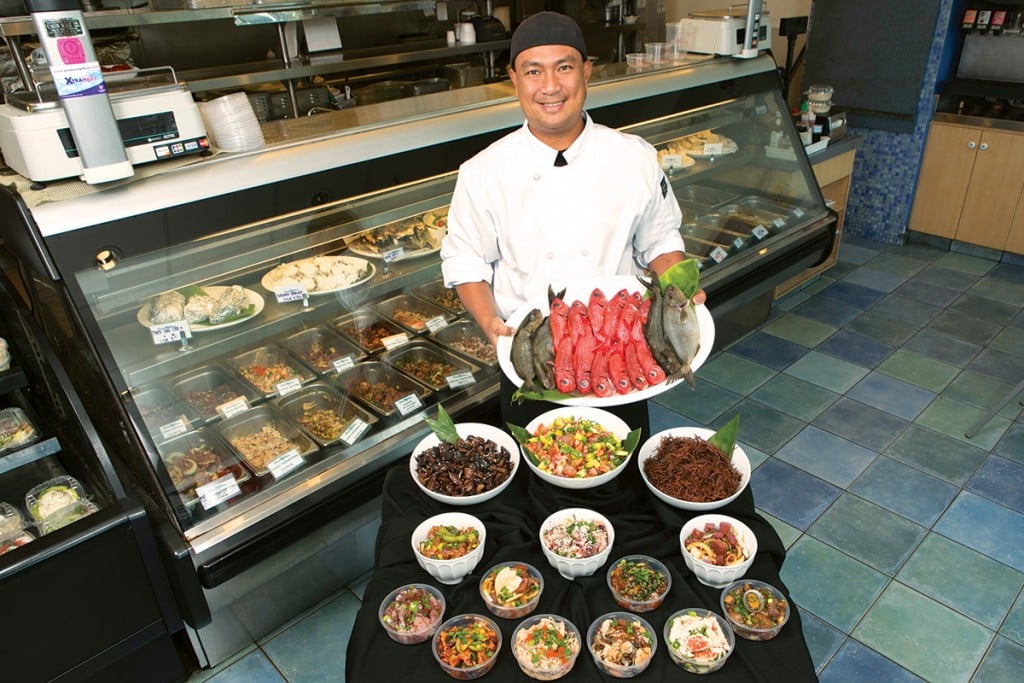 Elmer Guzman was so desperate for a poke bowl while working in New Orleans for Emeril Lagasse he came up with a version using Louisiana ingredients.
Instead of Hawaiian ahi, he used escolar (a deepwater fish similar to tuna). With no kukui nuts, he resorted to grinding pecans to give the poke its signature nutty flavor. Some sea salt and a handful of chopped onions and scallions later, he had a regional take on the popular Hawaii comfort food dish.
That kind of determination and innovation has propelled Guzman into the upper echelon of Hawaii chefs—a position he's attained largely because of his prowess with poke—Hawaiian for the act of "slicing or cutting crosswise into pieces." Opening his first Poke Stop restaurant in 2005, he transformed the side dish into a main course, offering multiple varieties using non-traditional ingredients such as mayonnaise, kim chee, imitation crab, mussels, furikake (a dried Japanese rice condiment), avocado and more.
Though many have since followed his lead, Guzman's inventive poke concoctions are still the big draw at his casual Poke Stop restaurants, whose menus also showcase his love for and expertise with Hawaii seafood and local comfort food.
In addition to celebrity chef Lagasse, the Maui-raised Guzman's résumé includes stints with top Hawaii chefs such as Alan Wong and Sam Choy. He also wrote a popular local cookbook, The Shoreline Chef: Creative Cuisine for Hawaiian Reef Fish, and Poke Stop was featured on Food Network's popular "Diners, Drive-Ins and Dives" series.
"I took this thing—poke—to a different place," says Guzman, about Poke Stop. "This isn't a fine dining, sit-down place like all the top chefs do. But this fits our lifestyle."
Poke has never been the same since.
5 things I love about poke
1. Local ingredients
"I love being able to use the wonderful ingredients we have here. I call them 'toys.' I love it when we have local tako (octopus). It's so much better than the tako from elsewhere. The texture is better. It just melts in your mouth. Then there's the kanpachi (Almaco jack), the ogo (seaweed), the sea asparagus, the opihi (Hawaiian for limpets). It's just so much fun."
2. Diversity
"There are so many ways to make poke. So many angles you can go—from opihi to imitation crab to kanpachi. You can do just about anything with it. The seafood is just a backdrop."
3. Pau hana perfect
"(Poke) started with pau hana (Hawaiian for "finished work"). At the end of the day, workers wanted a little something to eat with a bottle of beer before going home. Not something filling. Because you cannot go home and tell your wife, 'I'm full. I was pounding beers with the boys.' Good poke should be eaten cold, ice cold. You should feel it going down your throat and into your stomach."
4. Easy
"Poke is so easy to make. Everybody has the ingredients in their cupboards and refrigerators. It's how you clean out your kitchen! There are just a few major ingredients—fish, soy sauce, sesame oil—that go into it. If you don't have soy sauce, you can use Hawaiian (sea) salt. If don't have sesame oil, you can use inamona (chopped kukui nuts). You can always find a way."
5. Legacy
"Poke is part of our history. Sam Choy, my mentor, brought it to the world. Hawaii Regional Cuisine chefs started this and now future chefs of Hawaii have to keep it going. I definitely see it as my responsibility. Poke is iconic. It's something Hawaii is known for. It's like grass skirts and Aloha Tower."
Poke Stop locations
Waipahu Town Center, 94-050 Farrington Highway, Waipahu, Oahu; (808) 676-8100 
95-1840 Meheula Parkway, Mililani, Oahu; (808) 626-3400; poke-stop.com