Embrace your Need for Speed with a Polaris Slingshot
Part car, part motorcycle, the Polaris Slingshot is the ride Hawaii thrill-seekers have been looking for.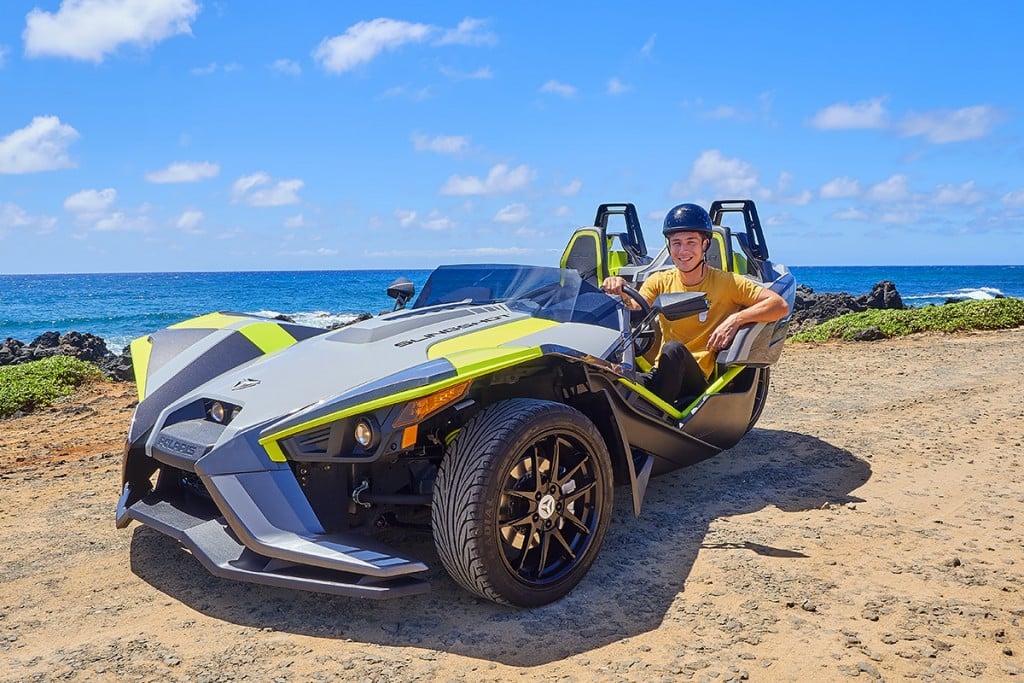 If you want to experience the island in a unique way—and you don't want to jump out of an airplane or ride in a helicopter—drive around the island in a Polaris Slingshot SL.
These three-wheeled vehicles, which can be rented at Montgomery Powersports in Honolulu or at the Hilton Waikoloa Village on Hawaii Island, offer you the thrills of a motorcycle with the comfort of a car. There's no hood, no automatic transmission, no back seat. And it's all fun.
The outlet at the Hilton rents out three different models of the Slingshot (SL, SLR and GT). With rental periods ranging from four hours, eight hours and even 24 hours, you'll have plenty of time to explore Hawaii Island's impressive lava fields, dense forests and high-altitude roads without having to get into and out of your rental car to take pictures. An especially noteworthy drive on the Big Island that I can recommend is the Chain of Craters Road, a 19-mile winding route that starts at the Hawaii Volcanoes National Park visitor center and descends 3,700 feet before reaching the magnificent Holei Sea Arch.
Both rental locations require helmets for drivers and passengers; they need to be worn at all times. The friendly shop workers will provide a quick lesson on how to adjust mirrors, where the seat belts are and how to access the roomy behind-the-seat storage compartment.
The Slingshot responds quickly, roaring to life. It's exciting to ride in an open-air vehicle—and a great way to see the sights, whether you're driving past the rolling hills of Waimea or down bustling Kalakaua Avenue in Waikiki.
To rent a Slingshot Polaris, visit Montgomery Powersports' website for more details, or for folks on the Big Island, check out the Hilton Waikoloa Village's website.