Enjoy a Sunset BBQ Dinner with Paniolo at Kahuā Ranch
Paniolo barbecue dinners are back at Kahuā Ranch on Hawai'i Island, part of a long tradition of Hawaiian cowboy culture.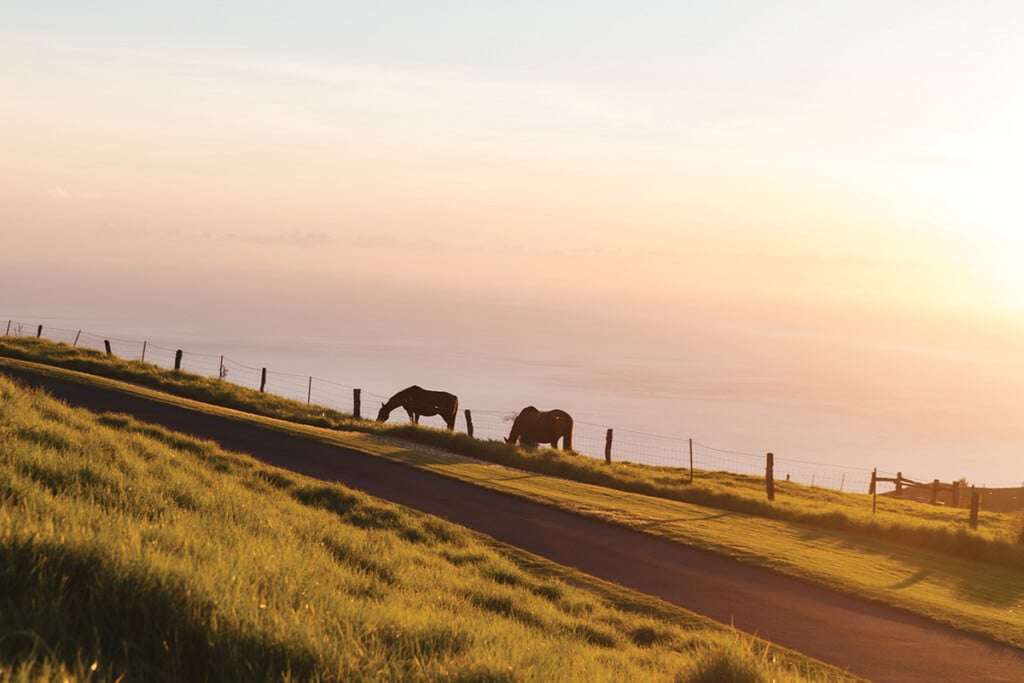 I'm sitting around a campfire, gazing out at a breathtaking sunset and feeling on top of the world. My family and I have traded our luxe beachfront resort setting for a rustic evening at Hawai'i Island's Kahuā Ranch, 3,200 feet above sea level in the lush rolling hills of Waimea.
A working cattle ranch, Kahuā invites visitors every Wednesday night for a glimpse into the life of a paniolo (Hawaiian cowboy), past and present. The dinner event has been running for 22 years but recently took a two-year pause during the pandemic.
Now back in action and under a new catering operator, this ranch tradition endures with paniolo games, entertainment and grub. "I want to continue the legacy that was started here," the new host, Ted Aughe, says.
That legacy is evident the moment we drive onto the expansive 2,100-acre property that overlooks the Pacific Ocean. As we rumble over cattle grates in the dirt road, we pass by some of the ranch's resident horses, cattle and sheep, and charming century-old ranch houses, home to the current cowboy families. Some of those families have worked the ranch for five generations.
Located an hour and a half from Kona and 45 minutes from Waikoloa, the trek up the narrow, winding road is worth the drive. Once there, you're greeted with great views and a lot of aloha from the staff. "My goal is to make guests feel like they are going to a friend's house for a barbecue," Aughe explains.
After checking in, just like a friend would, we're invited to grab a passion orange juice from the cooler or something stronger from the bar. Horseshoes and cornhole set up on a spacious lawn keep hungry guests entertained until the prime rib is ready. We also try our hand at roping a stationary cow with a lasso, surprisingly difficult despite tips from a helpful rancher.
Before dinner, "Uncle" Dave gathers us around the campfire to talk story and to share his knowledge of the ranch and paniolo history. In Hawaiian, kahuā means the beginning or the foundation; it's an apt name for a ranch that once served as a training ground for Kamehameha the Great's armies, which would go on to conquer and unite all of the Hawaiian Islands.
Dating back to 1928, Kahuā Ranch is one of the oldest ranches in Hawai'i and home to 2,500 head of cattle. The island's last slaughterhouse was a casualty of the pandemic, so most of the ranch's cattle are shipped to the Mainland for sale. However, a limited supply of its beef is available for purchase locally at Waimea Butcher Shop.
We dine on a country buffet feast at communal tables from an open-air pavilion perched on a bluff with views of the rolling hills and ocean beyond. All of the must-have barbecue favorites are here: juicy prime rib, chicken thighs smothered in BBQ sauce, smoky baked beans and garlic mashed potatoes.
The atmosphere during dinner is casual and lively and everyone takes turns getting up to snap photos of the dramatic sunset. Country band The Tolands play favorites everyone can sing along to and give us a crash course in line dancing too.
Ending the night on a sweet note, I can't resist the macadamia nut pie even though I am stuffed. Think sticky, sweet pecan pie with a Hawai'i flavor twist! Coffee and hot chocolate are served to wash it all down. And as if we haven't had enough, my son toasts up s'mores for us on the open fire.
Family-friendly activities continue after dinner, too. The remote location away from city lights makes for a dark night sky, perfect for viewing constellations through a telescope. My son also gets a kick out of brandishing a take-home souvenir wood shingle emblazoned with the ranch's logo.
As we leave, I understand why these unique dinners have stood the test of time. Aughe gratefully gushes, "We have visitors that keep coming back again and again." And it's the truth. I dined next to a woman from Texas who has brought her family to Hawai'i Island and Kahuā Ranch every year for the last 20.
If you want to delve deeper into the paniolo culture and get on a horse yourself, Kahuā Ranch also offers rides at its Na'alapa Stables, where an experienced guide will take you through the historic lands and lush pastures.
For more information on Kahuā Ranch's Paniolo BBQ Dinner, visit its website here.
This story was originally published in our HAWAI'I Magazine Winter 2023 Issue. Buy a copy here.