Escape to this Hidden Outdoor Oasis in Downtown Honolulu
In Honolulu's urban jungle, Foster Botanical Garden provides a tranquil getaway.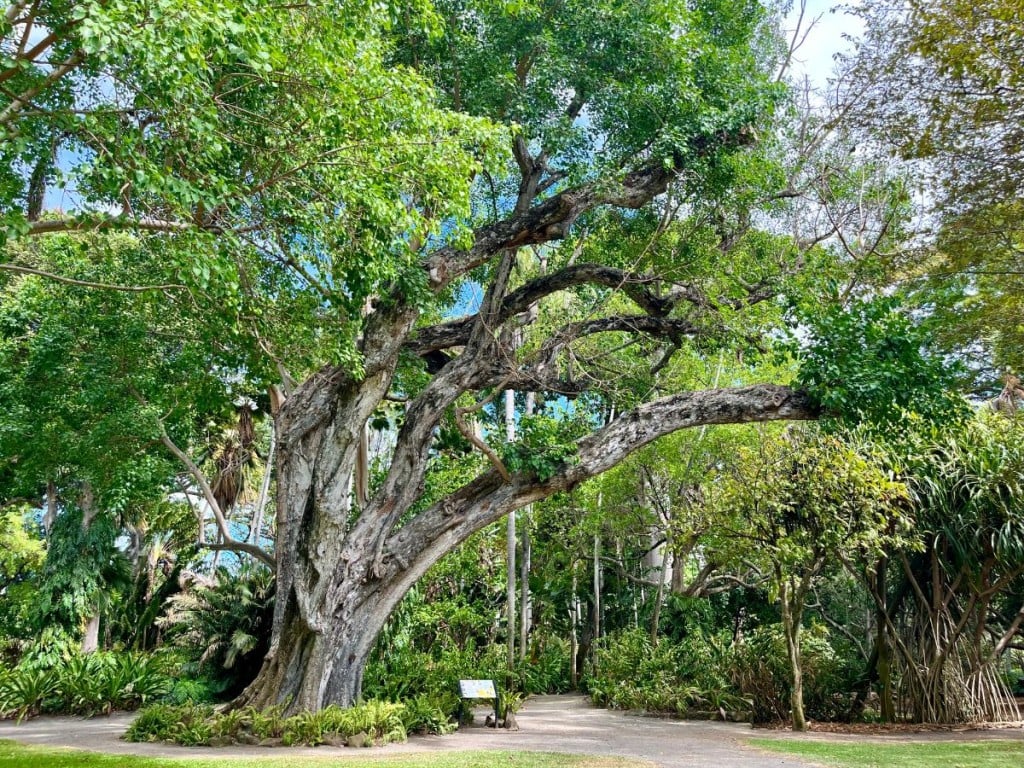 Amid concrete buildings and bustling streets, a quipo tree towers over a collection of palms and tropical plants. The quipo is a deciduous tree which reaches heights of 150-200 feet, and the tree in Foster Botanical Garden was planted more than 90 years ago.
Not far from the quipo tree in the garden is a bodhi tree, which was given to Mary Mikahala Elizabeth Robinson Foster by a Buddhist monk in 1913. Travelers from all over the world come to see this plant, a descendant of the fig tree that the Buddha sat under when he attained enlightenment.
Sprawled across 14 acres in downtown Honolulu, the garden preserves a remarkable collection of trees and plants, which provide a habitat for colorful birds and an array of insects. It's also the oldest of the Honolulu Botanical Gardens, which includes Liliʻuokalani Botanical Garden, Hoʻomaluhia Botanical Garden, Wahiawā Botanical Garden and Koko Crater Botanical Garden.
"It's a secret garden full of surprises," says Joshlyn Sand, director of Honolulu Botanical Gardens. Here at Foster Botanical Garden, monarch butterflies flutter over pua kalaunu, also known as crown flowers, not far from Arabian coffee trees and coconut palms. Wandering through the verdant flora paths, there are species one would never expect to find in downtown Honolulu, like a tropical almond tree or the rare and endangered double coconut palm.
While it won't come as a surprise mynah birds and zebra doves frequent the Foster Botanical Garden, Sand says there is an entertaining cast of characters that can be spotted in the grounds like the green Japanese white-eye and the kōlea, also known as the pacific golden plover, during the winter months. Sand adds there's occasionally a lost parrot or parakeet once every few months, too.
Among the flying critters, butterflies flutter over flowering shrubs in the butterfly garden. Here, blooming flowers rich in nectar attract delicate butterflies with wings colored in shades of red and blue.
From the butterfly garden, it's just a short walk over to the conservatory. The glass structure houses orchids and rare tropical plants like the Titan arum, better known as the corpse plant.
The tropical garden is a peaceful oasis, a drastic change from the loud streets of Waikīkī. But rather than being just a quiet park, Sand says the garden is where history connects with today. "It tells the history of modern Hawaiʻi," she says.
The origins of the garden can be traced back to 1853 when Queen Kalama, the wife of King Kamehameha III, leased a parcel of her land to Dr. William Hillebrand. The German physician and botanist came to Hawaiʻi for the warm climate, but Sand says, "He got more done in 20 years than most people get done in a lifetime."
Dr. Hillebrand was the trusted physician of King Kamehameha V and was the chief medical doctor at Queen's Hospital in Honolulu. During his 20 years in Hawaiʻi, he established the Hawaiian Medical Society and was a member of the Board of Health, where Sand explains he was committed to the care of Native Hawaiians. While Dr. Hillebrand was living in Hawaiʻi, he made trips to Asia and the South Pacific searching for remedies to heal Hansen's Disease.
However, Dr. Hillebrand was also an avid botanist and his travels served dual purposes. In addition to his search for medical treatments, Dr. Hillebrand scoured for valuable plants and animals to import to Hawaiʻi while he also worked to secure labor for the rising sugar industry. From lychee and plumeria trees to mynah birds, the botanist introduced many species that have become so popular or pervasive that many residents and visitors mistake them for being native. Dr. Hillebrand was also instrumental in orchestrating the arrival of the first Chinese and Portuguese sugar plantation workers, which had a profound impact on the Hawaiian Islands.
While the botanist was living on Oʻahu, he strongly encouraged the development of a botanical garden. He asserted that by planting an array of trees, they would help cool the climate, increase rainfall and reduce the risks of fire. With the land he leased from Queen Kalama, Dr. Hillebrand set out to establish a botanical garden, which is now the oldest of its kind in Hawaiʻi.
Eventually, Mary Mikahala Robinson Foster purchased the property and expanded upon Hillebrand's mission and plant collections. When she died in 1930, it was in her will the garden be donated to the City and County of Honolulu to be preserved for the public. "It was always a garden for the people," says Sand.
Now more than ever, people are seeking to escape and reconnect to nature. During the worst months of the COVID-19 pandemic, Sand witnessed the comfort and peace Foster Botanical Garden offered to visitors. "It taught us a sobering lesson to not take these places for granted. We learned just how essential this place is," Sand says. "Of course, the birds always knew that," she adds with a laugh. One can get fresh air and a fresh perspective right in downtown Honolulu.
In the network of Honolulu Botanical Gardens, Foster Botanical Garden hosts programs and classes. To learn more, visit honolulu.gov/parks/hbg/honolulu-botanical-gardens.html.