Ester's Fair Prospect is Wailuku's Newest Neighborhood Bar
Started by Suzanne Navarro and Jessica Everett, this recently opened watering hole has one of the biggest rum collections on island.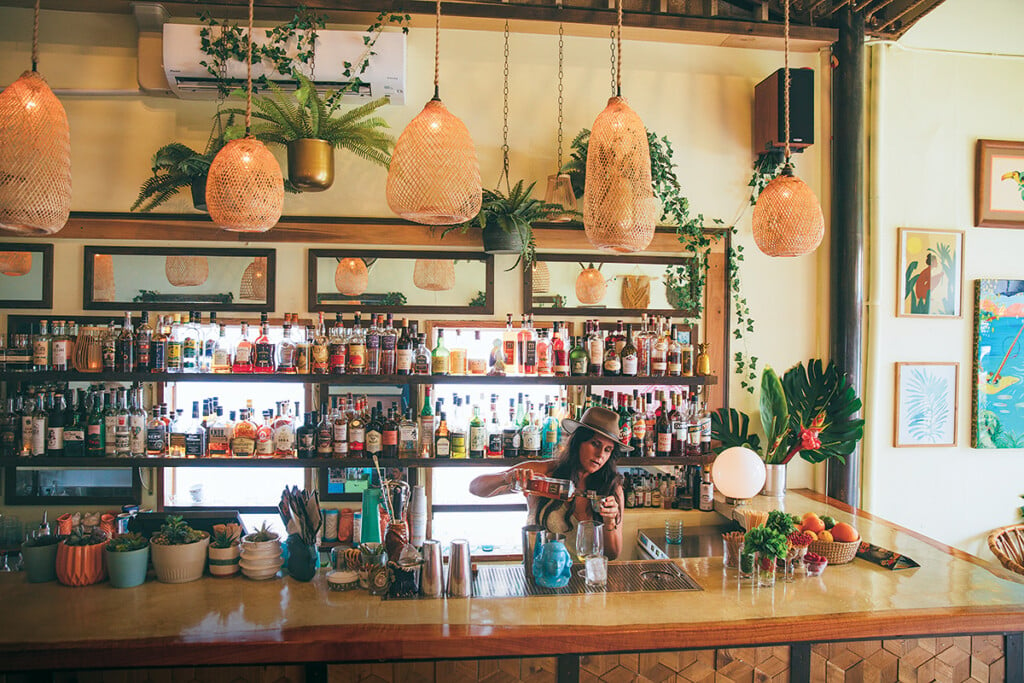 In a space that was once a Christian bookstore, then a vape shop and now a bar, a pleasant scene plays out. In one corner of the establishment, longtime friends reminisce, telling stories and inside jokes only they would understand. A group of visitors pop in for a round of cocktails while a pair of regulars sit cooly in their seats. The atmosphere is relaxed, like you're hanging out at a close friend's house, and the vibe and decor is fun. And, most importantly, the drinks are good.
"It's almost like 'Cheers,'" says Suzanne Navarro, co-owner of Esters Fair Prospect on Maui. She and her business partner, Jessica Everett, worked hard to create a space for locals, service industry workers and visitors to grab a drink and hang out. "It just feels like a neighborhood bar," says Navarro. And finding their close-knit crew was almost too easy in Wailuku, which as a town and as a community embraced Esters with open arms almost immediately.
"We fell into Wailuku by accident," says Everett. "We were looking at the more visitor-friendly places, like Lahaina and Kīhei, then we talked to a friend of a friend, and he said he'd look at spaces in Wailuku because that's where all of his staff lived." And it wasn't long before Navarro and Everett fell in love with the artistic spirit and burgeoning entrepreneurialism of the small Maui town. But it's not just the location or the smiling faces behind the counter that have made Esters Fair Prospect a success; Navarro and Everett spent years thinking about their future business and had a solid plan in mind before moving to Hawai'i in 2018 and opening in 2020.
The pair met while working in San Francisco 12 years ago, and even then the possibility of starting something they could call their own was on their minds. "It's been a lifelong dream for me since high school to own a bar in a tropical location," says Everett. "I read this book and it painted this picture of a woman who owned her own little hotel and it had a restaurant with a bar, and I thought, that sounds awesome, I want that." Navarro, who grew up in Miami and initially thought she'd be a pastry chef, ended up leaving San Francisco for bar and restaurant work in Miami, Denver and Chicago. Bartending in Chicago—in the cold of winter—Navarro decided she wanted to find a place where she could find a better work-life balance, "a place where after I was done working I could enjoy nature and decompress."
And so, one phone call led to another—and another. After a few more phone calls, the pair had a clear vision in mind and made their way to Maui. "We wanted a theme and to have an identity," says Everett. "And since we'd be in the tropics and Hawai'i has such a long history in sugar production, we wanted to have a focus on rum." With over 40 bottles of rum on the wall, from over 30 different countries, Esters Fair Prospect may have the largest rum collection on Maui—but that's not all it has. There's an attention to detail in the space, in the drinks and in the service that is hard to beat. With the assistance of their friend Mack, they ended up building almost everything in the bar—from the stools to the shelves and benches—by hand. The floral wallpaper was put up by Everett herself. It's a personal touch that matters, and you notice it the moment you walk in the door.
The drinks, too, are on a different level. Favoring ingredients straight from Hawai'i rather than mass-produced syrups and sweeteners, the bar's namesake drink—Esters Daiquiri—is a perfect example of substituting a mass-produced ingredient for a locally sourced one with delicious results. "We use Maui cane syrup instead of simple syrup to sweeten our Esters Daiquiri. Sugar Cane Dane grows and harvests sugarcane here and reduces it down to the same consistency as simple syrup," says Everett. "So it really brings out these sharp notes with lots of natural acidities, a lot of complexity and grassiness that adds so much more to a cocktail."
Even the name of the place was meticulously thought out. Trying to decide on one for over a year, Navarro and Everett had initially planned to call the bar Muck and Dunder, a reference to the traditional Jamaican style of creating rum, which involved filling ditches in the ground—muck pits—with molasses, rotting fruit, excrement and just about anything else to get the fermentation process going. But after receiving feedback that the Dunder part of the name reminded too many people of the fictional paper company from "The Office" instead of what it really is—the liquid left in a boiler after a batch of rum is distilled—they decided to go with Esters Fair Prospect.
So who is Ester? Navarro likes to think she's the woman in the painting by the bar, but it's actually a reference to the fatty acid chain that occurs during the fermentation of Jamaican rum, which gives the liquid its fruity and tropical scent and flavor. And the fair prospect part of the name comes from the great view of 'Īao Valley from the bar's outdoor dining area.
To create a space that feels so comfortable, the art of subtle exuberance is vitally important. Yes, the wallpaper designs pop with color and flora, but the low-key and aesthetic handcrafted wood chairs and benches feel grounded. The drinks are made with locally sourced ingredients, of which there aren't many. And fewer ingredients means each aspect of Esters Fair Prospect's cocktails and mixed drinks gets your full attention. "Sometimes, simple is best," says Everett, "if you use quality ingredients."
For hours and more information, visit its website at estersmaui.com.
This story was originally published in our 2023 Winter issue. Buy a copy here.