Even more "off the radar" Hawaii getaways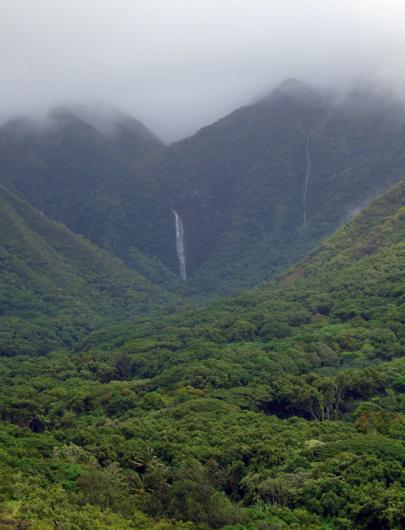 The latest issue of Outside Magazine features 50 American "Great Escape" getaways. The focus? Places in our U.S. so far removed from typical vacationers itineraries, Starbucks wouldn't consider setting up shop.
A couple of Hawaii spots are highlighted: Peaceful Cove Cottage on Hawaii's Big Island and Milolii Beach on Kauai.
The Na Pali coast doesn't get more remote than Milolii Beach, says Outside. They brag about sea kayaking to the mile-long stretch of white sand—framed by high mossy cliffs—and hiking "the Lomi Lomi waterfall." We think Outside meant lomilomi waterfall—you know, like the Hawaiian massage. Either that, or their Na Pali guide was messing with their heads.
Outside calls Peaceful Cove Cottage the "anti-Waikiki"—"little more than a few cedar walls and a couple lanais." Tucked near Kaimu Bay—where Kilauea lava obliterated the entire town of Kalapana in the early 1990s—the cottage is situated three miles from where magma still flows into the Pacific.
We agree with both selections. We also begrudgingly understand that although Hawaii could handily fill a list of 50 "off the radar" getaways on its own, the rest of the U.S. had to get some ink, too.
Still, we couldn't help tacking on a few others Hawaii escapes for you:
• Ka Lae, or South Point, on Hawaii's Big Island isn't just the southernmost spot in Hawaii (and the U.S.), it's also one of the most remote. Only the most expert fishermen cast from its sheer cliffs and difficult to access shoreline. You'll also find Papakolea Beach here—one of only two green sand beaches in the world.
• HawaiiMagazine.com regulars know we gushed about Lanai's Polihua Beach in April, "We've never experienced a Hawaii beach quite like Polihua. One-and-a-half miles of white sand. Completely devoid of people." Click here for another peek.
• A few hardy residents inhabit East Molokai's isolated Halawa Valley, but more adventurous souls hike and camp amidst its lush greenery and spectacular waterfalls.
• The hiking trails and cabins on Maui's Mount Haleakala have been raved about at HawaiiMagazine.com. Click here for a refresher.
• The summit of 13,796 foot Mauna Kea on the Big Island is home to Lake Waiau—Hawaii's only alpine lake and one of the highest lakes in the world—winter snow and a stark boulder-strewn landscape so otherworldly, NASA trained astronauts for the Apollo moon landings there.
No surprise, we couldn't include all of our favorite Hawaii "off the radar" escapes here. Round out our list by leaving a comment below.