Every Cookie Comes from a Batch Made in Heaven at Maui Cookie Lab
Find old-fashioned favorites at Maui's newest cookie shop and sweet deals during its first month open this May.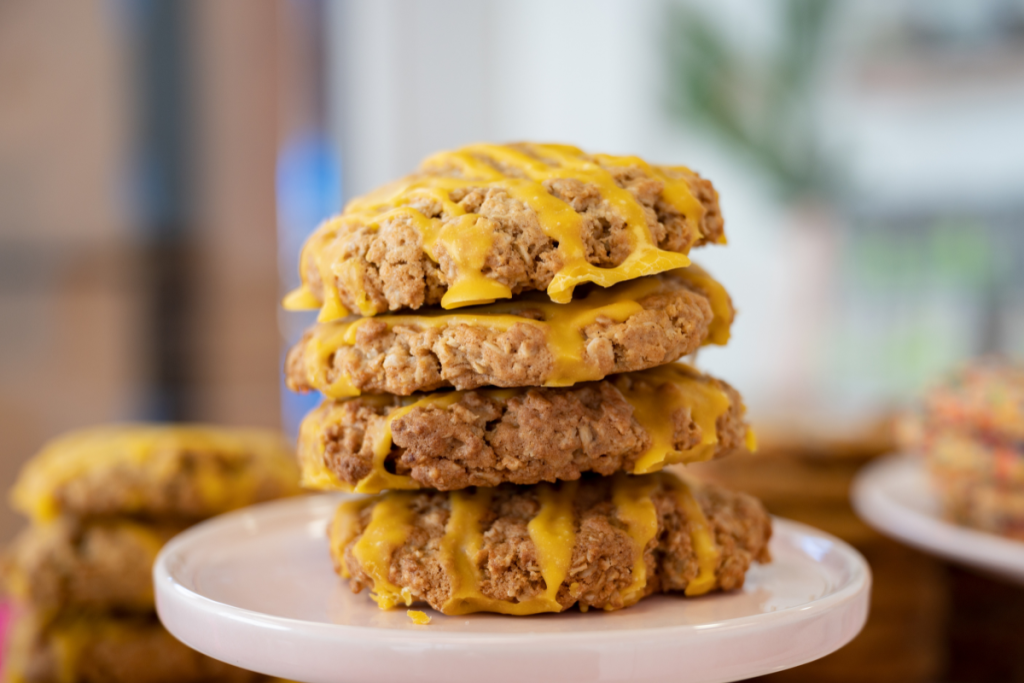 In a small shop in downtown Kahului, Maui, the air is filled with a delectable scent. There are traces of sweet vanilla and notes of warm cinnamon, even a whiff of coconut in the rosy pink store. Stepping into Maui Cookie Lab, customers are met with delicious aromas and stacks of irresistible cookies.
After operating two mobile cookie bars throughout the pandemic, Heidi Cramer opens the doors to Maui Cookie Lab's inaugural storefront. And she already has her sights set on expanding to Maui's west side as well as neighboring islands. "With more space comes more flexibility," Cramer says, the founder of the cookie company. With a larger commercial kitchen, she plans to experiment with seasonal and monthly specials featuring familiar favorites that we all grew up eating.
Aptly named, Maui Cookie Lab is where cookie chemistry happens. Raw cookie dough enters the hot oven, and a series of chemical reactions take place. The sugar caramelizes, flour churns out nutty notes, the butter creates air pockets for a fluffy texture and baking soda leavens the dough. It's a process Cramer has nailed. The cake-like cookies are baked until golden with crisp edges, a soft interior, and are not overly sweet. The cookies are also perfect for dunking in a glass of milk or a cup of coffee, or even crumbled on a Roselani ice cream sundae—all of which are available at Maui Cookie Lab's brick-and-mortar.
Inspired by her childhood baking with her grandmother and mother, Cramer says, "Everyone has a similar memory and I want to take people back to those good times." As she points to the display case of traditional cookies, she admits she's not into food trends. Cramer sticks to tried-and-true recipes using the best quality ingredients to create comforting classics that her customers have come to appreciate.
But Cramer doesn't completely shy away from putting a colorful twist on traditional baked goods. There are columns of white chocolate macadamia nut, oatmeal with a lilikoi (passion fruit) drizzle, as well as snicker doodles speckled with rainbow sprinkles and Mexican chocolate with spicy cayenne.
Cramer established Maui Cookie Lab in 2018 with a background in professional baking that spans 20 years. At the time she was specializing in artisanal cakes but was drawn to the classic cookies she grew up baking with her grandmother and mother. She started her cooking company by catering at local events to test her line of cookies and soon opened a mobile cookie bar at the Upcountry Kulamalu Town Center. Like many young businesses, the pandemic hit just weeks later, forcing Cramer to pivot. Cramer was only opened for a few days during the week but garnered a loyal following of residents and eventually visitors when she built a second mobile cookie bar situated at the Wailea Village Farmer's Market.
With a new home in Kahului, Maui Cookie Lab fills the urban town's bakery void. Located ten minutes from the airport and situated on many commuter routes, the new shop will make a sweet stop for those craving a comforting cookie, or two. In addition to Maui Cookie Lab's formal brick-and-mortar store, both cookie bars will continue to serve as outposts in Wailea and Upcountry. Maui Cookie Lab also ships nationwide. In the store and online, customers can mix-and-match cookie flavors in a three-piece, six-piece or 12-piece box.
To celebrate the grand opening of Maui Cookie Lab's storefront, there will be sweet deals all month, including a free cookie with a purchase of a six-piece box as well as specials on beverages.
Maui Cookie Lab, 140 Hoʻohana St., #101, Kahului, Maui, mauicookielab.com, @maui_cookie_lab