Everything You Need to Know About Shark's Cove, Oʻahu
Truly a snorkeler's paradise, Shark's Cove is one of Oʻahu's top visitor attractions—and here's why.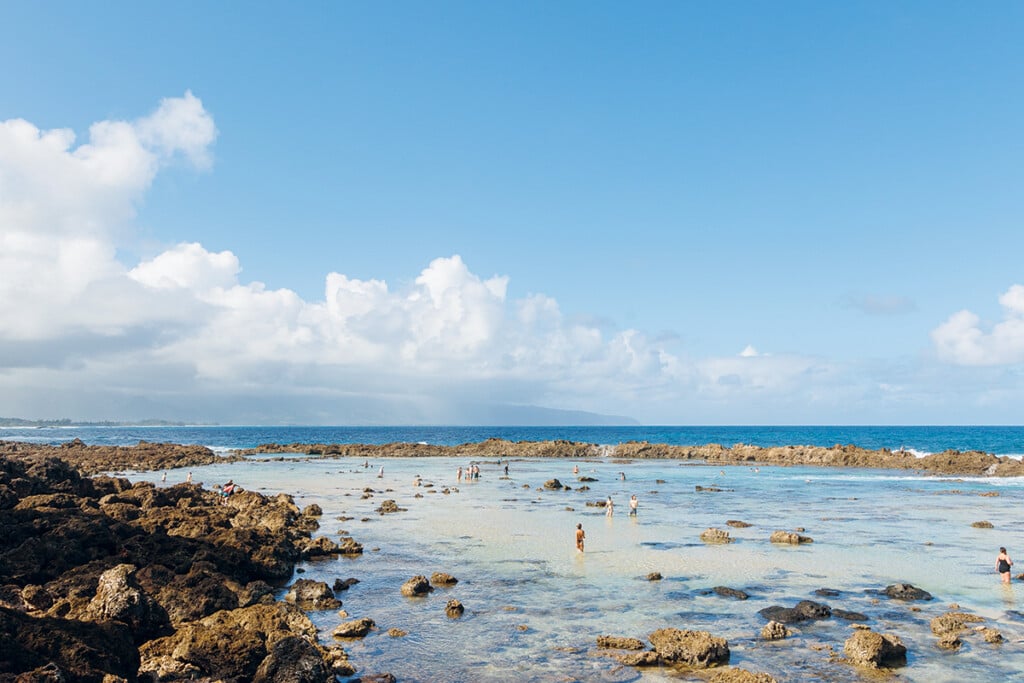 Growing up on the North Shore of O'ahu, I always waited with bated breath for our next family excursion to Shark's Cove. To me, it was a magical underwater playground with so much to do and see. And now, as an adult who lives on the other side of the island, I still look forward to perfect summer days, when the waves are flat and the cove is calling.
Known for being a snorkeler's paradise, Shark's Cove and the surrounding area have so much more to offer than just what's under the water. First, a warning for visitors: Finding parking can be a real headache. There is a main lot, which is one-way mind you, however it fills up quickly in the early morning. Your best bet for finding a spot will almost always be on the stretch of Kamehameha Highway past Shark's Cove, going toward Sunset Beach and Ted's Bakery. Here, visitors and locals can usually find parking on the side of the road. It's hard to define exactly where you can park, as people really just park where their vehicles will fit, but try to take note of what others are doing. Just don't park with your car jutting out onto the road. From there, you'll have a bit of a walk, but that's a small price to pay.
As you make your way to the cove, you'll pass a smorgasbord of food trucks on the mauka (mountainside) side of the road. From heaping ice-cold cones of shave ice at North Shore Shave Ice to filling burgers from Seven Brothers, there's more than enough here to fill you up before and after your day of adventure. And if you've forgotten any of the necessities for a day at the beach—reef-safe sunscreen, a towel or two, or even snorkeling masks—you can always hit up the Pūpūkea Foodland, which is right next to the food truck plaza.
Finally, it's time to talk about the star of the show, Shark's Cove. There are two distinct sections: Kapo'o—the tide pools—and the main cove itself. Fun for all ages and accessible on most days of the year, except for when the waves are truly massive, Kapo'o is sometimes referred to as the Pūpūkea Tide Pools. And it's the place to be for those who want to see a variety of Hawai'i's colorful underwater denizens without having to swim into the deep—or really without having to swim at all. The tide pools, home to more than 70 native fish species, serve as a pu'uhonua (refuge) for juvenile schools of fish looking to feed on the loose micro-algae in the water. And you don't even have to dip your head into the water to see them.
Natural rocky outcroppings protect the tide pools from wind and waves, keeping the water so clear that you can clearly see through the surface to the schools of fish below. And the bottom of the tide pools are covered with soft sand, so you don't have to worry about cutting your feet on sharp reef or rocks. The area is a paradise for families. All throughout the tide pools you'll find folks wading in the crystalline waters—and occasionally dipping into them entirely to cool off.
But it was always the main cove that enthralled me, then and now. Much deeper than the tide pools, you'll have to wait for relatively flat ocean conditions before scrambling down into it. But once you're in the water, you'll be entering a whole new world. As deep as 15 feet, a smattering of large boulders cover the bottom of Shark's Cove. Massive groupings of butterflyfish, damselfish, surgeonfish and more make their way in and around the cove's various tunnels and caves. Vibrantly colored parrotfish also call Shark's Cove home; they're some of my favorite fishes to see while snorkeling here—and there are plenty. It's no wonder the area has been rated one of the top snorkeling spots in the world.
WATCH: Dive into an Underwater Paradise at Shark's Cove, Oahu
As you swim out farther into Shark's Cove, the water gets choppier and much deeper. For a lot of people, it's best to stay well within the basin of the cove instead of venturing out too far. The cove also has a deep drop-off; experienced divers and exceptional swimmers might want to explore it, but others are better off staying in the shallows. And if you're tired from all the swimming and snorkeling but still want to lounge in the sand, Three Tables Beach is only a short walk away, and Ke 'Iki Beach is even closer.
Outside of the water, Shark's Cove features showers, a public restroom, picnic tables and even a basketball and volleyball court. And it's comforting to know that my memories of the place were fueled by more than just childlike wonder. Shark's Cove is just as amazing to visit now, as an adult, as it was way back then.
Shark's Cove is across the street from the Pūpūkea Foodland on O'ahu's North Shore. Please remember to not touch or stand on the reef, and if you leave anything behind, make sure it's just footprints and not trash.