Experience a Symphony Under the Stars at the Sheraton Starlight Festival
The Hawaiʻi Symphony Orchestra will be performing a four-concert series at the Waikīkī Shell this summer, and you won't want to miss it.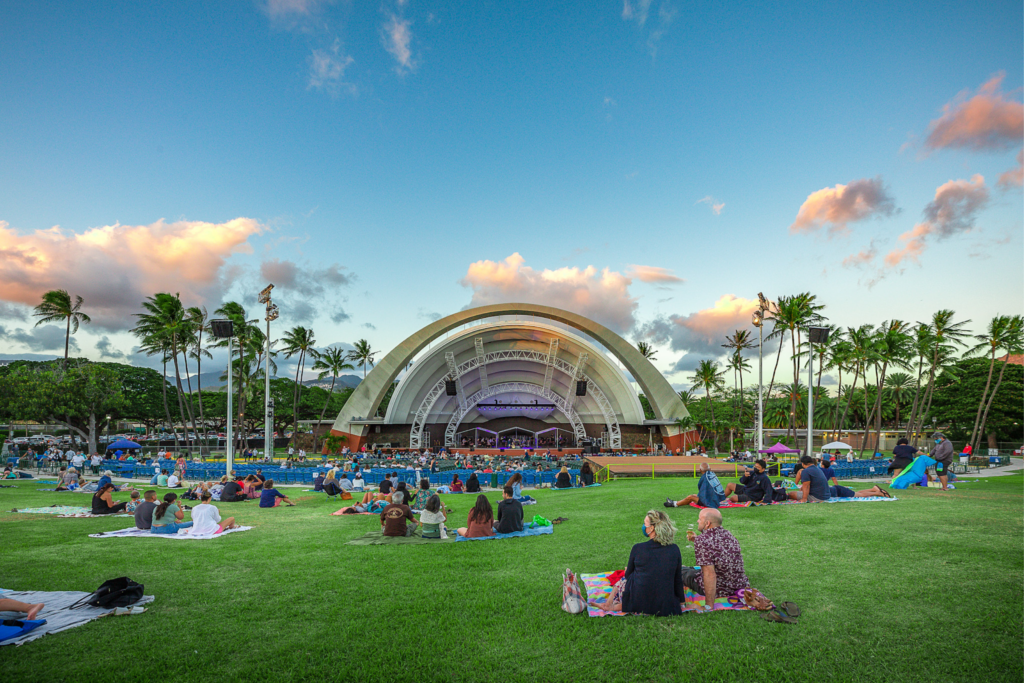 If you've ever sat on the grass of the Waikīkī Shell, listening to the performers onstage while taking in the night sky, you'll know just how unforgettable that experience is. It's a magical time, and the Hawaiʻi Symphony Orchestra (HSO) is well aware of this spectacle. To celebrate Hawaiʻi's unique outdoor venue, the local orchestra company will be hosting its upcoming Sheraton Starlight Festival at the Waikīkī Shell, through July and August.
This summer-time concert series is perfect for any visitors or locals looking for something to do in July or August—especially if they're music lovers. "The Sheraton Starlight Festival has been one of our most popular concert series for local families," said Dave Moss, president and CEO of HSO. "It's a great opportunity to hear symphonic music outdoors in Waikīkī and features some of our most unique collaborations." And the music on display truly can be considered a "unique collaboration," with four distinct shows spread through the summer months.
The first performance on the docket is Women Rock on July 15 at the Waikīkī Shell. Showcasing the jams of wahine (female) artists like Carole King, Tina Turner, Janis Joplin, Aretha Franklin, Joan Jett, Pat Benatar, Heart, Carly Simon and more, this will truly be a showcase of the biggest hits created by some of the world's top rockstars. Sarah Hicks, who was raised in Honolulu before guest conducting some of the top orchestras in the world, such as the Melbourne Symphony, Tokyo Philharmonic and the National Symphony Orchestra, will be leading this once-in-a-lifetime show.
On July 22, Hicks will return to conduct a beautiful merging between song and dance at the Symphonic Dances event. Working in conjunction with the Hawaiʻi Ballet Theatre, this night's performance will be all about blending music with movement, as some of the state's top ballet dancers perform in harmony with HSO. Mira Tsunoda, a winner of HSO's 2023 Nā Hōkū 'Ōpio Young Stars music competition, will also be performing on alto sax.
The following Sheraton Starlight Festival event, which takes place on Aug. 5, will truly be a momentous occasion as Dane Lam, HSO's first-ever music director, officially takes to the podium for the first time in his career at the Hawaiʻi Symphony Orchestra. The show will be a mashup of some of Lam's favorite pieces from series yet to come in the symphony's 2023-2024 season, and attendees can expect to hear bits and pieces of the yet-to-be-performed Halekulani Masterworks season, HapaSymphony series and Films in Concert series. Local award-winning musicians, such as Paula Fuga and Trishnalei, as well as a winner of HSO's 2023 Nā Hōkū 'Ōpio Young Stars music competition, flutist Kenneth Hironaka, will be making an appearance to make the night truly unforgettable.
Finally, ending the Sheraton Starlight Festival with a bang, JoAnn Falletta, HSO's conductor emeritus, will take to the stage on Aug. 12 and bring her audience to the opera. Regarded as "one of the finest conductors of her generation," by the New York Times, Falletta will be performing select operatic canons, from Wagner's epic "Ring Cycle" to Strauss's "Suite from Der Rosenkavalier." Imagine, sitting on the grass of the Waikīkī Shell, listening to the opera under the stars, all in the heart of Waikīkī. It sounds like a dream, but in fact, you can experience it for yourself this summer with the entire collection of Sheraton Starlight Festival events.
For more information on the Sheraton Starlight Festival and the Hawaiʻi Symphony Orchestra, visit HSO's website or call (808) 380-7720.