Farmers Rebuild After the Devastating Floods on Kauai and Oahu
After April storms wreaked havoc, Hawaii's farmers have been working to repair their losses.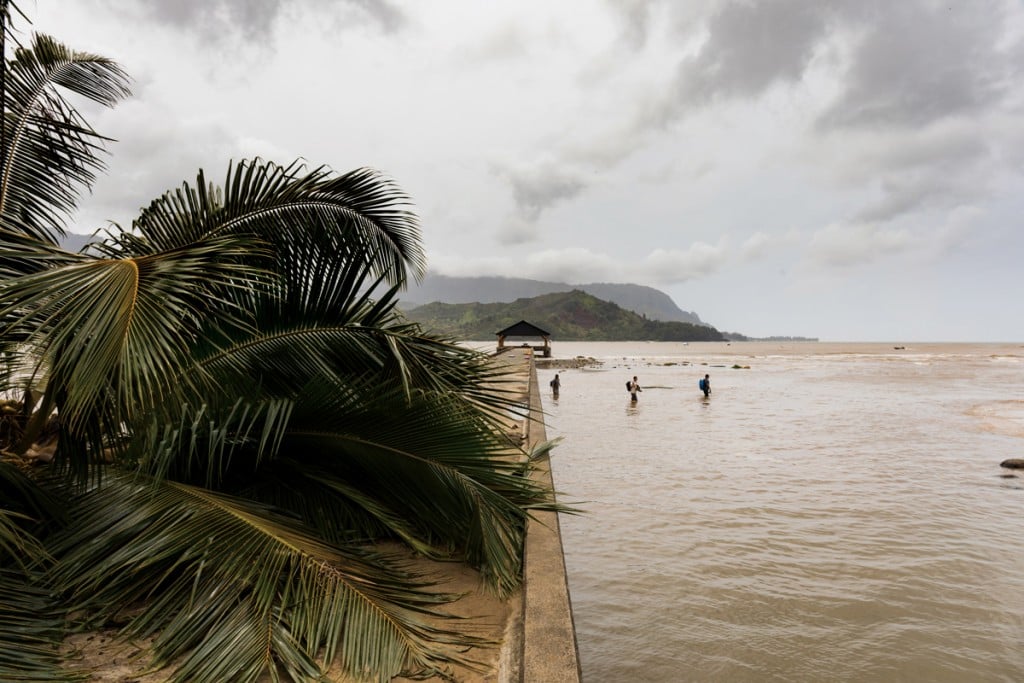 According to the National Weather Service, Kauai and Oahu saw record breaking torrential rainfall and severe flooding between April 13 and April 20, 2018, causing an estimated $19.7 million in damages. The historic 49.69 inches of rain in Hanalei recorded on April 14 could break the current U.S. 24-hour record of 43 inches in Alvin, Texas in 1979.
Over 500 homes were damaged as well as tremendous destruction to ranch and farmlands on Kauai. Hanalei Bison Ranch owner and manager Andy Friend recalled the terrifying flood which swept 200- to 300-pound bison over the fences. "We had an eight to nine-foot rise in water level and only a small patch of isolated land that the bison could stand on to keep their heads above water," he says. "Though we have six-foot fences, the current swept them right over." Media reports showcased powerful footage of bison neck deep in water being lassoed by expert cowboys on jet skis. Prior to the flood, roughly 95 bison roamed the 180-acre property, and only 82 remain, marking the devastation the worst in the ranch's 49-year history. And while much of the wreckage includes erosion, damage to farm service roads, structures and fencing, the greatest impact is the loss of bison itself. "Not only did we lose adults, but we lost a little over one third of our calf crop from last year as well as a couple of newborns that were born a week before the flood," Friend says. "We are really concerned about this years' calf crop because of the continued wet weather. It's still too wet to get equipment into our pasture yet, so we can't even get out to repair some of the really muddy areas."
Lyndsey Haraguchi-Nakayama understands the heartache as a neighbor and sixth-generation farmer who has been working to repair the losses to both her family's kalo farm, Hanalei Taro & Juice Co., as well as their non-profit museum, Hoopulapula Haraguchi Rice Mill. The Haraguchis have sustained overwhelming damage to their loi, farm house, office and garage as well as historic mill artifacts following the flood. Lyndsey's father and 96-year old grandfather noted the flood as the worst natural disaster they have witnessed in their lifetime. She estimates it will continue to affect the farm for at least two to three years. Despite their challenges, however, the Haraguchis continue to persevere, recently reopening the Hanalei Taro lunch wagon for their crew and community, with proceeds directly supporting recovery efforts. They have also established an online donation page accessible through the farm's website (hanaleitaro.com) to accept monetary donations for farm restorations.
While flooding was less severe on Oahu, the effects of severe rainfall remains profound. The heavy downpour left 12 of Waimanalo's Nalo Farms' 14 acres under four feet of water, destroying fencing, irrigation and the farm's prized mesclun lettuce. The Honolulu Star-Advertiser reported over 3 million bees were also lost as half of farm owner Dean Okimoto's beehives were washed away in the flood. Prior to the disaster Okimoto had been preparing the property for sale, resulting in major setbacks as he works to rebuild. In an effort to do so he reached out to the public for support, creating a GoFundMe to raise $100,000 towards restoration. In a true testament to the community, the campaign exceeded its expectations, raising over $107,000 to date.
Business owners continue to seek additional support to restore ranch and farmlands in the months following the flood. President Trump acknowledged the event in a Major Disaster Declaration to assist the public with the resulting damage from flooding, landslides and mudslides, including involvement from the Federal Emergency Management Agency, Natural Resources Conservation and Farm Service Agency. On May 29, 2018 the Hawaii Board of Agriculture approved a new low-interest, disaster related emergency agricultural loan of up to $500,00 as well as microloans of up to $25,000. Hawaii Board of Agriculture chairperson Scott Enright addressed the program upon its public announcement: "The financial burden of the recent natural disasters hits the agriculture industry particularly hard. HDOA's agricultural loan program will do its best to help our farmers and ranchers get back in business as soon as possible."
Please help raise awareness for farmers by spreading the word: find updates on Twitter @HanaleiTaro and make tax-deductible donations at HaraguchiRiceMill.org.
For loan assistance or more information on HDOA's Agricultural Loan Program, visit: hdoa.hawaii.gov/agl
Disaster Recovery Centers
Disaster Recovery Centers (DRC), jointly operated by the state of Hawaii and the Federal Emergency Management Agency (FEMA), will offer a one-stop shop for disaster assistance to residents affected by the April flooding. Staffing the DRC are representatives from FEMA, the State, the U.S. Small Business Administration, state and local agencies.
The center locations are:
Kauai
Hanalei Elementary School Cafeteria; 5-5415 Kuhio Hwy, Hanalei, HI
Kōloa Elementary School Humanities Room; 3223 Poipu Road, Koloa, HI
Kapa'a Elementary School Cafeteria: 4886 Kawaihau Road, Kapaa, HI
Oahu
Aina Haina Elementary ; 801 W. Hind Drive, Honolulu, HI
Keolu Elementary; 1416 Keolu Drive, Kailua, HI
Find more information at DisasterAssistance.gov or by phone at 800-621-3362. For more information on SBA low-interest disaster loans, visit www.sba.gov/disaster, call (800) 659-2955, or email disastercustomerservice@sba.gov.