Farmers recommend: Where Hawaii farmers eat when they're not in the field
We asked farmers where they like to eat when dining out and where they like to eat the food they grow.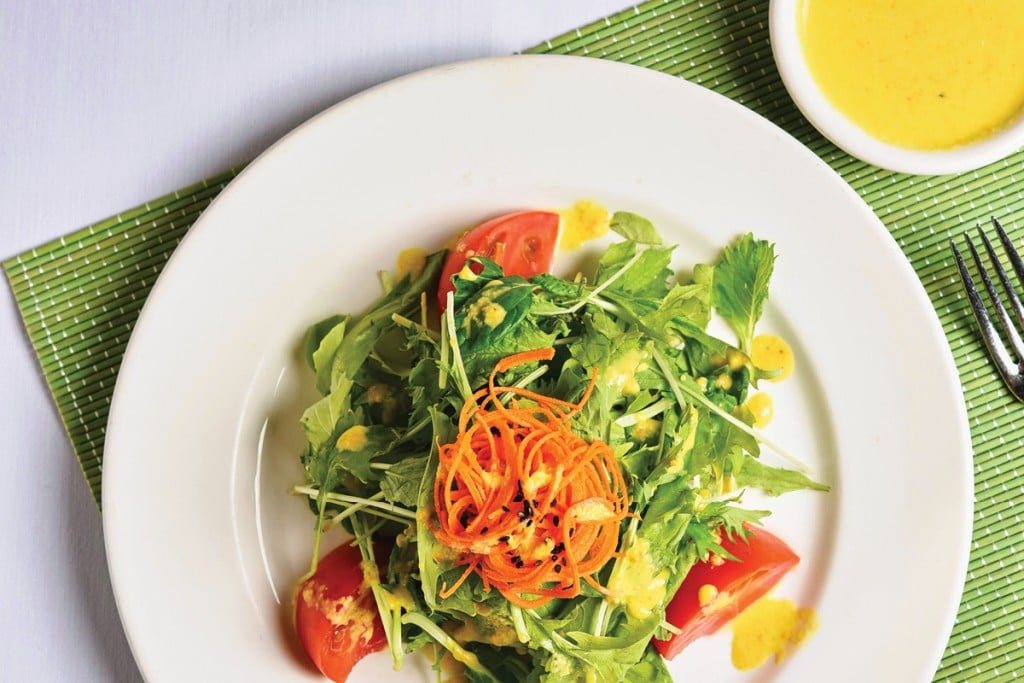 We asked farmers two questions: where they like to eat when dining out and where they like to eat the food they grow. The result is recommendations from mom-and-pop Mexican to Roy's, saimin spots to the Grand Wailea. It turns out, while farmers' products make their way to the finest of fine-dining tables, farmers' favorite fare is often the simplest.
Dean Okimoto
Nalo Farms, Waimanalo, Oahu
Favorite spots:
As a kid, Dean Okimoto loved to eat rice. As a man, it's all about the noodles. Ramen, saimin, chow fun, pancit—if they are long and starchy, they're deliciously fair game to the Waimanalo salad greens farmer. "Noodles are the ultimate comfort food," Okimoto says, who likes Goma Ichi in Honolulu for ramen and pancit from Julie'z in Kapolei. A true noodle aficionado, he can even tell you which item on the menu at Shiro's Saimin Haven in Wahiawa is his perennial favorite: No. 61, Crispy Pork Belly Saimin with wun tun, vegetables and garnishes.
Where he likes to eat his greens:
Though Nalo Farms enjoys a ubiquitous presence at restaurants island wide, it's how the greens are 'dressed' up—that is, the dressings—that catch Okimoto's attention. Standouts include Roy's honey mustard herb (Okimoto's own recipe) and Sidestreet Inn's raspberry vinaigrette. He's also a fan of Russell Siu's lemon miso dressing at 3660 on the Rise in Honolulu. (The restaurant also happens to be a convenient hop from Crack Seed Store where Okimoto can indulge in sweet sour plum seed, a favorite childhood snack.)
Heidi Watanabe
Watanabe Farms, Kula, Maui
Favorite spots:
While fancy occasions call for Roy's, hole-in-the-wall joints like Asian Cuisine & Sushi Bar are diamonds in the rough and enjoyed in equal measure by frequent patron Heidi Watanabe. "It's in the back of Kahului shopping center, with a huge menu, serving local-style Korean and Japanese food," Watanabe says. The restaurant's casual, no-frills vibe is appealing. "[It has] good food at good prices," Watanabe says. "And turns into a bar at night."
Where she likes to eat her veggies:
When it comes to a vegetable bounty, what may be one woman's boon is another woman's bane. As a farmer and vegetable processor, Watanabe provides produce to local schools and hospitals, which requires cutting and chopping thousands of pounds of vegetables on a regular basis. She's up to her ears in lettuce, leeks and bok choy. "When I go out I don't really want to eat anything green," Watanabe says. "I'm gonna order a steak."
Michael Kamiya
Kamiya Gold, Hauula, Oahu
Favorite spots:
Papayas are thought to be native to Mexico but that's not the reason why papaya farmer Michael Kamiya is drawn to Don Goyo, a mom-and-pop Mexican eatery in Kaneohe. The little eatery, boasting five or so tables at the most, is big on flavor. Kamiya's top pick after the requisite chips and fresh salsa? "It's all good…especially the enchilada."
Where he likes to eat his papayas:
Kamiya's papayas are championed as a Blue Zone menu offering at Big City Diner, which participates in the Blue Zone Project, a community-wide initiative that helps make healthy choices easier. It includes a program that partners with dining establishments to offer more healthy items. Tropical and tasty and high in vitamin C, the fruit alone is a crowd pleaser. But Kamiya shares a sweet inside tip: "It's good served open-faced with a scoop of coconut sherbet."
Ron & Lita Weidenbach
Hawaii Fish Company Mokuleia, Oahu
Favorite spots:
Raising fish for a living doesn't dissuade North Shore residents Ron and Lita Weidenbach from eating fish when dining out. "We do order it because it's tasty and healthy," says Ron, who lists fish jun from Paala Kai Market in Waialua and poke from Malama Market in Haleiwa as favorite go-to options. And if not poisson, then pasta: The Weidenbachs enjoy the sausage pasta at Spaghettini in Haleiwa and Assagio's in Mililani for special family dinners.
Where they like to eat their tilapia:
Tilapia has a bit of a bad rap here in the islands, a direct contrast to the mainland where the flaky, white-meat fish is widely consumed. Ron credits Alan Wong's for helping to raise tilapia's image in delectable, creative ways. Some menu offerings have included Thai curry, misoyaki or—as Ron recommends—simply pan steamed.
Thomas Kafsack
Surfing Goat Dairy, Kula, Maui
Favorite spots:
German expat Thomas Kafsack recalls a childhood eating "all kinds of good food with lots of vegetables," courtesy of his grandmother, a chef, who cooked for her grandson daily using vegetables from her garden. Today, the goat dairy farmer leans more exotic than edelweiss: He and wife Eva are fans of Thailand Cuisine in Kahului in Maui Mall. Voted Best Thai Restaurant in 2014 by Maui News, Thailand Cuisine is popular for their curries and pad thai and, as grandmother would likely approve, a large selection of vegetarian offerings.
Where he likes to eat his cheese:
From a mango-chutney inspired chèvre to a chèvre that boasts Perigord truffles and 23K gold flakes, Kafsack is passionate about his cheese—so much so, when asked if any other food might sway his palate, his answer is simple and robust: "There is no replacement for cheese," he says. Favorite restaurants that incorporate Surfing Goat Dairy's award-winning cheeses include Humuhumunukunukuapuaa at the Grand Wailea, where chef Michael Lofaro features the cheese in a marinated-tomato appetizer with kiawe molasses, and the Plantation House in Kapalua Resort, where chef Jojo Vasquez offers a goat cheese-and-herb focaccia, featuring chèvre, li hing mui pineapple, toasted walnuts and arugula.
Phil & Merle Becker
Aikane Plantation, Pahala, Hawaii Island
Favorite spots:
Phil and Merle Becker of Aikane Plantation don't mind the 9-mile stretch from their Pahala ranch to Naalehu's Hana Hou restaurant: The carrot cake alone is worth the drive. For the Beckers, the restaurant's cozy charm compliments the homespun fare. "The club sandwich is always good," Phil says. "And the burgers—made with local, grass-fed beef—are outstanding." Everything is made in-house and from scratch. Hana Hou recently opened a small, Mexican-themed takeaway called Taco Tita. The Beckers have become big fans. "You better be hungry," Phil says of the burritos. "They are so good."
Where they like to drink their product:
Phil has a confession: Though he and Merle grow award-winning coffee, Phil doesn't drink coffee. Drink, however, is the operative word. Serve his coffee in sweet delights like candy or mud pie, however, and he's all in. Though plenty of companies showcase the Kau beans in myriad forms, Phil leans toward their own Aikane Plantation coffee jelly drink, topped with whipped cream, a big hit at the farmers' markets. "It's very refreshing and something different," he says. "You'll have to visit us to see what I'm talking about."