Find Everything You Need—and Poke, Too—at Foodland in Hawaiʻi
This O'ahu-based grocery chain has a new, innovative vision for a modern world.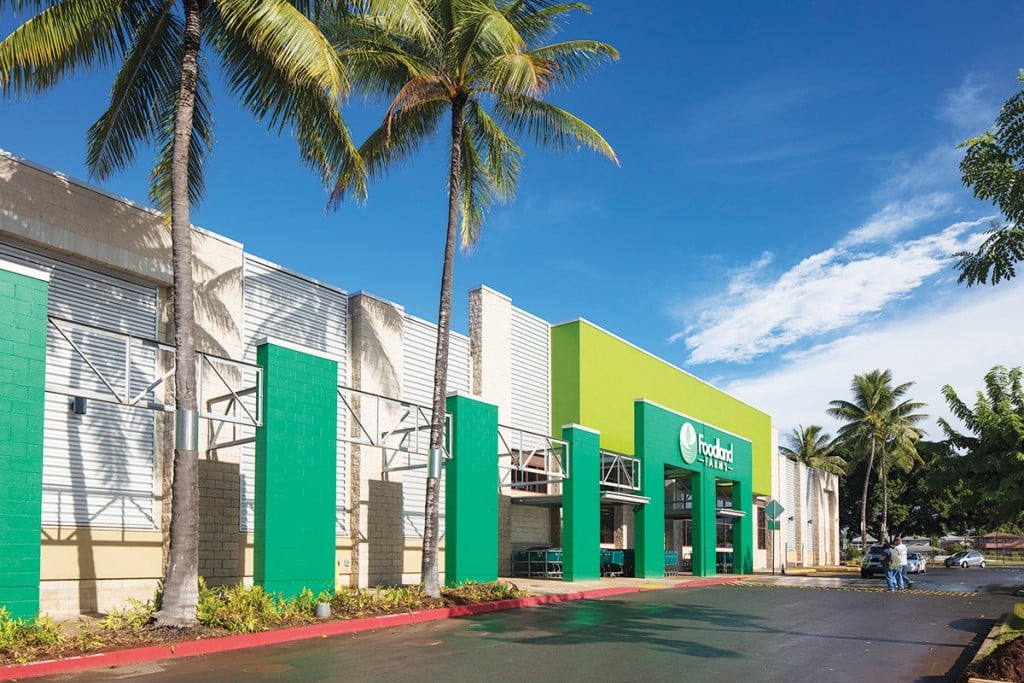 This year may just be the year of peak poke. 
As far east as New York City, you'll find hip restaurants and lunch counters slinging bowls of the seasoned cubed fish, piled high with every topping under the sun, from boiled soybeans to crunchy puffed rice.
More often than not, these teeming bowls are starkly different from poke you'd find in Hawai'i, where the dish originates. Instead of a rainbow of toppings in colorful, Instagram-worthy arrangements, the dish here is likely to be simpler, with flavors and ingredients that are quintessentially Hawai'i: Pipi kaula, a sort of Hawaiian beef jerky; Chinese oyster sauce; Japanese soy sauce.
Poke may be all the rage right now, with bowls overflowing with a variety of new ingredients like avocado, kim chee and plantain chips. But in Hawai'i, locals still get their poke fixes at small mom and pops, and at supermarkets, namely Foodland.
"Every store is convinced that they have the best poke," laughs Foodland Chairman and CEO Jenai Sullivan Wall, whose family has been running the place for over half a century. "They tweak it and there's a little extra love they put in. And the customers at certain stores are loyal. They'll say, 'No, I like the Hawaiian style at this store, not the other store.'"
After all, Foodland has been peddling poke to the local masses since around the '60s—long before the viral poke trend overtook the country. But while its award-winning tuna and tako (octopus) selections certainly encourage local families to keep coming back, Foodland has never been just a seafood place—it's a full grocery store. And when its first location opened in 1948 at the corner of Kapi'olani Boulevard and Harding Avenues in Honolulu, it revolutionized how Islanders shop. "It was Hawai'i's first supermarket," says Wall. "They just had crowds of people. So they had to close the stores periodically so they could restock the shelves."
It's still a place of modern convenience, run by locals who understand locals (and local palates). In one grocery trip, a neighborhood shopper could pick up a Spam musubi and bento, ready to eat, as well as pantry essentials like rice and cereal, and fresh produce like watercress and sweet potato. "In Hawai'i, we love food. The experiences that locals have in our store are the reason they like to shop with us," says Wall. "It's very authentic to what they know, the flavors that they love … the flavors they grew up with." 
As other chain grocery stores—Safeway, Costco—began to pop up on the island, the team at Foodland continued to rethink the shopping experience. "You think about, OK, how are we different? How do we compete with that?" says Wall. "What do we want to stand for in the community and what do our customers care about?"
View this post on Instagram
In the past few decades, the answers to those questions have changed along with the ways consumers shop, eat and conceptualize food. Foodland has shifted accordingly, expanding and tweaking its model for  a world with Amazon and Blue Apron, foodie travel culture and eco-consciousness. Catering to locals as well as sharing—quite literally—the Hawai'i flavor with visitors, have both become key functions at Foodland. Recently, the store launched Calabash for busy shoppers, a line of ready-to-make meal kits with everything you need to make dishes that include local-style options such as miso-glazed salmon with bok choy, or pūlehu (broiled) steak with spicy sambal Hāmākua mushrooms. It also debuted the house-brand Maika'i line of curated snacks for Islander tastes—it's also ideal for visitors interested in local-style flavors like wasabi kakimochi (Japanese rice crackers) and Kona coffee butter.
SEE ALSO: Get Curated Snacks and Grab-and-God Items at Foodland in Hawaiʻi
But even bigger things are coming. Ten years ago, Foodland Farms in 'Āina Haina in East Honolulu opened, a newly branded venture that pushed organic and local produce to an environmental- and health-conscious demographic. Five years later, a second one opened in Ala Moana Center—and the response has been huge. The Ala Moana store has a hot food bar, a section of artisan goods, a bakery with elevated treats such as fresh doughnuts and local-style cakes, and a full wine bar that has attracted a scene of regulars. The location puts it right in the line of drift for both locals and visitors, making it a spot for visitors to get an insider taste of the Islands.
"When we opened," remembers Wall, "it was a conscious effort by our team to create a grocery shopping experience that was unlike anything our customers had experienced here in Hawai'i. We wanted people to come into the store and feel like they were in a food hall, a place that really celebrated good food … a place that they could go to build community. It would also be a place … that would showcase Hawai'i with its many visitors who come here."
Last year, the company expanded the Foodland Farms brand to Kapolei and Pearl City, both well outside Waikīkī, with unexpected offerings for a supermarket: a sports bar, an okazuya, (Japanese-style delicatessen), even a burrito station. Down at the Ala Moana store, Eleven, a new, artisan cocktail bar, was just added, expanding on the wildly successful wine bar. And, over in nearby Kaka'ako, Redfish Poke Bar (operated by the grocery chain) is taking the iconic Foodland poke legacy in a fresh, trendy, contemporary direction, with loaded poke bowls and exotic toppings in a playful space at the artsy and hip Salt at Our Kaka'ako shopping complex. It's a whole new range of ways to shop and eat that's designed for a modern world and new, modern consumers.
View this post on Instagram
"We're trying to do a combination of giving our customers really high quality things that they won't be able to get anywhere else and to deliver on it at a really high level, and …  [celebrating] the flavors and the things that we love," says Wall. "A lot of times when people are visiting a place, they want to find something different than what they're going to see at home. They want to be able to get a taste and a flavor and a sense of what's unique about this place. What we strive to do at Foodland is to show them that—both with the food we offer, and the way we serve them: with aloha."