Find Quietude at Honolulu's Mu-Ryang-Sa Korean Buddhist Temple
Tucked away in a Honolulu residential valley, the Mu-Ryang-Sa Korean Buddhist Temple is an oasis of quietude with a serene purpose.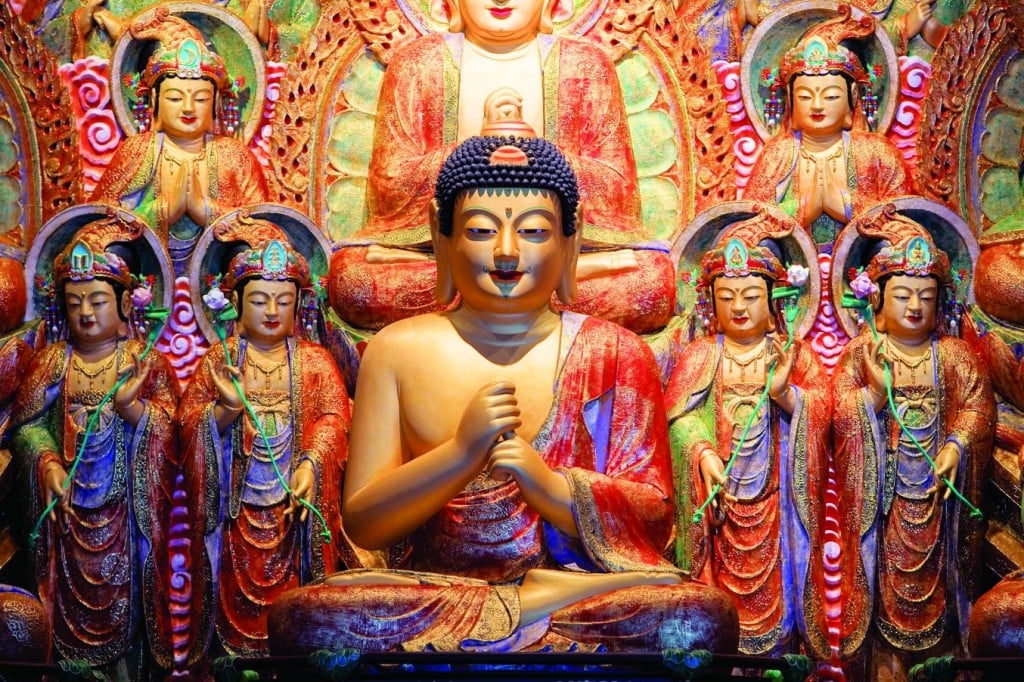 Cool trade winds drift in from the peaks of the Koolau mountains, rustling ridgeline trees in the rear of Palolo Valley. Roosters call and answer each other across the neighborhood. I can hear the faint whisper of rains, deep within Palolo, falling into its thick watershed forests.
But other than that … quiet.
It's a tranquil quiet. The kind of nature-crafted quiet ideal for contemplation, reflection or relaxing in one's thoughts.
Precisely the kind of serenity that attracted the largest Zen Buddhist order in Korea to a deep corner of this large residential valley just outside Honolulu to construct a temple specifically for chant and meditation.
On a stroll with me through the picturesque grounds of Mu-Ryang-Sa temple, Abbot Dohyun Gwon, explains the meaning of every structure, statue and feature. A towering concrete effigy of Maitreya, "the future Buddha." An ornate dormitory, home to the temple's eight resident monks. A pond stocked with bobbing turtles, guarded by a large turtle sculpture. A garden filled with hundreds of miniature stone bodhisattvas, each representing living and deceased temple members.
Finally, we enter the large, five-story structure that gave the compound its name, Mu-Ryang-Sa ("Broken Ridge Temple"). The name is not a reference to the steep, craggy ridges surrounding the temple, but a 13-year legal battle with its Palolo neighbors who objected to the temple's original height. The temple roof was ultimately lowered nearly seven feet to comply with building codes. It was finally completed in 2005, nearly two decades after construction began.
Still, the temple—part of the Korean Buddhist Chogye order—holds no ill will toward its neighbors and, in fact, welcomes all who wish to quietly stroll its grounds during daylight hours in the winter and summer. There are no guided tours.
The 1.5-acre compound is compact, yet oddly spacious, its gardens and structures (which also comprise a meditation hall and a tea ceremony hall) looking out over the entirety of Palolo Valley all the way to Waikiki. Encounter one of the temple's members or resident monks and you will receive a polite bow and greeting.
"The main reason to become a monk is to practice meditation and chanting," says Gwon. "The semester here is three months long, then we rotate to another monastery," most likely in Korea, where the Chogye order is based.
A monk's day at Mu-Ryang-Sa is devoted to the temple's raison d'etre: two hours of meditation at 4 a.m., chanting at 6:30 a.m., then two-hour meditations throughout the day until 9 p.m.
My chat with the abbot finished, I explore Mu-Ryang-Sa alone as its monks end afternoon meditation. The cacophony of birds, returning from darkening skies to the many trees surrounding Mu-Ryang-Sa, fills the air.
Not to worry, it will be quiet again here soon enough.
Mu-Ryang-Sa Buddhist Temple
2420 Halelaau Place, Palolo Valley, Honolulu, grounds are open daily from 8 a.m. to 5 p.m.