Float down flumes on Kauai Backcountry Adventures' mountain-tubing tour
Take a watery ride through what was once Lihue Plantation's irrigation system.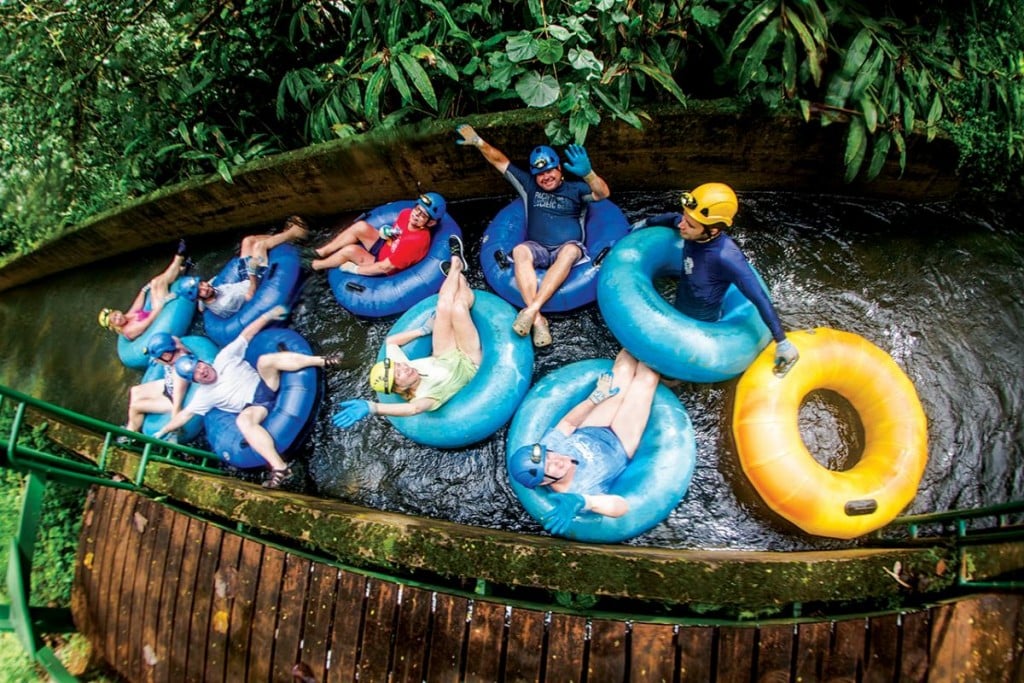 Standing on the banks of a 19th-century irrigation ditch deep in Kauai's tropical interior, I strap on a yellow tactical helmet and slide on a pair of protective work gloves. I have already slathered on a thick layer of sunscreen, sprayed myself with bug repellent, and initialed and signed the release form. I'm now staring down at the greenish water swirling along the old Lihue Plantation ditch line and there's just one thing left to do: Hop on an inner tube, channel my inner Indiana Jones and kick off into the gentle rapids. The jungle around me is still, but my body pulses with excitement.
I ease into my three-hour mountain-tubing tour knowing I'm in good hands with Kauai Backcountry Adventures. My guide, Hollywood, is a Kauai native with a head of shaggy sun-bleached hair, a contagiously happy demeanor and a wealth of local knowledge. He is well equipped to lead the tour of 19 people, which includes three children under the age of 10, a teenager, a young couple and three generations of a family.
As we float down the flumes and through the tunnels, Hollywood schools us on the history of the hand-dug ditch system used for more than a century to reroute water from Waialeale, the highest mountain on Kauai, to the Lihue Plantation's lower cane fields. Widely considered one of the wettest spots on earth, Mount Waialeale's average annual rainfall total is a whopping 394 inches. In the Hawaiian language, wai means fresh water, and water is the crucial ingredient for sugarcane, accounting for two-thirds of a single stalk's weight.
"Henry Pierce started this plantation in 1849," Hollywood says with a sense of local pride. "This guy was traveling from Boston to China, and his sole mission was to grow sugarcane in China. But, like many seafarers, he would stop in Hawai'i to resupply. When he was here on a stopover, he saw that we had all the main necessities to grow sugar: a lot of sunlight, a lot of land and a lot of water in the form of rain."
The rest is history. Sugarcane quickly became Hawaii's first cash-cow industry, with almost 100 plantations producing the sweet, mineral-rich crop by 1885. Plantation workers were recruited from Japan, China, Korea, the Philippines and Portugal, building the multiethnic fabric that characterizes Hawai'i today. Sugar also greatly influenced Hawaii's politics, with plantation owners leading the U.S.-backed overthrow of the Hawaiian monarchy that led to the archipelago's admission to U.S. statehood in 1959.
Today, all that's left of big sugar in Hawaii is a 36,000-acre plantation owned by Alexander & Baldwin on Maui. The company announced this year that it will cease sugar production by the end of 2016, marking a historic end to what was long the Islands' leading economic machine.
One of the oldest sugar plantations in the Hawaiian Kingdom, Līhu'e Plantation collapsed in 2000. Then, in 2003, Kaua'i Backcountry Adventures secured exclusive access to the old ditch line, transforming a historic facet of Hawaii's celebrated plantation era into a scenic tubing attraction.
"This is very cool to me because my family worked on Lihue Plantation for four generations—before Hawaii was even a state," Hollywood says. "My roots are here. For me, this place is very special."
Spinning like a top across the water's surface, I gawk at the lush, 360-degree views surrounding my trusty inner tube and me. Giant ferns the color of new grass. A towering, 120-year-old mango tree. Wild baby pigs rustling in the shrubs. Reaching out onto the ditch system's green banks, I pick a ruby-red akala (raspberry) and place it on my tongue. My lips pucker in delight at its tanginess.
After a few minutes of coasting, my inner tube approaches a tunnel—the first of five on this relaxing ride down the ditch and tunnel system that once irrigated 17,000 acres of sugarcane crop. I switch on my headlamp, tuck in my elbows and float into the darkness.
"Aloooha!"
The sound of my voice reverberates off the tunnel walls, which glitters with a golden layer of lichen. Ahead, a tiny sliver of daylight grows larger with my approach.
Swoosh! I glide back into the open air, and a warm rain breaks through the cloud cover, drumming its gentle song on my helmet. Feeling invigorated, I splash my hand through the rapids—and, just like that, a rainbow appears ahead of me.
The water cycling down the ditch line is brisk and I welcome the cool splashes. After nearly 3 miles of tubing, we exit the rapids. I reluctantly bounce out of my inner tube, and then step back onto dry land as the early morning clouds give way to blue skies and sunshine.
Kauai Backcountry Adventures
The mountain tubing tour costs $116 per person. Participants must be at least 43 inches tall and at least 5 years old. 3-4131 Kuhio Hwy., Lihue, Kauai, (808) 245-2506, kauaibackcountry.com.