Former Hawaii Congresswoman Patsy Takemoto Mink to be awarded Presidential Medal of Freedom
The medal is the highest civilian honor awarded in the U.S.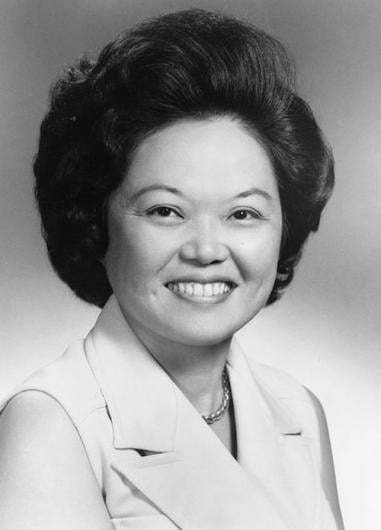 Former Hawaii Congresswoman Patsy Takemoto Mink is among this year's recipients of the Presidential Medal of Freedom, announced earlier this week by President Barack Obama. The medal recognizes individuals for their contributions to United States culture and national interests, and is the highest civilian honor awarded in the U.S.
President Obama revealed this year's 19 medal recipients on Monday—six of whom, including Mink, will be awarded the medal posthumously. The official awards ceremony will be held at the White House on Nov. 24.
Patsy Takemoto Mink served the state of Hawaii as congresswoman for 12 terms between 1965 and her death in 2002. As a Japanese American born and raised in Maui, Mink broke gender and racial barriers as she fought for gender equality and civil rights. Mink was the first Japanese American female attorney in Hawaii, the first Asian American woman elected to state legislature and the first minority woman to serve in the U.S. Congress.
Mink is well known for her work co-authoring and championing Title IX of the Education Amendments of 1972, which helped to provide girls and women equal access to education and related school activities like athletics. In 2002, the bill was renamed the Patsy Mink Equal Opportunity in Education Act in her honor.
The Presidential Medal of Freedom acknowledges the congresswoman's lifelong accomplishments.
Current junior U.S. Senator from Hawaii Mazie Hirono, who called Mink a friend and mentor, applauded the award's announcement on her website saying, "A visionary and a trailblazer, Patsy's legacy lives on in every female student and athlete in America who's been given a fair shot to compete in the classroom and on the playing field."
Hirono's website also reports that the Hawaii State Bar Association Civic Education Committee submitted Mink's name in consideration for the award. The group is planning several events across the state in 2014 and 2015 to celebrate Mink's life and legacy.
Mink will share 2014 Presidential Medal of Freedom honors with noteworthy figures such as news anchor Tom Brokaw, philanthropist Ethel Kennedy, actress Meryl Streep and musician Stevie Wonder.
There have been 159 recipients of the Presidential Medal of Freedom since 2000. Last year, Hawaii native son and former U.S. Senator Daniel Inouye was also awarded the medal.