Get Baked! Making Portuguese Sweetbread with Kona Historical Society
Learn how to make traditional Portuguese sweetbread in a lava-rock forno on Hawaiʻi Island.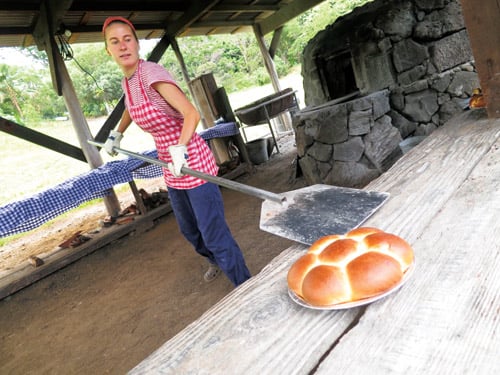 It's 6 a.m., Thursday, in Kealakekua. The sun has yet to break through the morning haze lazing over the small town on the slopes of dormant Hualālai volcano, just south of Kailua-Kona. Not a car is in sight on Māmalahoa Highway, winding through town.
On the pastures below the Kona Historical Society's H.N. Greenwell Store Museum, however, two bakers—one in jeans and a red palaka (checkered) apron, the other in a sweatshirt and backward-turned cap—have been awake for some time. Under a corrugated metal roof held up by logs sits a large, igloo-shaped, wood-fired oven they have just begun heating up. In four hours, at 10 a.m., visitors will begin gathering here for a morning of hands-on instruction on the craft of traditional Portuguese bread making. It's a longtime weekly custom in Kealakekua.
"This is definitely a real resource for the community," says Kona Historical Society executive director Joy Holland, herself once a Thursday a.m. bread baker. "People from all over come specifically for this and they love the experience. Even many residents have no idea about the Portuguese experience here. They worked as cattle ranchers and dairy farmers."
As it turned out, they also baked some amazing bread.
In the 1870s, Portuguese immigrants from the Azores and Madeira began arriving on the Kona Coast to help develop and manage dairies for the Big Island's nascent ranching industry. Many of them were also stonemasons, as skilled in building pens and paddocks for cattle as they were in constructing outdoor ovens, the latter an important fixture of daily community and family life in their former homeland. In these ovens, they began to bake the soft, airy, slightly sweet bread now familiar in bakeries, grocery stores and restaurants statewide.
While Portuguese sweetbread, mass produced by commercial bakeries, is found everywhere in Hawai'i, hive-type stone ovens like the one at the Kona Historical Society are hardly the fixtures they once were. Sharing this essential part of the Portuguese culture with visitors was a major reason the Kona Historical Society, a community-based nonprofit with a mission to perpetuate the history of the Kona coast, decided eight years ago to build a traditional stone oven of its own.
The large, lava-rock forno (Portuguese for "oven"), modeled after the ruins of an oven on an old Kona dairy farm, took 
several months to plan and construct. Modern-day stonemasons consulted with several families in the east Big Island town of Honoka'a who still maintained working stone ovens. The Kona Historical Society's oven is part of larger plans to eventually build a living history ranch on the site.
"There has been so much change in Kona. Our identity and sense of place and history were being lost," says historical society program director Ku'ulani Auld, a fifth-generation Kona resident. "This is part of our story. A way to talk about our multiethnic heritage. The Portuguese are a piece of that. And the oven is how we tell that story."
Visitors are invited to help bakers roll the sweetbread dough into spheres, which are placed in aluminum pans for baking. The finished loaves are later sold to the public.
It took some time for bakers to learn how to use their brand-new, Old World oven once it was completed—tweaking proper baking temperatures and processes to arrive at a perfect loaf of sweetbread. With a traditional Portuguese forno everything matters—oven temperature, ingredients, even humidity and weather conditions.
"It's an art, but it's also a science," Holland says.
As it turns out, the 6 a.m. lighting of the cavernous oven, filled with kiawe wood, is, the bakers tell me, the least authentic part of the sweetbread-baking experience.
"Here's this big stone oven and we light it with a big propane tank," says baker Nicole Freshley, laughing. "But it's the most efficient way to do it."
The kiawe wood inside the oven needs to burn down for a few hours. Bakers then rake out the hot coals to allow the heat inside the oven to equalize. Oven temperatures, which peak at 1,000°F, must drop to 400°F to allow sweetbread, with its high sugar content, to bake properly. The dough for the sweetbread—each weekly batch made with 48 sticks of forno-melted butter—is mixed and prepared for rolling throughout the morning in a certified kitchen owned by neighboring coffee grower Greenwell Farms. The near-final task of the process, however, is the part of the day bakers enjoy the most. At 10 a.m., visitors are invited to help roll the dough into small spheres, placing seven each into round aluminum pans for baking.
"I love the interaction with visitors," says Dot Seymour, a longtime historical society volunteer, who was present at the oven's first official firing. "I don't care where they come from or how old they are. I just like talking with them. You learn so much."
With a little help from visitors, Kona Historical Society bakers produce more than 90 loaves of sweetbread each Thursday in an oven holding 30 loaves per baking. The first batch of ambrosial, piping-hot sweetbread is taken out of the oven at 12:30 p.m. and sold, still warm, roadside on Māmalahoa Highway, just outside the historical society's headquarters. There, loaves priced at $7 each are quickly snapped up by Kealakekua residents and visitors, with proceeds supporting historical society programs.
The Kona Historical Society's lava-rock forno holds more than 30 loaves of sweetbread per baking. It was modified after the ruins of an oven on an old Kona dairy farm.
Shortly after baking begins on my morning visit, a family from Austin, Texas, inspects the forno, lured by a road sign near the Kona Historical Society promising, "Bread Baking Today!" Among them are seven children, ages 4 to 12, anxious to roll the dough into fist-size balls.
"I can make balls," declares one of them, smiling.
"You can. And you will," Freshley says, handing each child a ball of dough. "Make it really smooth, OK? You want the pretty side on the top."
The technique isn't the most important part—the bread will still taste as sweet—but passing it along, together with the area's cultural traditions, feeds more than just mouths.
"We want to provide something that connects people to Kona's history," Holland says. "This is a program people really love, we really love and we aim to keep doing it."