Get Buzzed! 44th annual Kona Coffee Cultural Festival begins today on Hawaii Island.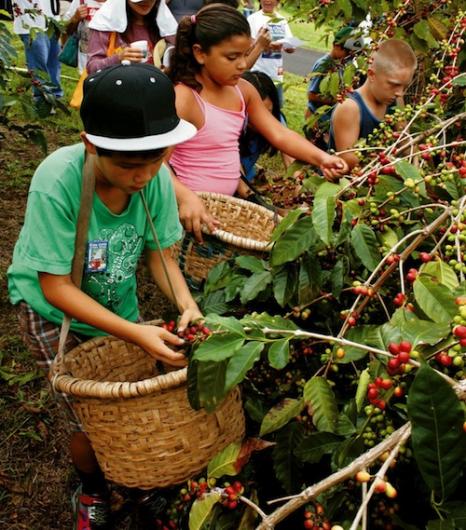 The 44th annual Kona Coffee Cultural Festival returns to Hawaii Island today with 10 days of events and activities dedicated to Hawaii's most popular cup of joe. The fest, which continues through Nov. 16, celebrates the eponymous coffee from Kona district, the most prolific and lauded coffee region in the only U.S. state to grow the bean.
The festival kicks off today with an art show displaying works from Kona-based artists at the Donkey Mill Art Center, a restored coffee mill. Festival highlights in the days ahead include a coffee-picking contest, the Miss Kona Coffee pageant, several Kona coffee-themed cooking contests and tours of area farms.
There are around 650 farms in Kona's coffee-growing region, producing a combined 3.8 million pounds of coffee each year. Want to know which farm produced the best beans this year? Head to the annual Kona Coffee Cupping Competition on Thurs., Nov. 13, when judges from the Kona Coffee Council will slurp hundreds of coffees in an attempt to pinpoint the best tasting regional brew. Visitors can watch the judging, meet area farmers and taste some of the coffee being judged.
Many of the festival's events are free, but some require an official Kona Coffee Cultural Festival button. Buttons are $3 and will be sold at each event and at multiple locations in Kailua-Kona including KTA Super Stores, Kona Coffee & Tea Company and Hilo Hattie.
Click here for the full schedule of Kona Coffee Cultural Festival events happening throughout the Kona region.
The Kona Coffee Cultural Festival is one of the state's oldest food festivals. This year's theme, "Bringing Kona Together," is expected to do just that as more than 17,000 Kona coffee enthusiasts are anticipated to attend.
Cultivated on the slopes of the Big Island's Hualalai and Mauna Loa volcanoes, the Kona region's long-established world-renowned specialty coffee has helped sustain the area's community of farms for more than 185 years.
For more information on this year's festival go to the Kona Coffee Cultural Festival website.
44th annual Kona Coffee Cultural Festival
Nov. 7-16 • Events throughout Kona District, Hawaii Island • http://konacoffeefest.com