Get Dishes From Two Popular Japanese Restaurants at This New Waikīkī Eatery
The menu at Upstairs Waikīkī features speciality items from Sushi Sho and Hachibei.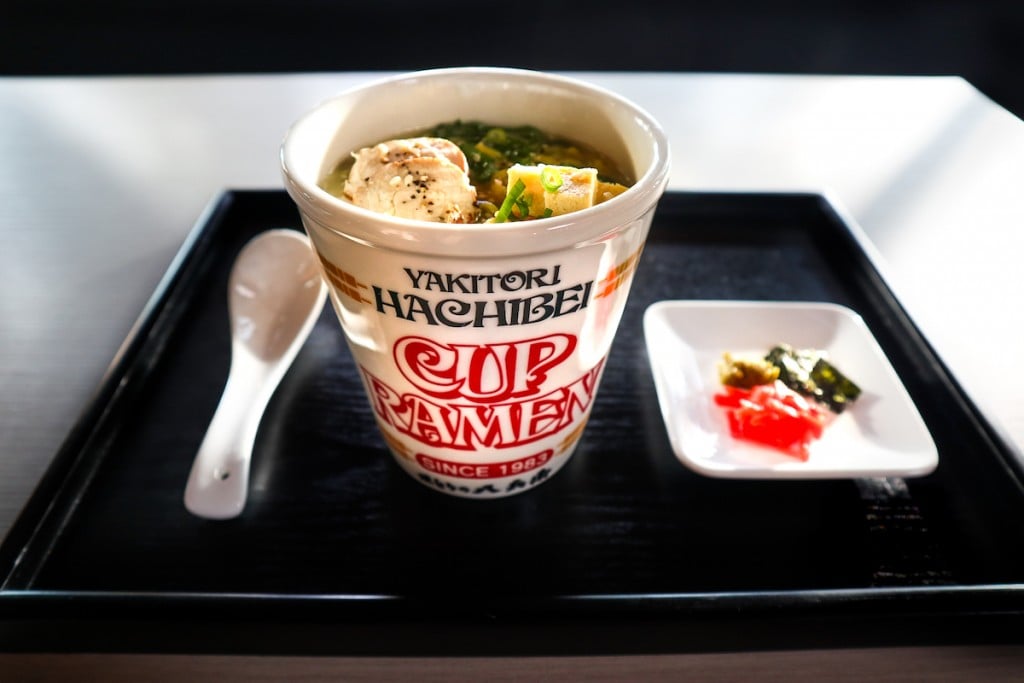 Sometimes you can't decide where you want to go for dinner.
That's when a collaborative dining experience—a restaurant featuring items from various restaurants—could come in handy.
Upstairs Waikīkī is exactly that. Its menu combines speciality items from two standout Japanese restaurants in Honolulu—Sushi Sho and Hachibei—with its own signature dishes.
The restaurant opened on Oct. 1 in the space vacated by Bills Hawaiʻi, the Waikīkī version of the popular breakfast spot in Australia. Tokyo-based Sunny Side Up had brought the Australian concept to Oʻahu and, when it closed, was left with a cavernous space on Beach Walk in Waikīkī. CEO Norihito Watanabe approached Keiji Nakazawa of Sushi Sho at the nearby Ritz-Carlton Waikīkī and Kazunori Yashima of Yakitori Hachibei in Chinatown with the idea of creating a collaborative menu using some of their signature dishes alongside original ones from the restaurant.
The result is, at the very least, innovative.
The space is cabinlike, with vaulted ceilings, dark woods, focused lighting and huge windows facing Beach Walk. It's spacious but manages to feel intimate at the same time.
Some of the dishes borrowed from the two restaurants include Hachibei's fried chicken, oyakodon with simmered chicken and eggs over rice, and chicken ramen served in a fun ceramic dish shaped like an instant ramen bowl; and Sushi Sho's popular bara chirashi set with various cuts of sashimi, roe and shellfish cured in the Edomae style, then arranged over seasoned sushi rice with thin strands of fried egg.
Hachibei's toromono is actually exclusive to Upstairs Waikīkī: this dish features an oven-roasted Jidori chicken thigh that's crispy on the outside, juicy on the inside. (It's not the most photogenic dishes, but it was easily one of my favorites.)
But Upstairs Waikīkī also offers its own dishes, including the Buddha Bowl (with tofu nuggets, beet hummus, avocado, assorted veggies and multigrain rice), kimchi fried rice topped with a local egg, and L.A.-style kalbi (marinated beef short ribs served with spicy kimchi).
For non-Japanese food lovers, the restaurant has a tasty burger made with beef and pork, topped with sautéed mushrooms, onions, sliced tomato, bacon and tomato jam; a falafel sandwich with pickled daikon (radish) and carrot, pesto and a sweet chile sauce; and rigatoni carbonara with pancetta. Dinner entrées range from $14 to $35.
We also enjoyed the island potato salad—a typical potato salad but with kālua pig and a local egg. It was surprisingly delicious.
The drink menu features an extensive sake selection and an assortment of well-crafted cocktails and mocktails. (You can even order smoothies.) We enjoyed the Beachwalk Mai Tai with pineapple-infused rum; Surfin' 75 with gin, yuzu, lemongrass syrup and sparking wine; and the refreshing Jade Garden with sake, basil, cucumber, lemongrass syrup and lime. (You can add alcohol to any of the mocktails, too, FYI.)
The two desserts the restaurant serves were both addictive: coconut pudding with a pineapple coulis and chia, and strawberry granita with a strawberry compote, vanilla gelato and condensed milk. Gone in seconds.
If you like Japanese food—or maybe always wanted to try Sushi Sho or Hachibei—love sake and just want to unwind and relax, this place offers all of that. Parking can get expensive—we stayed longer than the two-hour validation it offers at the parking lot across the street at Bank of Hawaiʻi—it's $3 for every 30 minutes after that—and wound up paying $12. But it was easier than going to two different restaurants in one night.
Upstairs Waikīkī, 280 Beach Walk, Waikikī. Open 5 to 9 p.m. Wednesdays through Sundays, upstairshawaii.com.