Giving Tuesday, Hawaii-Style #GivingTuesdayHI
The Tuesday after Thanksgiving is a special day that keeps the spirit of warmth, family and gratitude alive.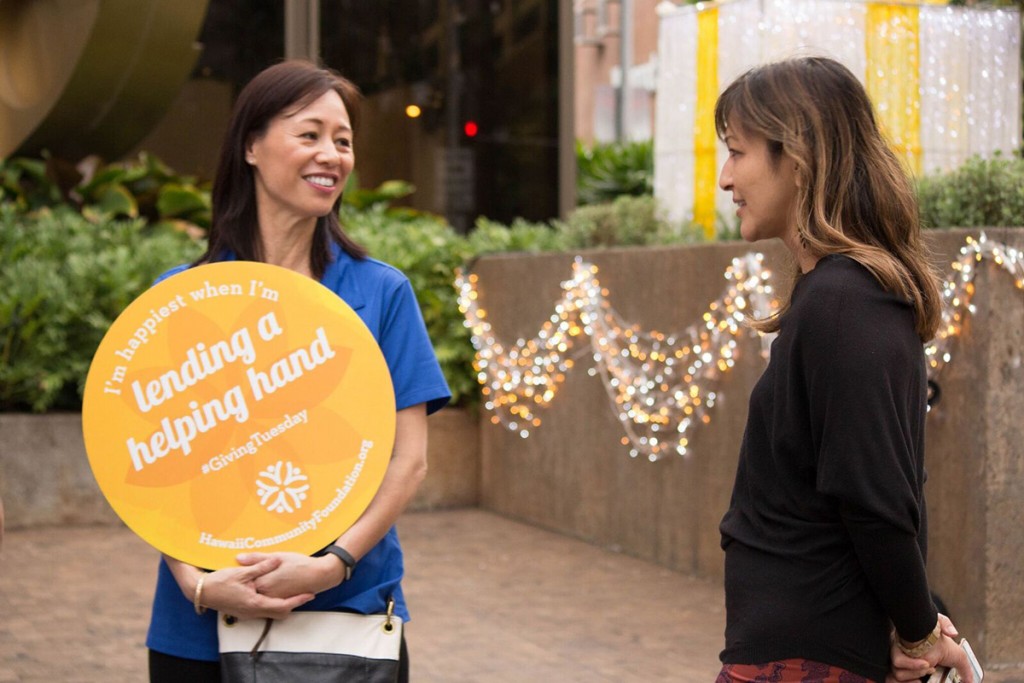 When Thanksgiving leftovers are put away, many of our thoughts shift toward holiday to-buy lists. There are massive daylong sales events on the heels of Thanksgiving. Black Friday and Cyber Monday evoke feelings of excitement, budget savviness and pride in "tackling the shopping list."
But one special day is set aside—a day that keeps the spirit of warmth, family and gratitude alive through the holiday season—and that's Giving Tuesday.
This November 27, the Hawaii Community Foundation (HCF) invites you to join thousands of people across the state of Hawaii who will contribute to a local nonprofit organization they believe in. Many will also post on their social media accounts with the hashtag #GivingTuesdayHI to encourage their friends and neighbors to join in.
"Whether it's a monetary donation, volunteering your time, or lending your expertise, each one of us can have a big impact on Hawaii," says Micah Kane, HCF's CEO and president. "Giving Tuesday amplifies the power of giving through the cumulative effect of many gifts, all working together to make our island home a better place."
Giving Tuesday reminds us that, when most people are enjoying family and celebrating good times, the holidays can be a tough season for Hawaii families with few resources. This time of year can also be tough for nonprofit organizations that serve these families—and this year is no exception.
In fact, 2018 has seen an increased demand on Hawaii's nonprofits. As you read this, many are still helping individuals and families recover in the aftermath of unprecedented flooding on Kauai, volcanic activity on Hawaii Island, and hurricane damage on Maui.
"Nothing means more than community generosity at a time like this," says Sherri K. Dodson, executive director at Habitat for Humanity Maui. "On Maui, our year-round efforts to house families have continued at a higher volume because the fires after Hurricane Lane damaged so many homes. Each gift helps us to keep pace with community needs as they fluctuate."
Last year, the Hawaii Community Foundation and Bank of Hawaii hosted an awareness event in Downtown Honolulu on the morning of Giving Tuesday. Hawaii News Now and Chef Russell Siu were there, talking to givers and handing out copies of Hawaii Gives Back and Kakaako Kitchen's famous fried rice to downtown professionals on their way to work.
This November 27, it's your chance to be a hero for Hawaii. Look for HCF events celebrating Giving Tuesday across the islands again.  HCF neighbor island staff will hand out awareness wristbands with "Be a Hero for Hawaii" to remind us that every gift is a heroic act. In Honolulu, HCF staff will also be on the corner of Bishop and King Streets with complimentary copies of Hawaii Gives Back and prize drawing grants to be given to Hawaii charities of your choice—in your name.