Grand Wailea Resort is an Art Lover's Paradise
Experience one of Hawaii's largest art collections filled with paintings, stained glass and masterfully crafted sculptures.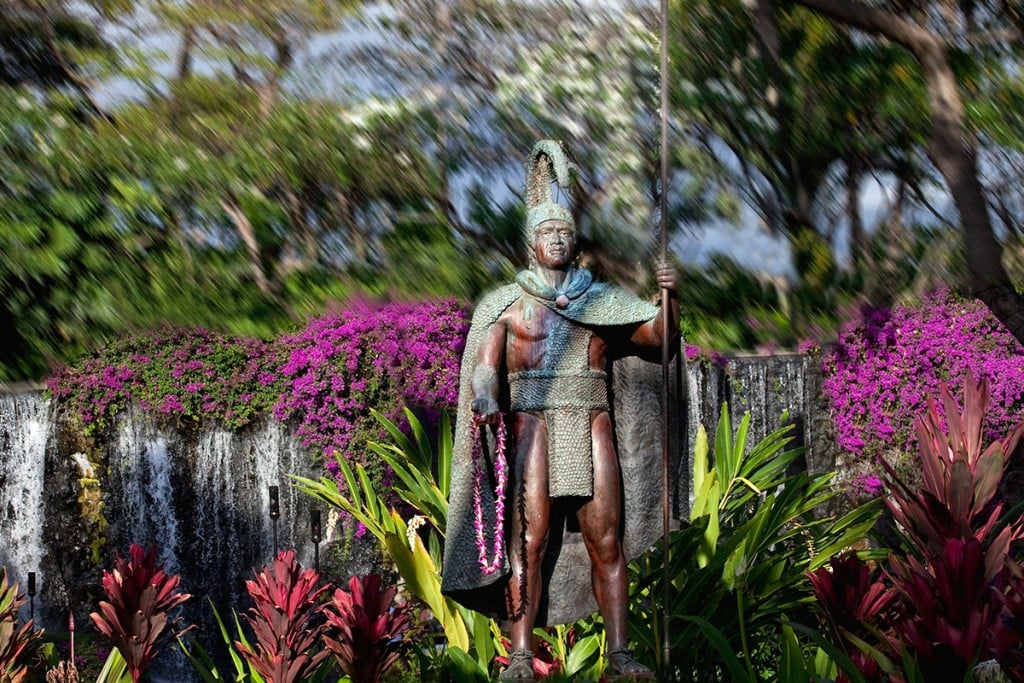 At the Grand Wailea, A Waldorf Astoria Resort on Maui's south shore, bronze and ceramic statues are around every corner, and fascinating paintings and artifacts are thoughtfully placed throughout the space. The Grand Wailea, known primarily for its luxe grounds, spacious rooms and 2,000-square-foot pool area with nine different pools, also holds 81 museum-quality art pieces. In the lobby alone are nine sculptures of women, created by contemporary artist Fernando Botero, that command attention with their larger-than-life body proportions.
With so much to see, it's easy to get lost in the grandiose halls of the Grand Wailea. But there are numerous pieces that art aficionados won't want to miss, such as the dripping mermaid statue in the pool surrounding the lobby bar sculpted by Jan Gordon Fisher, who created the famous Duke Kahanamoku statue in Waikiki.
The hotel lobby is home to a larger-than-life sculpture of the Hawaiian demigod Maui, holding the sun with one hand, created by Maui-born ceramist, painter and sculptor Shige Yamada.
Although you can spend an entire day admiring the pieces of art in the lobby and sipping mai tais in the extravagant lobby bar, Hawaiian artist Herb Kane's sculpture of King Kamehameha, which stands regally at the entrance of the hotel, can't be missed. Other artistic achievements on the hotel grounds, in and around the ponds that intertwine among the four wings of the Grand Wailea, include an archway crafted by Edward Brownlee; sculptures of elegant hula dancers shaped by Jan Fisher, who has worked under acclaimed ceramic artists such as Crescent Deru and Herb Sanders; and groups of ceramic koi (carp), each meticulously crafted by ceramic artist Mark MacKay.
If you're looking for a more condensed assembly of masterwork art, the NaPua Gallery is where you need to be. A hot spot of finely designed furniture, bronze statues, paintings, portraits and ceramic sculptures, this gallery highlights local talent, with 85 percent of its gallery consisting of work by Hawaii artists. Just entering the gallery can be a humbling experience, as 17 bronze statues crafted by Fernand Leger, one of the founders of 20th century modernism, line the hallway before the gallery. This is the only complete collection of his work outside of the National Leger Museum in the south of France.
If seeing all of this artwork has instilled some sort of artistic flame inside of you, the Grand Wailea has you covered. An outdoor painting class, led by artist-in-residence Roxanne Broadbent, caters to beginner and intermediate artists, with plenty of one-on-one instruction. A beginners water painting course is also available, led by another artist in residence, Mary Faustine, and an outdoor photography class, taught by master photographer Michael Gilbert, offers the basics on lighting and composition.
Grand Wailea hosts weekly Art Tours on Tuesdays and Fridays from 10 a.m. to 11 a.m. Custom tours can also be arranged. For more information on the NaPua Gallery and the Grand Wailea's art activities, visit its website, or call (808) 875-1234.