Great Ideas that are Changing Hawaii for the Better
Just a few examples of people wanting to help, teaming up with island organizations looking to make a difference.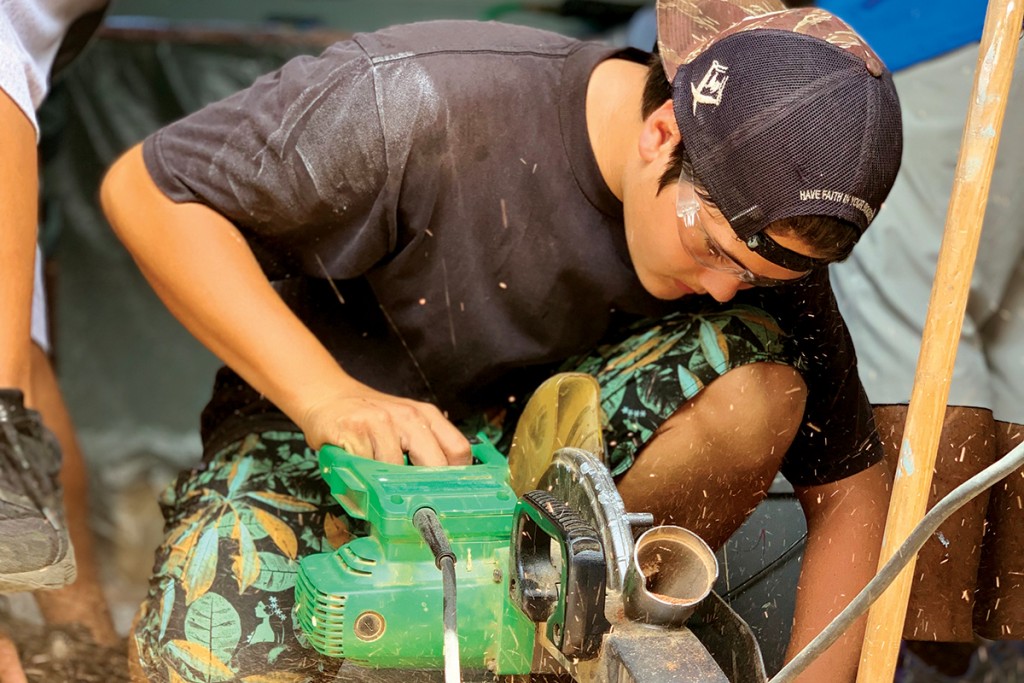 So much good happens on every island, all across the state. Here are just a few of the great ideas that bring together people wanting to help with organizations looking to make a difference.
Ma Ka Hana Ka Ike brings hands-on vocational training to at-risk youth in Hana, Maui. Students learn the power of building with their own hands and finding self-sustenance, community connections and cultural understanding in the process. Ma Ka Hana Ka Ike means "In Working, One Learns." The program mentors young people to learn how to learn, to build with their hands, to understand what's possible. Its mission is to help young people learn in a way and in an environment that makes sense to them and to show them they have the power to control their future.
Malama Pupukea Waimea is an innovative, collaborative effort to replenish and sustain the natural and cultural resources of the Pupukea and Waimea ahupuaa for present and future generations. Community stewardship and education work in tandem with active outreach programs to find a balance in use and preservation of popular North Shore attractions like Shark's Cove and Three Tables. MPW is also the only current Oahu organization participating in the state's Makai Watch program that brings together NGOs and concerned citizens to partner with the state Department of Land and Natural Resources. Together, this partnership makes sure rules are being followed and marine resources are well-managed and preserved.
Molokai Child Abuse Prevention Pathways shines light on what has been too long held in silence on Molokai: the pervasive recurrence of sexual abuse against children. "It's silent. Sometimes it sleeps in darkness for generations," says Sgt. Mike McCutcheon of the Molokai Police. MCAPP is working to reverse that trend, bringing education, role-playing, resources, and a culture of safety and boundaries for Molokai's youth. Since MCAPP's founding, reporting of sexual abuse has increased significantly, and educators report that students are speaking up rather than remaining silent.
Haku Moolelo is a 12-week course taught at the Women's Community Correctional Center in Kailua that teaches women to write, tell and even illustrate their stories. A Gen2Gen project that seeks to connect mature generations with those coming behind them, the program teaches women how to find their stories, capture them, and put them out into the world. Several dozen of the 100 women who have participated in the WCCC program have published their stories, many of them directed at their children.
Maui Forest Bird Recovery Project, formed in 1997, works to develop and implement science-driven techniques that recover Maui's endangered forest birds and restore their habitats so that those birds are able to perform their meaningful work in sustaining our fragile ecosystem. Hawaii is home to birds that are unique to these Islands. Many have been wiped out, with only 1 of 6 native forest birds still found on Maui. The kiwikiu is the most critically endangered of Hawaiian honeycreepers on Maui, with their remaining numbers estimated at a few hundred.
Ka Ohana O Kalaupapa, founded in 2003, is dedicated to promoting the value and dignity of every individual who was exiled to the Kalaupapa Peninsula beginning in 1866. As the remaining patients die and the population of the peninsula decreases, it's critically important to bring together people who ensure that the remaining patients can live out their lives in their homes. The organization works to ensure state and federal laws are carried out to support these patients and that the history and legacy of the community is preserved.
Goodwill Goes Glam! Ever wonder what iconic fashion designers might come up with if they shopped Goodwill? Anne Namba mixed it up this year with funky Harajuku looks, business career wear and elegant evening wear, all for the annual Gala and Fashion Show. The event kicks off a four-day fundraiser with one of the biggest pop-ups in the Islands featuring secondhand fashions, accessories and must-haves of all varieties. All proceeds go to continuing Goodwill's work across the state helping the disadvantaged find employment.
Kahumana Farm is well-known for its work in local foods and food security. Its Learning Center reaches even further, providing holistic and outcome-based disability services across home and work settings for people with developmental disabilities and autism. The Learning Center works with community groups to provide meaningful work and opportunities for the autistic community, both at its Leeward Oahu facility and at St. Christopher's Church in Kailua.
Grow Some Good has been creating and cultivating school gardens on Maui for a decade, teaching keiki what it means to grow their own food and understand the importance of local food for local people. Connecting kids with their food source strengthens their connection with their communities and encourages opportunities for students in agriculture, conservation, food education and nutrition. Grow Some Good envisions a food-secure community where local, healthy food is readily available and part of local life.