Hanalei Shave Ice Truck is Fueled on New Organic Fruit Flavors
Wishing Well Shave Ice has been serving the quintessential Hawaiian snack in the heart of Hanalei since 1983.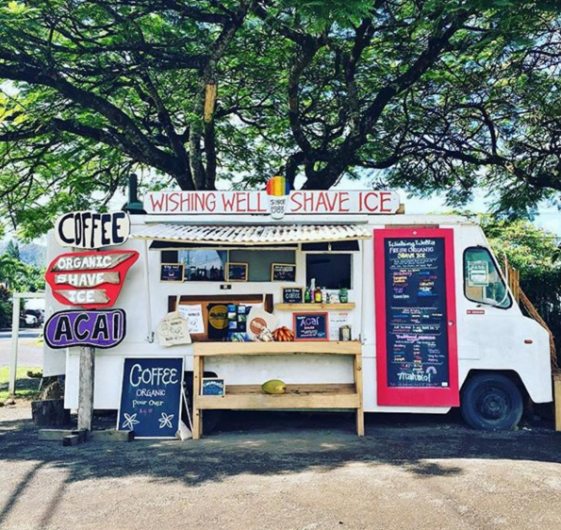 On your trip to Hawaii, shave ice is a must-try and Wishing Well Shave Ice has been serving the quintessential Hawaiian snack in the heart of Hanalei since 1983. Happy customers have returned again and again for custom-made mounds of fluffy ice scrapes drenched in sugary, fruit-flavored syrups. But now, under new ownership, Wishing Well is sweetening its frozen treats with fresh, organic fruit juices, rather than just the powdery artificial stuff—a local trend locals can't get enough of. Also new to the menu are acai bowls and made-to-order, pour-over, organic coffees. Wishing Well has refined its palate and developed a bit of health consciousness. The result is a broadened offering of delicious, tropical grinds that are truly tastier than ever.
Wishing Well's new organic shave ice ($8) is one size and custom-made with your choice of two flavors and one topping. Flavors include fan favorites such as papaya lime, tangerine creamsicle and java plum, while toppings run the gamut from coconut flakes and honey to dragon fruit and mango puree. Wishing Well's traditional shave ice—the non-organic kind that made the business locally famous in the first place—is also available in flavors such as guava and li hing mui for $4 (small) or $5 (large). You can add ice cream (macadamia nut, vanilla or Kona coffee) to any shave ice for $2. Kids sizes are also available: $3 for non-organic shave ice and $4 for the new, organic kind.Open daily from 9:30 a.m. to 5:30 p.m., Wishing Well's white roadside truck is parked on Kuhio Highway just a couple blocks east of Aku Road. It's wedged between Hanalei's soaring green mountains and its crystal blue, half-moon bay, making it the perfect pit stop after a hike through the jungle or a fun day of surf. Colorful roosters patrol the property, which includes bench seating and picnic tables painted with a friendly reminder of Wishing Well's motto: "Slow yourself down."
View this post on Instagram
Acai bowls ($10) are another staple tropical treat that shouldn't be missed on your vacation. These creamy blends of banana and Tambor acai (a Hanalei-based acai producer) come topped with granola, banana, mango and honey. For another dollar, you can add peanut butter. Known to stain your lips purple, acai bowls are power-packed—the Amazonian superfood berry is a great source of fiber, antioxidants and heart-healthy fats.
---
Open daily 9:30 a.m. to 5:30 p.m. 5-5080 Kuhio Hwy., Hanalei, Kauai, (808) 342-5005, wishingwellshaveice.com.