Hawaii Book & Music Festival celebrates its 10th year this weekend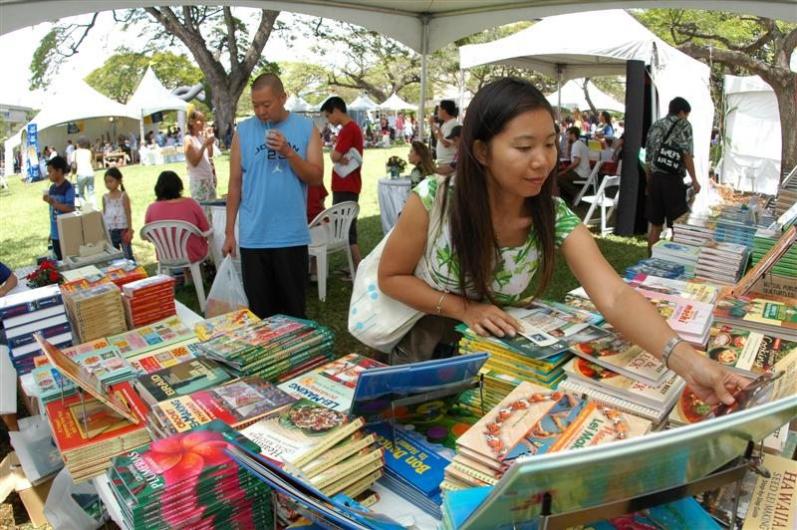 Calling all bibliophiles, audiophiles and lovers of great stories! Honolulu has a festival tailor-made for you and it's happening this weekend on the Honolulu Hale civic center grounds. The 10th annual Hawaii Book & Music Festival celebrates books, storytelling and music with a lineup of over 125 free events and activities, May 2 and 3.
The festival runs from 10 a.m. til 5 p.m. both days with free admission and free parking in several nearby locations.
More than 600 local and national best-selling authors and illustrators, publishers and musicians will be on hand for two days of book signings, a book swap, storytelling sessions, panel discussions, Hawaiian cultural displays and hula, slack key guitar and steel guitar performances.
Attendees may also browse bookseller booths, and find plenty of great eats—pizza, burgers, gelato, Indian, crepes and more—at the festival's multi-ethnic food court. Keiki will love the selection of kids books and the chance to meet storybook characters and PBS Kids host Mr. Steve.
There's so much to see and do that festival organizers have created Apple and Google apps so you can interact with the schedule and get updates on your mobile.
Featured presenters this year include: National Book Award winning nature writer Barry Lopez (Arctic Dreams), thriller author Michael Gruber with his new book The Good Son, young adult author and anti-bullying activist Jay Asher (Thirteen Reasons Why), novelist Kathryn Ma (The Year She Left Us), motivational expert Sam Horn (Got Your Attention?), Honolulu Star-Advertiser "Ocean Watch" columnist Susan Scott (Call Me Captain: A Memoir of a Woman at Sea), scientist and cultural practitioner Kumu Sam Ohu Gon, The Royal Hawaiian Band, ukulele masters Herb Ohta Jr. and Kimo Hussey and many more.
Also at this year's event? HAWAII Magazine's sister company: Watermark Publishing. Watermark will be selling books from their booth in the Publishers' Village in the Ewa/Mauka corner of the festival grounds. They're hosting three of their author's book signings in their booth this year—business and leadership expert Robbie Alm (The Faith of Leadership: Insights from Hawaii's Leaders), KSSK Radio personalities Michael W. Perry & Larry Price with their book Perry on the Left, Price on the Right: 30 Years with the Odd Couple of Island Radio, and outdoor survival expert Brother Noland, author of The Hawaiian Survival Handbook, who will also give a musical performance.
Many of this year's crop of Ka Palapala Pookela Award winners (selected by the Hawaii Book Publisher's Association) will also be on hand for signings. For a complete list of this year's winners, click here.
The nonprofit Hawaii Book & Music Festival's and its title sponsor, Bank of Hawaii, put on the annual event benefiting Hawaii Literacy and Read to Me International. For additional information and event updates, visit hawaiibookandmusicfestival.com.