Hawaii episode of Food Network's Diners, Drive-Ins and Dives to air April 5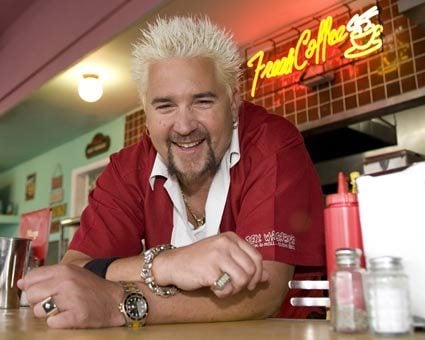 HawaiiMagazine.com readers Dan and Cynthia from Tennessee are the latest of several readers to e-mail us with a similar question about a filmed-in-Hawaii episode of one of Food Network's most-popular programs:
When will Food Network's "Diners, Drive-Ins and Dives" Hawaii episode be shown on TV? My wife and I really want to watch it so we can see some of the restaurants we visited while in Hawaii in 2008.
You ask, we answer.
The Food Network's programming staff told us that DD&D's Hawaii episode will be premiering on Mon. April 5, at 10 p.m. EST.
The Hawaii episode will be an unusual one for DD&D. Host Guy Fieri and the show's producers don't usually put together an entire episode made up of segments from one location.
Which Hawaii restaurants will be featured in the episode? We're still waiting for a definitive answer from the folks at Food Network. But we know a good deal about where and what the DD&D crew filmed while they were dining around Oahu last October.
Make sure to check out our full rundown of Fieri's diverse Oahu dining adventures here.
The minute we find out from Food Network which restaurants made the final cut and whether there are plans for another DD&D episode of Hawaii segments, we'll be sure to update you here on this post.
Stay tuned.