HAWAIʻI in the Kitchen: Hocus Pocus Cocktail
There are no tricks—just treats—in this fall-inspired cocktail made with locally crafted whiskey.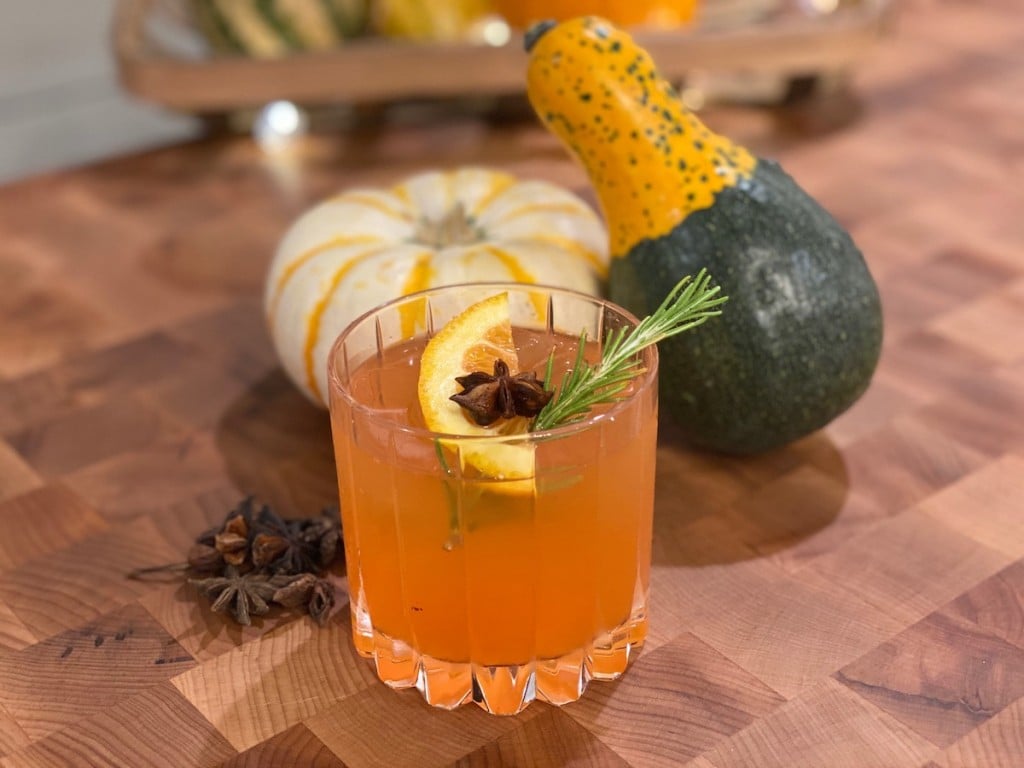 Who said Halloween was just for kids?
Not us!
We asked our friend—and master mixologist—Chandra Lucariello, director of mixology and spirits education at Southern Glazer's Wine & Spirits, to concoct a fall-inspired cocktail. And she didn't disappoint!
This cocktail—called the Hocus Pocus—features locally produced craft whiskey by Koʻolau Distillery and a roasted pumpkin syrup that you make at home. (Recipe included!) This drink is bursting with warm fall flavors—star anise, orange, pumpkin, whiskey—and perfect for chilly nights at home, pau hana on the deck, or while you're putting together a complicated homemade Halloween costume for your very demanding kid. Wait—did I go too far?
You get the idea.
(To see more videos, follow us on Instagram @hawaiimagazine.)
Hocus Pocus
For the cocktail:​
2 oz. Koʻolau Distillers Old Pali Road Whiskey
.5 oz. Campari Aperitivo or Aperol Aperitivo (depending of level of bitterness)
.5 oz. lemon juice
.5 oz. roasted pumpkin syrup (see below)
2 Cara Cara orange slices
2 dashes Angostura bitters
Directions: Muddle oranges with bitters, lemon and syrup. Add liquors and ice, shake and strain over large ice cube into double old fashioned glass. Garnish with thin orange slice, rosemary sprig and star anise pod.
For the roasted pumpkin syrup:
2 star anise pods
2 cinnamon sticks
1 T. whole black peppercorns
10 whole cloves
2 cups sugar
1 ¼ cup water
8 oz. roasted spiced pumpkin chunks (Halve small pumpkin, scoop out the seeds and rub with coconut oil, brown sugar and cinnamon. Bake flesh side down on baking sheet for 45 mins on 350 degrees.)
Directions: Toast spices until fragrant. Add water and bring to a boil. Add sugar and roasted pumpkin, lower heat and let simmer for 8 to 10 minutes. Remove from heat and let cool completely. Strain through a fine mesh sieve into clean container. Do not push solids through the sieve. Keep refrigerated; it has a shelf life of two weeks.