Hawaii leaders who are defining change
Duane Kurisu and Micah Kane say we've got everything we need right here.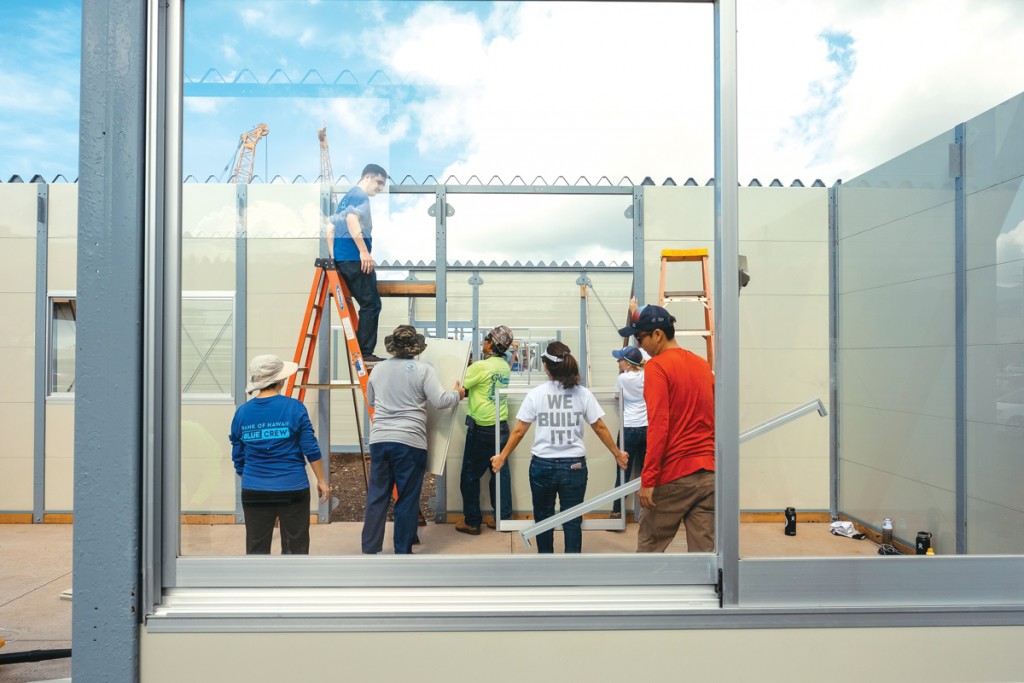 The story goes that Duane Kurisu saw the land that would become Kahauiki Village — a plantation style community now housing 30 previously homeless families — from an airplane on approach to Honolulu. Like many stories, that's only partly true. Kurisu wasn't looking to build a homeless village. He needed a spot to relocate a radio tower that sat in rail's path. For Kurisu, it was another day at the office. And then he found a desolate paintball field near the airport.
"The land inspired us," he says, "so well located, off Nimitz, near jobs and transportation." Kurisu set out to solve a business problem. Now he stands sentinel, solving homelessness and giving hope to families — not simply with temporary shelter but with permanent homes, jobs, child care and a shared community.
What if everything we need to solve the problems of our communities, our islands and our state were right here? All of it, right in front of us, a puzzle whose pieces we've not fit together yet. What if we simply see the problem, partner up and get to it? Two of Hawaii's pre-eminent leaders, Kurisu and Micah Kane, believe it's just about that simple — that while our problems are great, our strength is greater. Our potential lies within each of us, they say, and the sustainable, thriving Hawaii we imagine sits waiting for us. We just need to do the work to get there.
On a sunny afternoon in July, Hawaii Gives Back sat with Kurisu and Kane to talk about Hawaii's struggles and its future. Both men think about these things every day, Kane as the CEO and president of the Hawaii Community Foundation and board chair of Kamehameha Schools and Kurisu as a businessman and philanthropist known for his quiet style, big impact and humble beginnings. Mentor and mentee, friends, partners for projects not yet fully defined but palpable, these two men see the power of possibility within our communities. "People think this work is overcomplicated, not possible," Kane says of meaningful philanthropy. "The solutions sit with us. We've got to figure out how to simplify it, harness our collective energy and make it achievable."
Kurisu's story is a powerful one. The son of immigrant parents, he grew up in Hakalau, a plantation town on Hawaii Island's Hamakua Coast, where he worked, played, fished and found his roots. "If you caught three fish, you gave two away and kept one," he says often. Today, Kurisu's business success is staggering, including aio Media Group (parent company to this publication), where he's both founder and chairman; numerous real estate ventures; director seats on boards locally and nationally; and part ownership of the San Francisco Giants. Yet through it all, he holds fast that his core values were shaped within that plantation community — caring for each other, conducting yourself with pride and dignity, trusting each other and sharing what you have.
Kane believes those core values — and the success already realized at Kahauiki Village — are the building blocks from which Hawaii's future can be built. "Duane was willing to put his reputation and resources on the line and give this project a chance," he says. "He showed the will to step up — bring his credibility and trust to the project — and people came on board with him." While Kurisu self-funded the project's initial phase with the support of volunteers and extensive in-kind services, the second phase now in progress is being done with the financial support of the community and other funders. Kurisu and Kane both see a model here: With success of the initial project, people are inspired to do more, get onboard, reach deeper.
It's hard to not be inspired by Kahauiki Village.
Thirty families now call it home, paying modest rent and working jobs that were created in part because of the community. When complete, half of Hawaii's homeless population will have homes here. "These kids worry about their parents," Kurisu says of children living in homelessness. When the village's preschool and day care center opened recently, he watched those kids be kids. "Looking in those windows [on opening day], it could be Manoa or Hawaii Kai. Now these children have a chance to dream. They have hope for a better future."
Kane sees a road map right there, in that village, with those kids. "When you live in a space and thrive and learn and dream and have hope — that's power," he says.
Change
The power of change resonates with both men. Kids getting to be kids. Single mothers holding down jobs because their children are cared for. A community that comes together for shared meals, for play time, for gardening. These may be small moments, but they represent big change, and with that change comes hope, the power of possibility, the courage to dream and the opportunity to create the shared community they believe is within us.
Building that framework for change now drives every initiative, every project HCF undertakes. Kane is adamant that one-off projects — however successful they may be — can't create the meaningful, lasting change our island communities deserve. Under his leadership, the organization has adapted the CHANGE model, each letter representing a sector of focus — community, health and welfare, arts and culture, natural environment, government and education — to create long-term, large-scale sustainable change across the state. He and the organization believe a better Hawaii is one where kūpuna are cared for, keiki are healthy and families are self-sufficient — and they're not stopping until they get there.
"We've forgotten that the real power sits with the people," he says. "We need to figure out how we build more community-based efforts." Kane and his HCF team believe that creating a foundation where communities come together for a shared solution and trust that success is within their grasp is the secret sauce. We've seen it in real-time this year, as floods ravaged Kauai's north shore and lava overtook communities on Hawaii Island. "Whether building or rebuilding, community is why we exist," Kane says. "People step up when they trust that there's an endgame that's good."
As this publication's name suggests, Hawaii really does give back. Over 93 percent of our friends and neighbors give back every year, earning Hawaii the highest rank in the nation for philanthropic giving. Kane and Kurisu believe that the commitment to giving comes from our community fabric, the shared connection between people and the notion that as island communities, we have to lean on each other. Kane believes HCF can play a role in helping communities find their strength and take action, building from the ground up. "We need to listen to our communities to learn about their greatest challenges," Kane says. "Only by doing that can we create alignments between influencers, communities and individuals," resulting in real change.
Kane knows all too well how critical those alignments are — and how difficult they can be to create. As board chair for Kamehameha Schools, he's leading a similar effort now, partnering with the state's Department of Education and others to reach more children of Hawaiian descent, shifting from a campus-based model to a community one. He says for Kamehameha,
it's their only option. "Even Kamehameha Schools doesn't have the resources to solve all the problems," he says. He readily admits it's not always easy learning to be a partner, getting comfortable with decisions others might make. But his excitement about the possibility is unmistakable. "It's getting comfortable with being uncomfortable," he says. Getting beyond what's always been, finding national and even global partners, Kane sees unlimited opportunity and more importantly, the chance to truly deliver on their promise to Princess Pauahi.
All-in
Ask Kurisu and Kane what one thing needs to happen to effect the change they believe is possible, they share one thought. "You've got to go all-in," Kurisu says. "It can't just be about the money. There's got to be a deeper and broader sense of will. When you're all-in, the fear goes away."
Kurisu is quick to admit he didn't know what he was getting into when he launched Kahauiki Village. He was inspired by the land, saw a need and set out to make it happen. "I had no idea the cost or what it would take," he says. But as roofers and carpenters and landscapers stepped in to help build the facility and local businesses set about creating job partnerships, there was no turning back. "I had the reputations of all the people who'd stepped forward to make it happen at stake. It was scary along the way, but as the person who started the vision, there was never a point of turning back. It was just go."
"What Duane did — I can't come up with one hand of people who'd risk everything the way he did," Kane says. "That inspires others to step up." Both men know the power of that inspiration, the ripples that follow when the stone skips across the water and the moment when the seemingly impossible becomes possible.
Just ask Kurisu about putting roofs on those village homes. With the walls up and roofing slated to commence before the weather turned rainy, he got the dreaded Friday afternoon call. The roofers, slated to start on Monday, couldn't do the job after all. Back at the jobsite on Tuesday, still without replacements and certain that rains would destroy the progress made, he found roofers atop four of the buildings. "This man came up to me and said, 'I was driving by and heard what happened. We're going to be here to get this done,'" Kurisu recalls. "I didn't make it back to the office to cry. I went behind one of the houses." He stops for a moment and then brushes his cheek. "People step up when you least expect it."
The Soul of Hawaii — Hawaii's Competitive Advantage
Kurisu believes that the soul of Hawaii is our greatest strength, that Hawaii has something everybody else in the world wants and needs. "Hawaii people feel at home no matter where we are because we feel authentic," he says. "No matter Moscow, Tokyo or London, we're always at home. We undervalue what we can do. We have the potential to do so much more."
Kane points to Hawaii's culture, both in its deepest traditional sense and the changes that evolve over time, as the key to that greatness. "We need to continue to be inclusive as people continue to come but also demand that they share these values," he says. "Be thoughtful about our Hawaii soul and how we preserve and share it. Otherwise, we become just another beautiful place, and we are much more than that."
That authenticity and greatness has shown itself time and again at Kahauiki Village. Landscapers return every week to teach the residents to plant and care for fruit trees, teachers and instructors show up to share their passions with the keiki. A community has risen from the ground of that once desolate paintball field — not because anyone told people to do these things but because it's the Hawaii way, to care for each other, share our gifts and treat our neighbors with respect.
Kane and Kurisu know that sense of community and empowerment well. They walk the halls of the C. Brewer Building, now the HCF headquarters on Fort Street Mall, every day and feel the power of Hawaii's soul in its grand lobby. "This building told Duane's people what they could and couldn't do 50 years ago," Kane says. As the son of plantation workers, Kurisu could have never entered that building, the place where trading was done and money was made from the work done on those plantations. The building still tells its history — in the iron railings and grille work depicting sugar cane, light fixtures that recall sugar cubes, exterior embellishments that include horseshoes and spurs.
When C. Brewer dissolved and the building became available, Kurisu quietly purchased it and made it available to HCF so that folks there could do the work needed to lift up communities across the state. The power of that single act isn't lost on Kane. "Now Duane's sitting here, in this building, doing for others as his family has done for him."
Kurisu recalls calling his brother on the day the purchase closed. "'We won,' I told him. 'The common folk captured the fort.'" He stood in that grand foyer that day, amid the imposing columns, looking up at the ornate balconies. "I saw all those old sugar guys standing on the balcony looking down. It wasn't about me. It was about all the common people. We're all same-same."