HAWAI'I Magazine's 2022 Photo Contest Winners
The show-stopping photos that captured first place.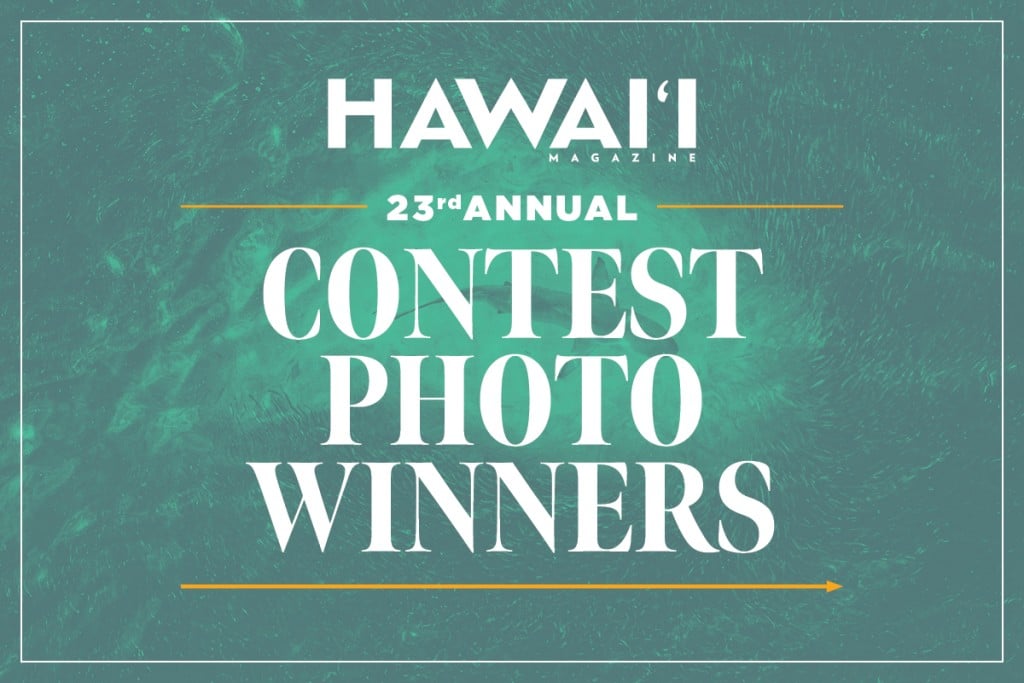 It was a strange year for the annual HAWAI'I Magazine Photo Contest as COVID-19 limited photographers' opportunities to travel and capture Hawai'i. However, HAWAI'I Magazine still received hundreds of eye-catching, award-worthy photos from readers. These are the first-place winners in the categories of land, ocean, people, wildlife and sunsets, as well as the grand-prize winner who impressed the team team of art directors, editors and photographers. Also, a big thank you to Alaska Airlines and Embassy Suites by Hilton Waikīkī Beach Walk, who sponsored the prizes for this contest. Congratulations to the winners and a big mahalo to everyone who shared their images of the beautiful Islands.
For those that missed the contest last year, submissions for the 24th annual contest open on July 1, 2022. The categories once again include land, ocean, people, wildlife, sunrise and sunsets. The contest runs until Oct. 2, 2022.
Grand Prize
Leighton Lum from 'Aiea, O'ahu
"I took this shot during the 2020 pandemic lockdowns. This shot was only made possible because there were very few people going outside during the lockdowns, and bait balls were coming into beaches along Waikīkī. With the bait balls so close to shore and with so few people around, these sandbar sharks were able to come in and snag an easy meal.
I was lucky enough to be flying my drone that day and had a few great views of this interesting hunting behavior that is not often seen in heavily populated areas such as Waikīkī."
Land | First Place
Semaj Thomas from Honolulu, O'ahu
"I went out for sunrise at Kualoa Regional Park. It was a cloud covered morning—which generally are my favorite times to shoot because there is always potential for light leaks. I sent up the drone, set the composition and Mother Nature did the rest. This image to me is indicative of the stories I've learned about historic Hawai'i, and I hope it stands the test of time."
Ocean | First Place
Peter Tang from Honolulu, O'ahu
"A high surf advisory ushered a procession of waves to O'ahu's Waimea Bay. The wind blew water off the lip and the morning sun illuminated the spray to create a rainbow in its wake."
People | First Place
Lisa Titimacco from Wahiawā, O'ahu
"I remember this day well—I got out a little before sunset during a decent winter south swell on O'ahu. After a set rolled through, I saw my friend Nancy (@nancxyx) sitting on the nose of her longboard, taking a break and watching the other surfers. She was so relaxed and the golden hour light was hitting her face perfectly so I took a couple shots. They turned out pretty good."
Sunset | First Place
Gareth Ormita from Wahiawā, O'ahu
"As sunset was approaching, I looked to the sky and saw it was full of high clouds with light winds—which always makes a good canvas for that golden hour shot. So I took a short drive to the North Shore on O'ahu and the scenery did not disappoint. As the sun started dipping, I was greeted with a fiery sky!"
Wildlife | First Place
Eri Ragan from Honolulu, O'ahu
"A quiet, peaceful morning with a playful dolphin on O'ahu."