HAWAII Magazine's Readers' Choice Awards 2015 issue on newsstands now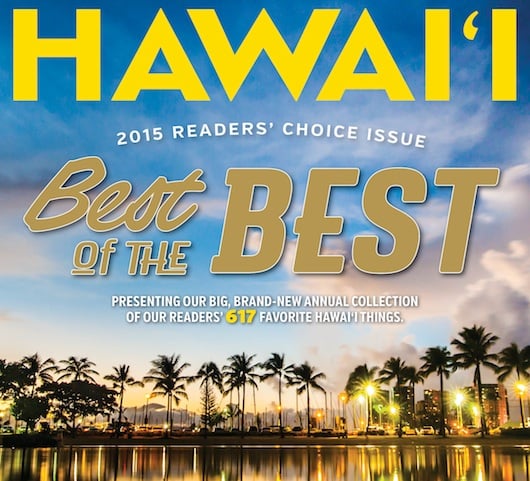 HAWAII Magazine's March/April 2015 issue, our third annual Readers' Choice Awards edition, hit newsstands this week. Inside you'll find pages chock-full of stunning images and insider tips guaranteed to guide you through and transport you to Hawaii. It's one of our largest issues to date!
Here's a sneak peek:
• For "HAWAII Magazine's Readers' Choice Awards 2015" feature, we tallied thousands of our reader's votes through 98 categories to find the best of everything Hawaii has to offer. We've even compared this year's list with last so you can see how time has changed rankings within each category. From places to stay, things to eat, activities to try, places to shop and much, much more, there are lots of great tips to try on your next Hawaii adventure.
• On the heels of what may be his last album, Hawaii musician Kealii Reichel sits down with editor Derek Paiva to share highlights from his life and musical career in the feature, "Kealii Reichel: A Life in Song."
• Experience Honolulu by night in "Tripping the Night Fantastic." Photographer Aaron Yoshino went throughout the city to share post-sunset scenes for our 12-page photo feature.
• "Island Hopping" stories this month take you on a North Shore Oahu farm tour, to search for the most endangered endemic forest bird on Maui, to remote lush forests in the center of Kauai, and along Hawaii Island's Chain of Craters Road from the summit of Kilauea volcano to the sea.
And, that's not all! There's much more to discover in our "Hoomaka" (To Begin), "Shopping" and "Mea ai" (Food) sections, before taking "One Last Look" behind a waterfall and traveling "Back in the Day" to Kilauea's 1960 eruption at Kapoho.