Hawaiʻi Surfer Carissa Moore Wins 5th World Surfing League Title
The Oʻahu surfer has had her most winning year yet.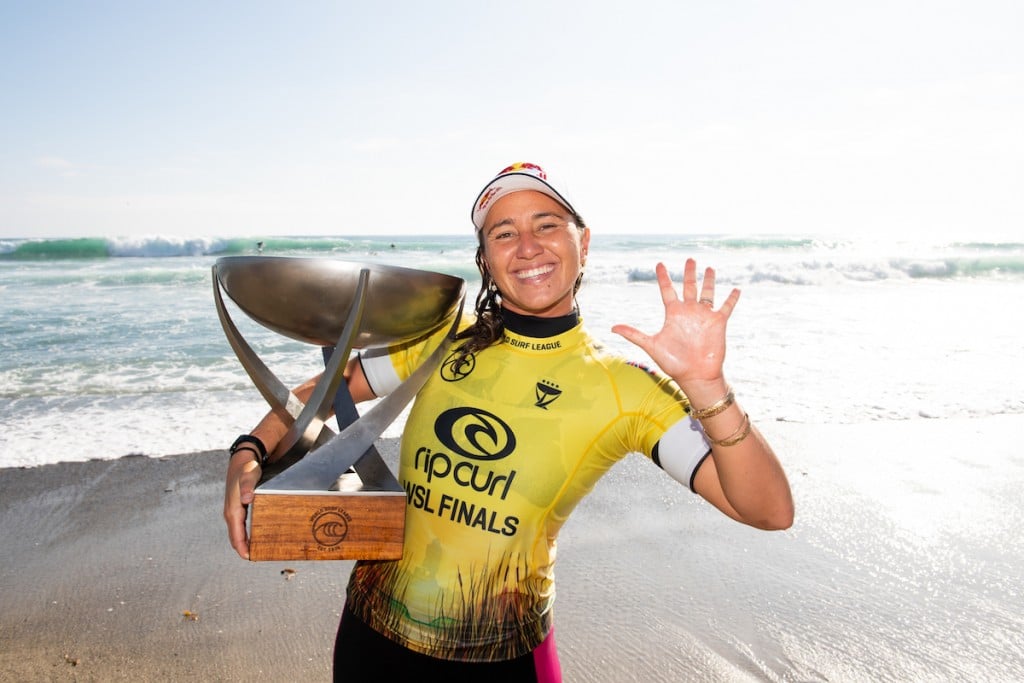 Carissa Moore has had quite the year.
After bringing home the gold medal at the 2020 Summer Olympics in Tokyo, she set her sights on winning her fifth World Surf League title, which would make her one of the most winningest surfers of all time.
And she's done just that.
Facing off against Kauaʻi's own Tatianna Weston-Webb at pumping Lower Trestles—a premier point break in southern California—in a newly introduced finals day structure where surfers compete in a best-of-three heat format, the now five-time world titleholder put on an exhilarating show. Moore, who has been dominating the woman's leaderboard for the majority of the year, had her back against the wall as Weston-Webb won the first heat of three in the Rip Curl WSL Finals.
However, the Punahou School grad found her rhythm in the second heat, beating Weston-Webb's heat score of 15.60 with a total heat score of 17.26. Moore finished the job in the third heat, leading 16.60 to 14.20, becoming the first surfer ever to win a gold medal and the WSL World Title in the same year.
"It was just a crazy back and forth battle. It didn't quite go how I wanted it to in the beginning. I was really happy to fight back. No. 5 sounds pretty good!" says Moore, in a post-heat interview. "I would not be where I'm at today without my team—especially my husband. Feeling that love and support. My family is here, they flew all the way from home. Even my family and friends all over the world, I appreciate them so much."
With five WSL world title wins under her belt, Moore has put herself in contention for being the surfer to hold the most world titles. Stephanie Gilmore and Laney Beachley—both hailing from Australia—currently have seven world titles each. If she wants to up the ante for the men as well, she'll have to surpass Kelly Slater's 11 world title wins, which will be no easy feat.
Regardless, Moore has had an exceptional year in professional surfing, and the Oʻahu girl continues to make the Islands proud with her success and aloha spirit.
***
Brazil's Gabriel Medina took home this third WSL world title today at Lower Trestles in California, defeating fellow countryman Filipe Toledo in 6- to 8-foot surf.